Even seasoned performers can experience some trepidation when a boardroom meeting is called. Let's face it, it's the place where key decisions are often made that ultimately affect the long-term trajectory of a business. It therefore it is paramount to choose the right furniture that is big on comfort, but at the same time, sending a strong message to those sitting around the board table, whether it be colleagues or clients that this company means business.
The boardroom is often an overlooked opportunity, offering a nonverbal medium to express a company's goals, values, and culture. Given this important role, the furniture selection is crucial. The design must be bespoke and timeless, so it's not surprising that two heritage furniture brands remain at the core of many boardroom fit outs.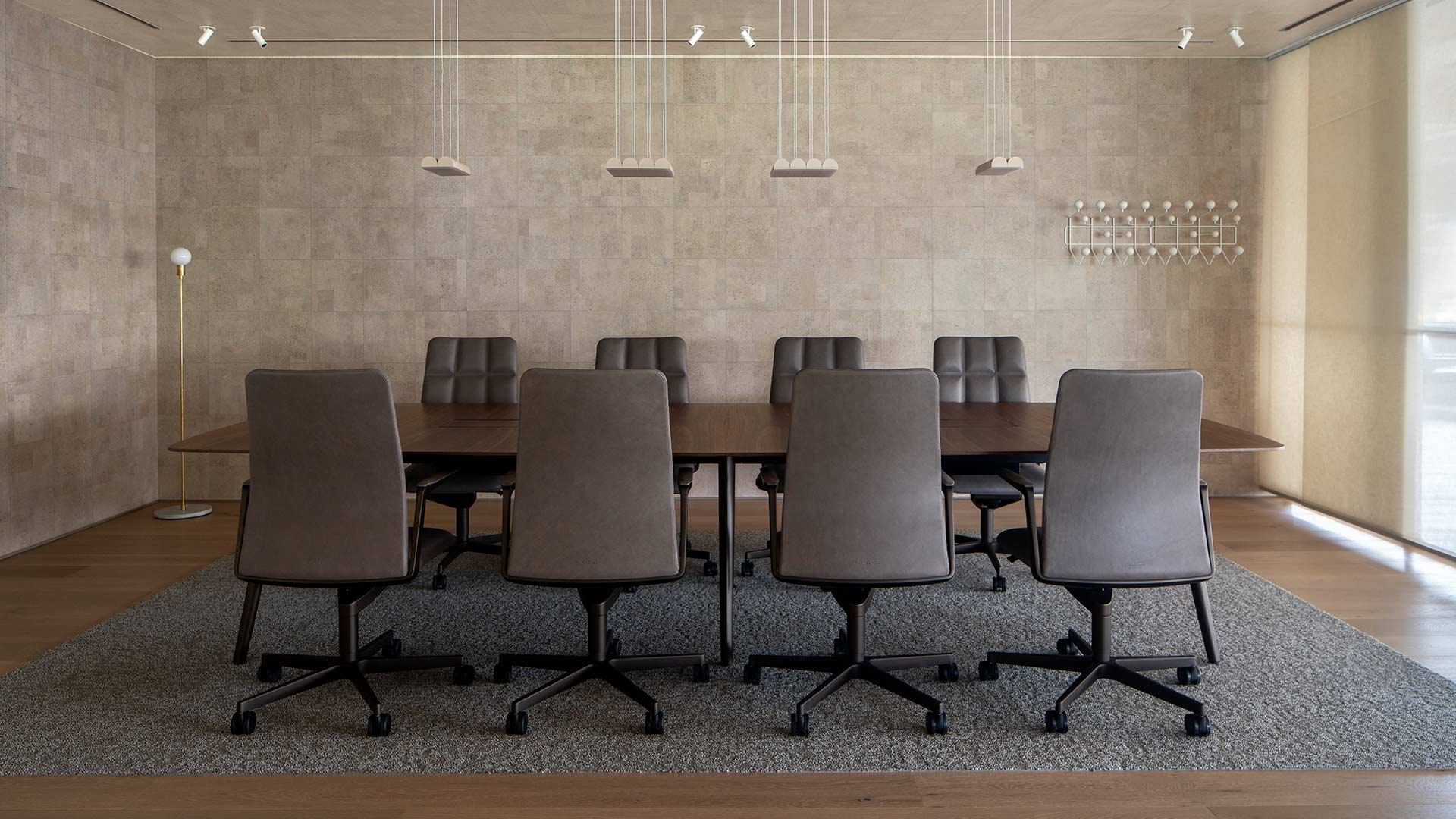 Walter Knoll is regarded as one of the world's foremost furniture companies.
The range includes furniture by EOOS, Norman Foster and Pearson Lloyd. Its heritage stretches back to 1865 when the first Knoll business was opened in Stuttgart, Germany.

A legacy in premium design and quality materials; Walter Knoll has come to be known for its integrated technology and unique flexible designs. Customisable boardroom furniture has become an important paradigm shift; As many corners of the corporate office have become flexible multi-purpose spaces, the boardroom too has become an environment to be shared.

Walter Knoll's Conference-X is a quick-change artist, easy to convert and dismantle in seconds – without any special knowledge, without tools. It is precisely this flexibility that makes Conference-X a modern management table for start-ups, fin-techs and agencies. Scalable and adaptable: a table which grows with the ideas of the people sitting around it.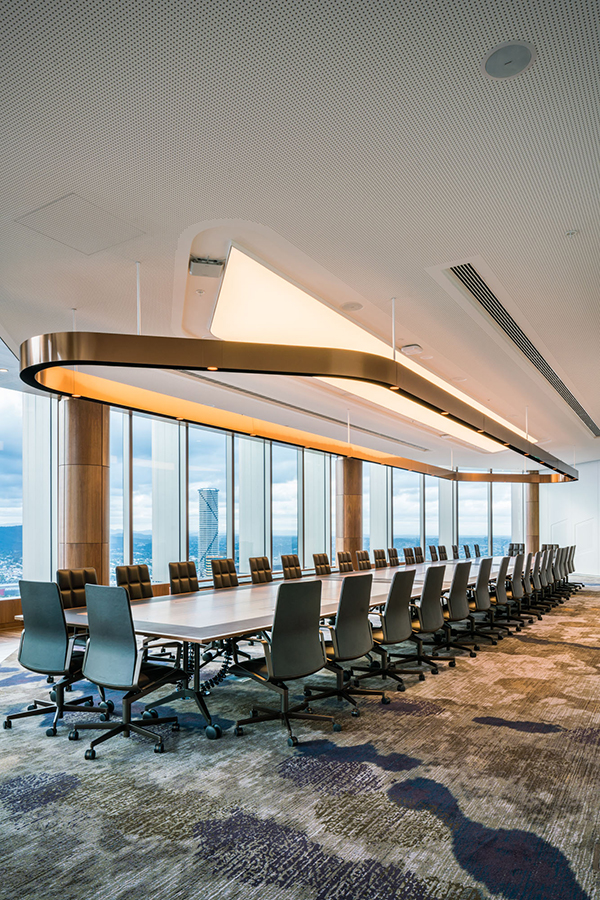 Walter Knoll's Scale Media, offering a made-to-measure service, not dissimilar to having a bespoke suit made, is an important part of today's office, one that needs to respond to specific needs, as well as performing a variety of functions. Rather than just the one offering in, say, a traditional burl walnut that was often the hallmark of a boardroom table, it can now be designed in a veneer, a fine textured paint or in Fenix.
From personal workstations through conference tables to multimedia video conference configurations, Walter Knoll's Keypiece is excellent for working and conferencing. Different table shapes correspond to the varying framework geometries. Whether round, boat-shaped, trapeze-shaped, square, or rectangular - Keypiece carries its top in every imaginable variant. The technology remains hidden: the cable routing is concealed and is possible on every leg. Connectors mean the connections for modern media disappear into the tabletop.

The best of the past continues to inspire today's boardroom, as do designs such as Walter Knoll's Leadchair Management and Leadchair Executive, with their high and supportive backrest designed by EOOS. Its extended honeycomb padded upholstery not only allows body heat to circulate, but acts as a secondary 'veil' for boardrooms with glass walls.
To this day, nothing is quite as iconic Eames furniture.
A truly great husband-and-wife design team; Charles and Ray Eames' unique synergy led to a whole new look in furniture. Lean and modern. Playful and functional. Sleek, sophisticated, and beautifully simple. That was and is the "Eames look". That look and their relationship with Herman Miller started with moulded plywood chairs in the late 1940s.
Charles and Ray achieved their monumental success by approaching each project the same way: Does it interest and intrigue us? Can we make it better?
It's uncanny how a chair designed in 1958 as outdoor seating still manages to look both classic and contemporary in twenty-first century interiors. The lithe chairs of the Eames Aluminium Group have been a popular design since their introduction in 1958, and it's no wonder. The graceful silhouette sits equally well in all kinds of home and workplace interiors. A wide range of material options allows a personalised look that, with its distinctive form, provides a statement of enduring design excellence wherever they are placed.
With COVID-19, it's not only the physical importance of creating the right message in the boardroom, but also how this now in the virtual world, with many decisions hinging on not only the physical comfort, but often the visual communication via a Zoom meeting. The Eames Executive Chairs, Soft Pad Chairs and Aluminium Group offer not only this comfort, but importantly, a level of finish, that puts the focus clearly around a boardroom table.

As with architecture and furniture, some of the classics from the past are reimagined to suit contemporary times. In the case of Ansett House, a 1975 octagonal-shaped building on the corner of Swanston and Victoria streets in Melbourne, the 18th and the top floor occupied by PDG Corporation have been completely reworked by Studio Tate. "This floor (approximately 1,000 square metres) had been renovated a number of times over the years (in the 1990s and into the new millennium). Our brief was to create a quality office environment and blur divisions between spaces," says interior designer Alex Hopkins, who included a new lobby/reception area, a boardroom, and a bespoke office for PDG Corporation's managing director.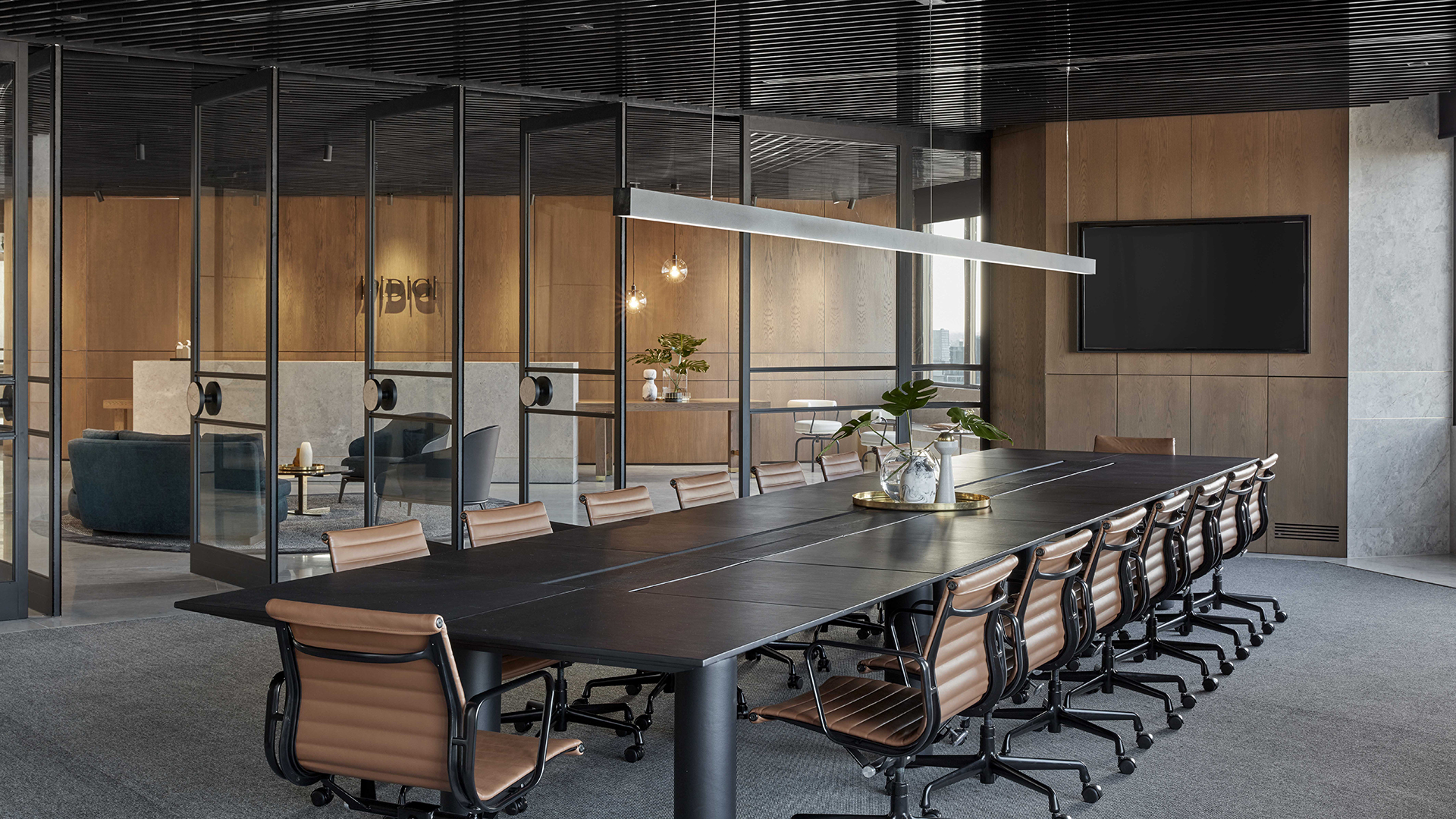 The boardroom now features glass doors that can be pulled right back to form a larger space with the sitting area, adjacent to the marble reception bench. And within one of the octagonal nooks is built-in banquette seating that allows both staff and clients to have a cup of coffee.

Rather than use a variety of different office chairs, Studio Tate primarily used the Eames aluminium series, but modified by Herman Miller with a new black frame. "The black ties back to the door and window frames, as well as giving the chair a contemporary edge," says Hopkins, who used a combination of leathers for the upholstery: brown for the boardroom chairs, and for clients meeting with the managing director in his own office. A separate breakout area also includes the Eames' aluminium series, but in black leather. "We've kept the interior fairly parred back, but sophisticated," says Hopkins, who compares the Eames chairs, as well as the interior, to a 'fine Italian handcrafted suit', where everything from the silk lining to the handsewn buttonholes, create the detail one is looking for. "We wanted chairs that weren't faddish, but elegant and comfortable that have stood the test of time," adds Hopkins, who sees the Eames furniture as iconic, timeless, and simply beautiful design.