Architect Harry Seidler was a visionary in the world of architecture. With his Australia Square completed in 1967, a high-rise tower of 50 floors and then Sydney's highest tower, he wowed Australians as they entered the dramatic circular lobby, with its dramatic coffered ceiling and Le Corbusier tapestry.
The Eames lounge chairs dotting the polished floors would have equally impressed first timers, whether visiting a colleague or simply walking in from the street and gazing in awe. The sumptuous Eames chairs would have been perfect for enjoying this experience.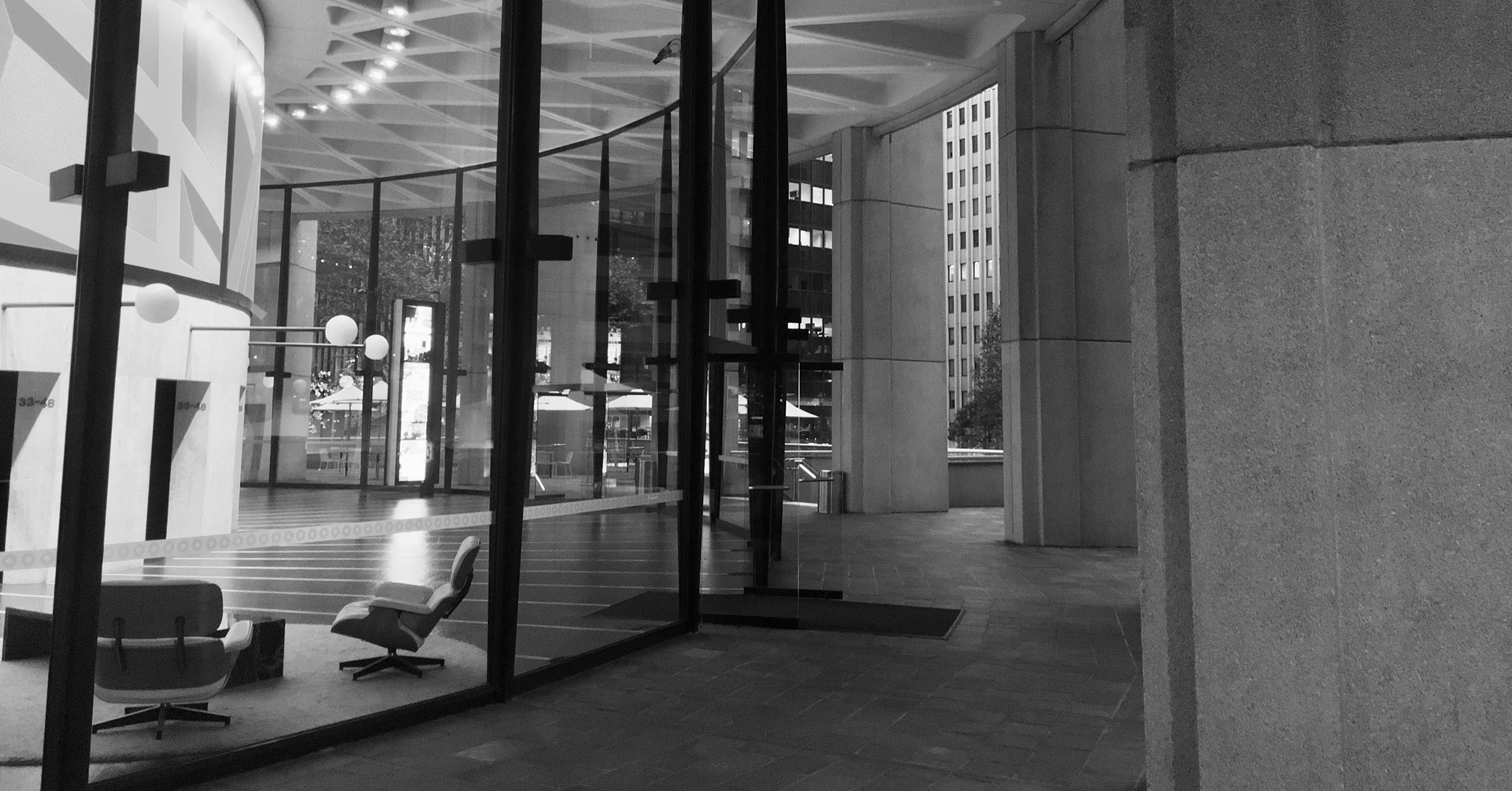 From these audacious beginnings, the corporate office foyer has undergone a major transformation in recent years. Once simply appointed with a reception desk and a few odd chairs, these foyers are now conceived like comfortable lounge rooms one would find at home (and indeed many of the furniture designs can be easily accommodated in a domestic context). Armchairs, benches, bar stools and ottomans from Living Edge have been the perfect 'partners' for the foyers of some of Australia's most iconic buildings. And given that first impressions are often carried through well after one has exited a lift, architects and designers are increasingly focusing on the warm and welcoming approach.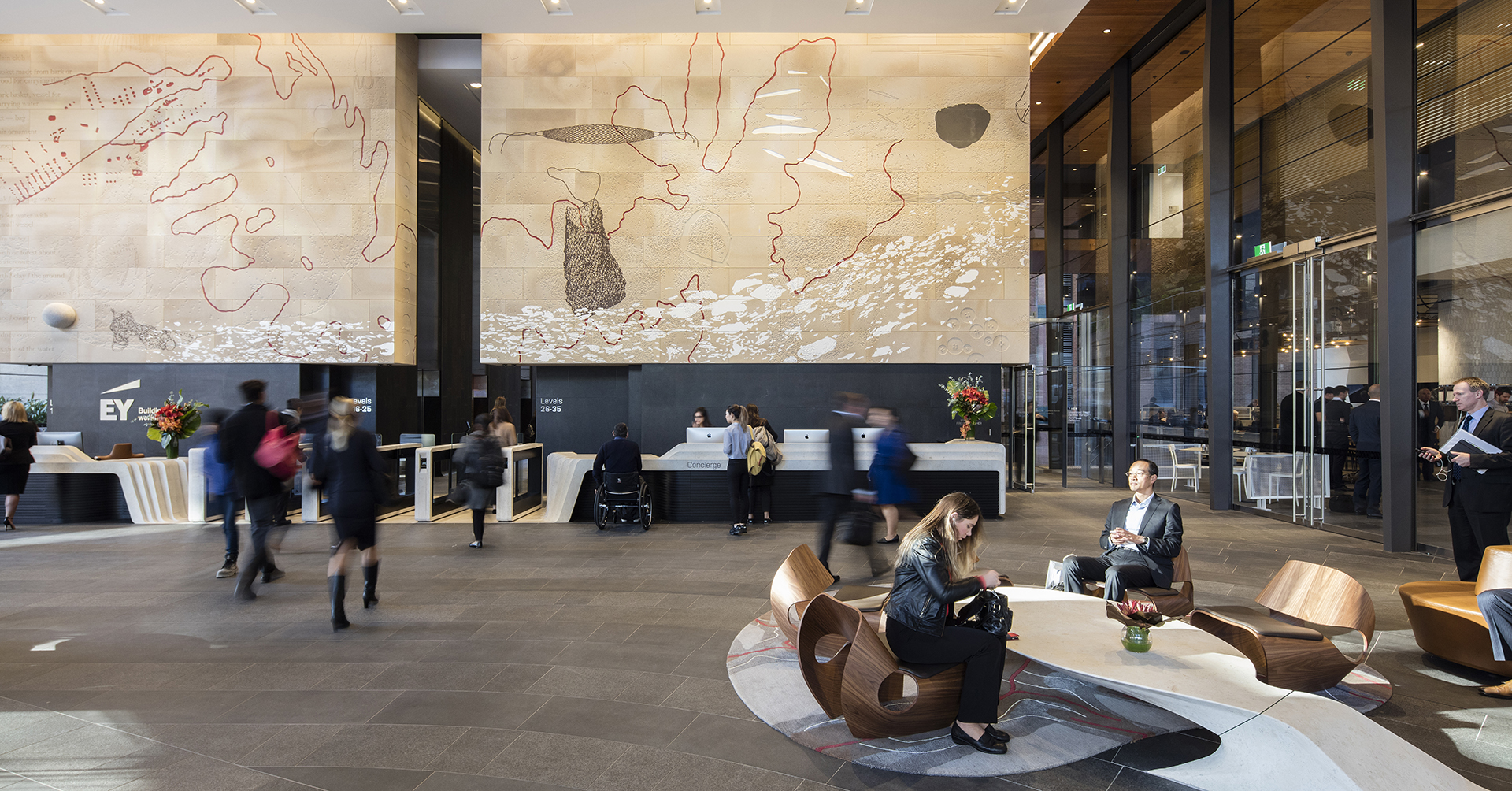 The EY Centre at 200 George Street, Sydney, designed by Francis-Jones Morehen Thorp (FJMT), not only features an extraordinary origami-shaped timber ceiling in its foyer, but also the Cowrie Chair by London-based designer Brodie Neil (raised in Tasmania and a rising star on the European stage). As with the foyer's ceiling, Neil's sinuous chair, made from one piece of timber, seems to perform gymnastics. Appearing as art but with comfort in mind, it's an unexpected addition to what could be treated as a stiff and corporate environment. And while a number of Neil's pieces sell in leading art/furniture galleries, many can be found in the workplace.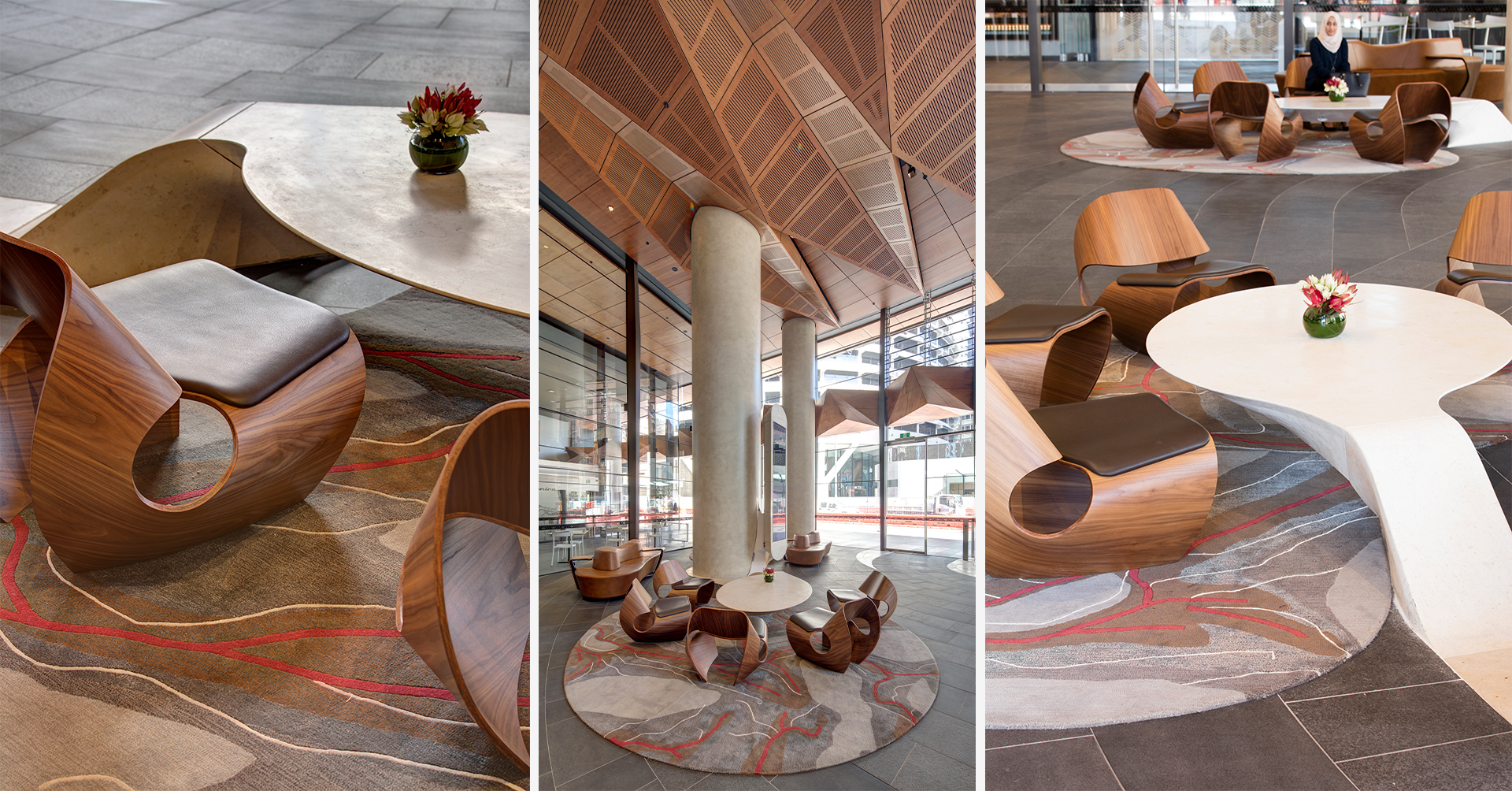 Given that first impressions are often carried through well after one has exited a lift, architects and designers are increasingly focusing on the warm and welcoming approach.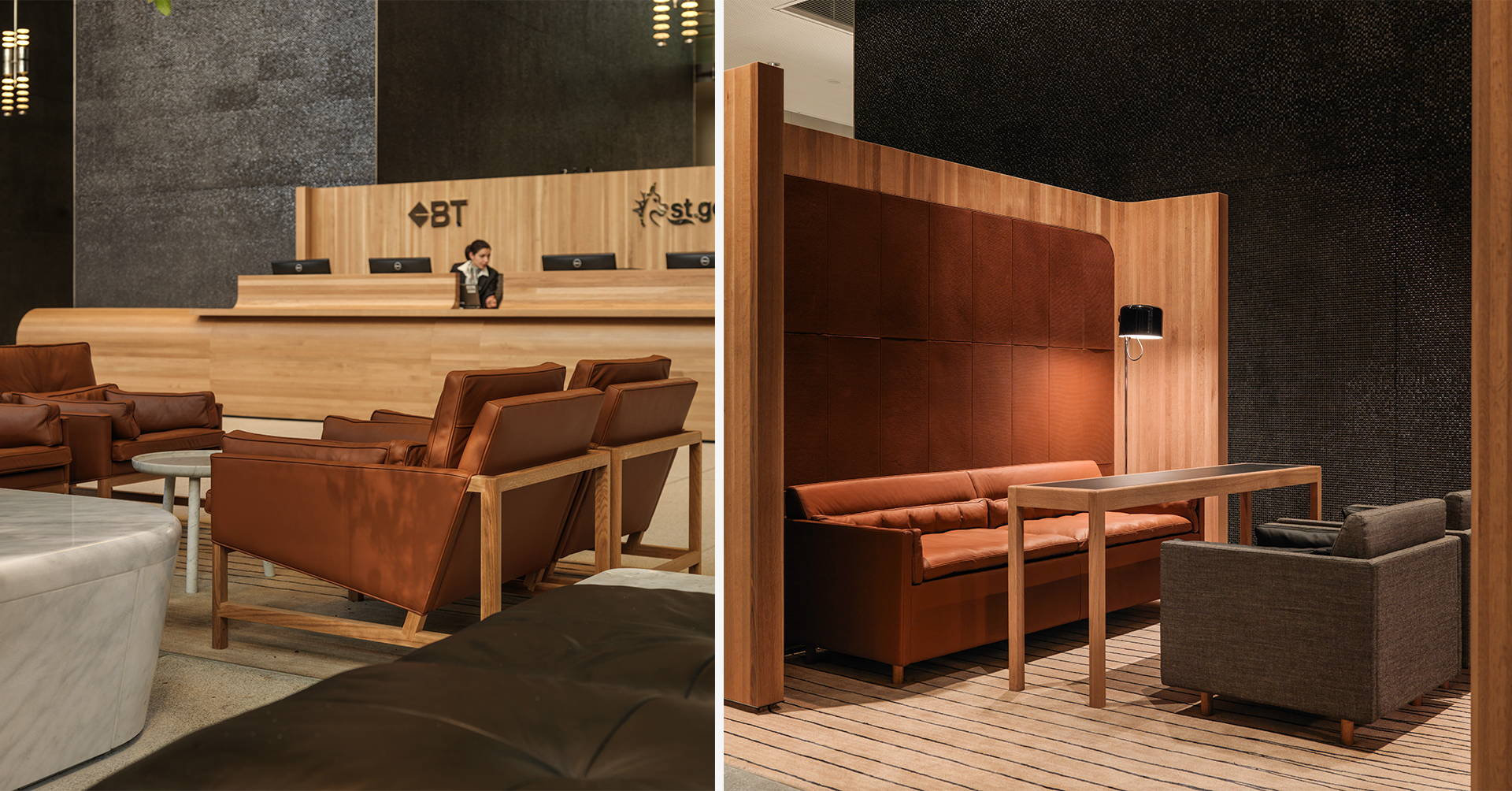 The lobby in Barangaroo Tower 2, designed by Woods Bagot, with the base building by Rogers Stirk, also pushes the use of timber to its limit. The lobby's monolithic and sculptural concierge desk, the main point of arrival for visitors, creates, like the timber furniture, a sense of warmth and texture. Curated in the spaces are BassamFellows Daybed, its Wood Frame Low Back Lounge Chair and also Walter Knoll's Oscar Lounge Chair and Turtle Lounge Chair designed by Pearson Lloyd, also based in London.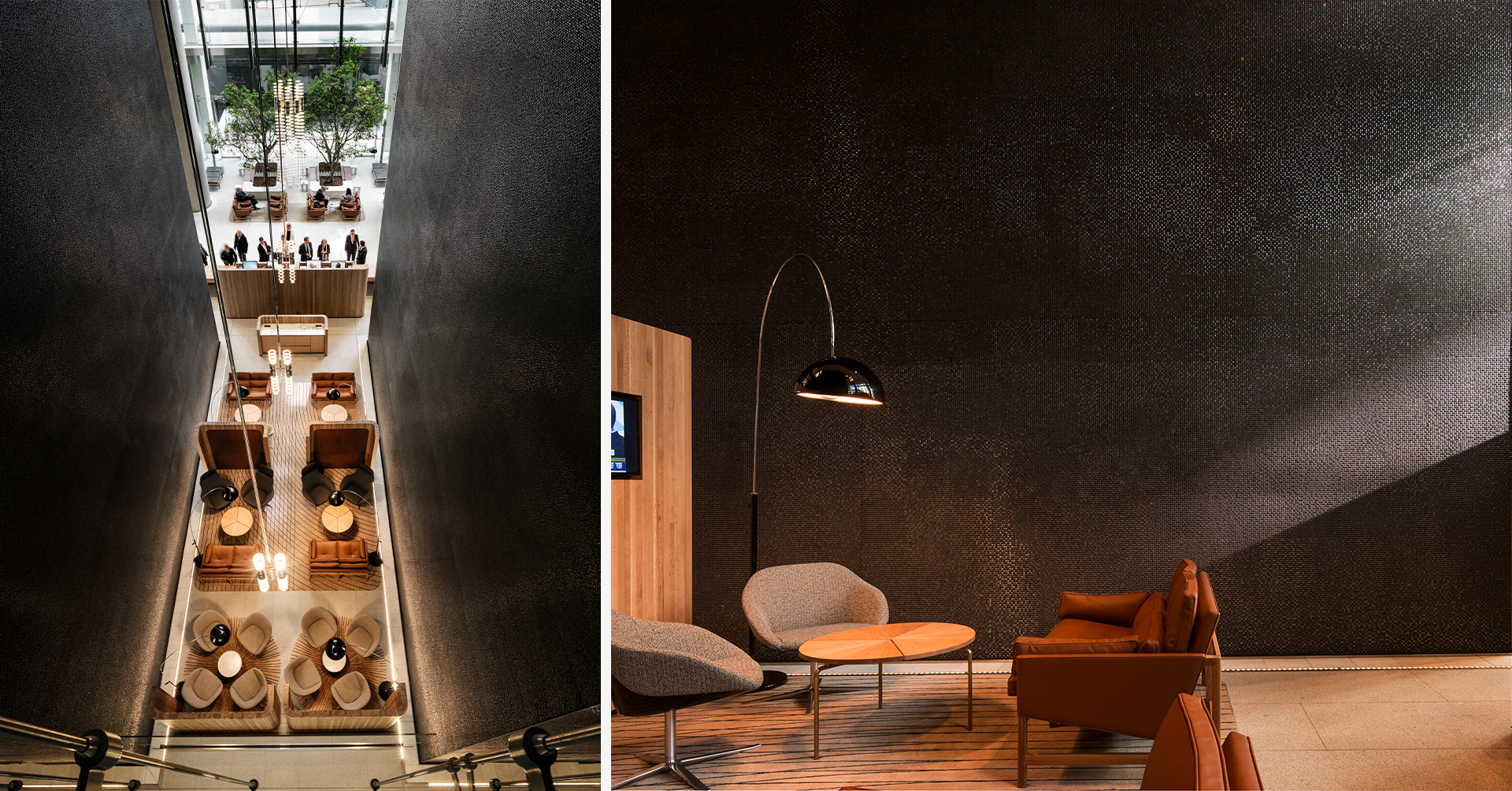 A touch of the 1960s, with an emphasis on comfort, these designs could easily find a home in a contemporary domestic setting. Covered in sumptuous leathers or rich woollen fabrics, BassamFellows furniture was conceived to make people feel at home rather than being in trepidation of that corporate meeting about to take place. While some pieces are firmly anchored on a heavily textured rug, designs such as the Oscar and Turtle chairs allow for moveability with their four-star swivel bases. And, of course, the lobby in Barangaroo Tower 2 includes the BassamFellows Salon Sofa that would be equally suitable for lounging around on a weekend afternoon at home watching the television. But in this foyer, rather than televisions, there are Port Jackson figs set in marble planters that also function as bench seating.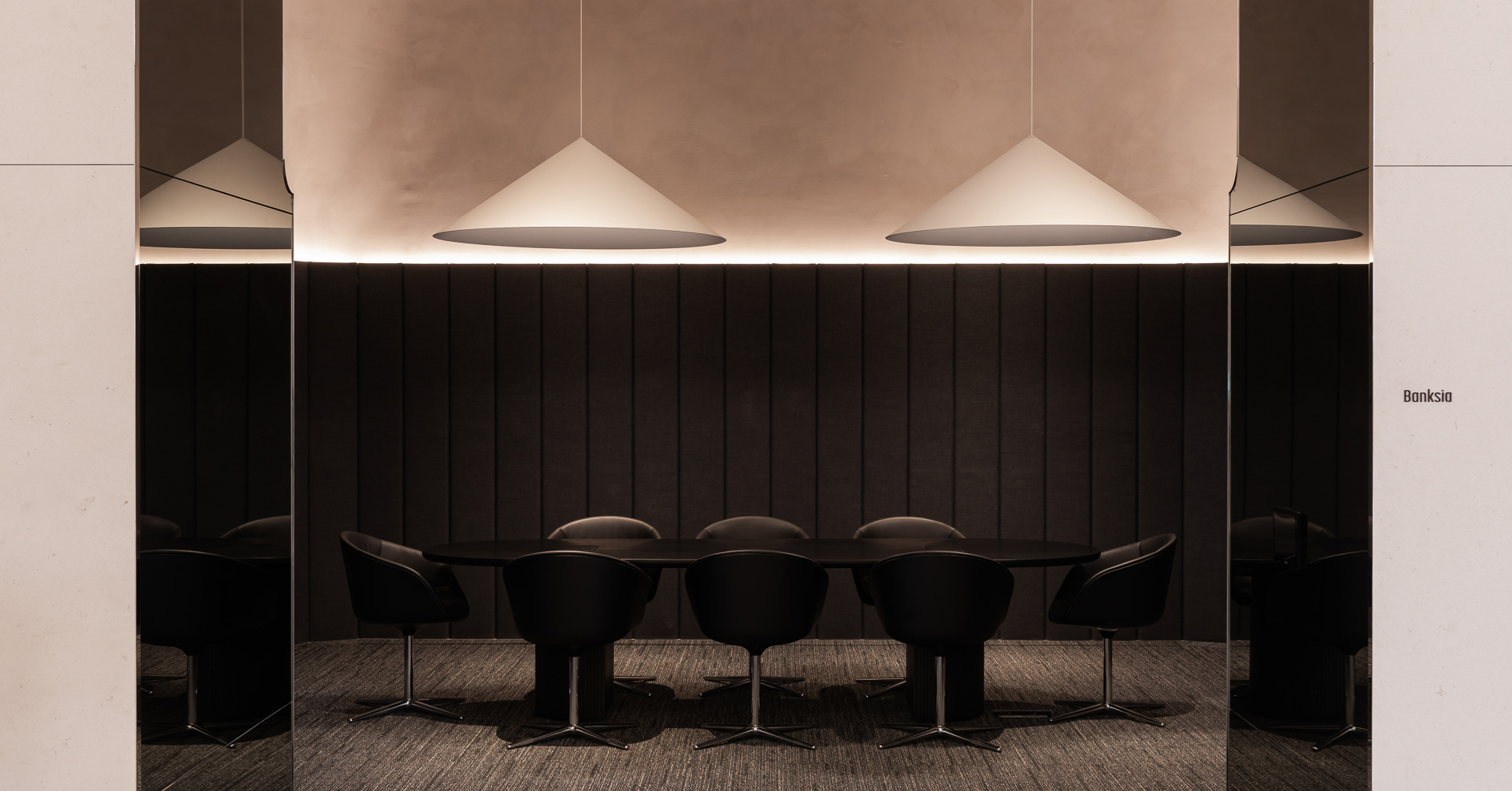 Woods Bagot was also the practice with the task of transforming Perth's tallest building Central Park. Inspired by the surrounding landscape, the highly transparent lobby is filled with furniture often associated with high-end hospitality venues: Nerd Stool, the Kyo Lounge Chair and the Enoki Side Table, perfect for resting one's drink. The leather-covered Kyo Lounge Chair, with its swivel base, features a gentle recline where the armrests 'dissolve' into its backrest.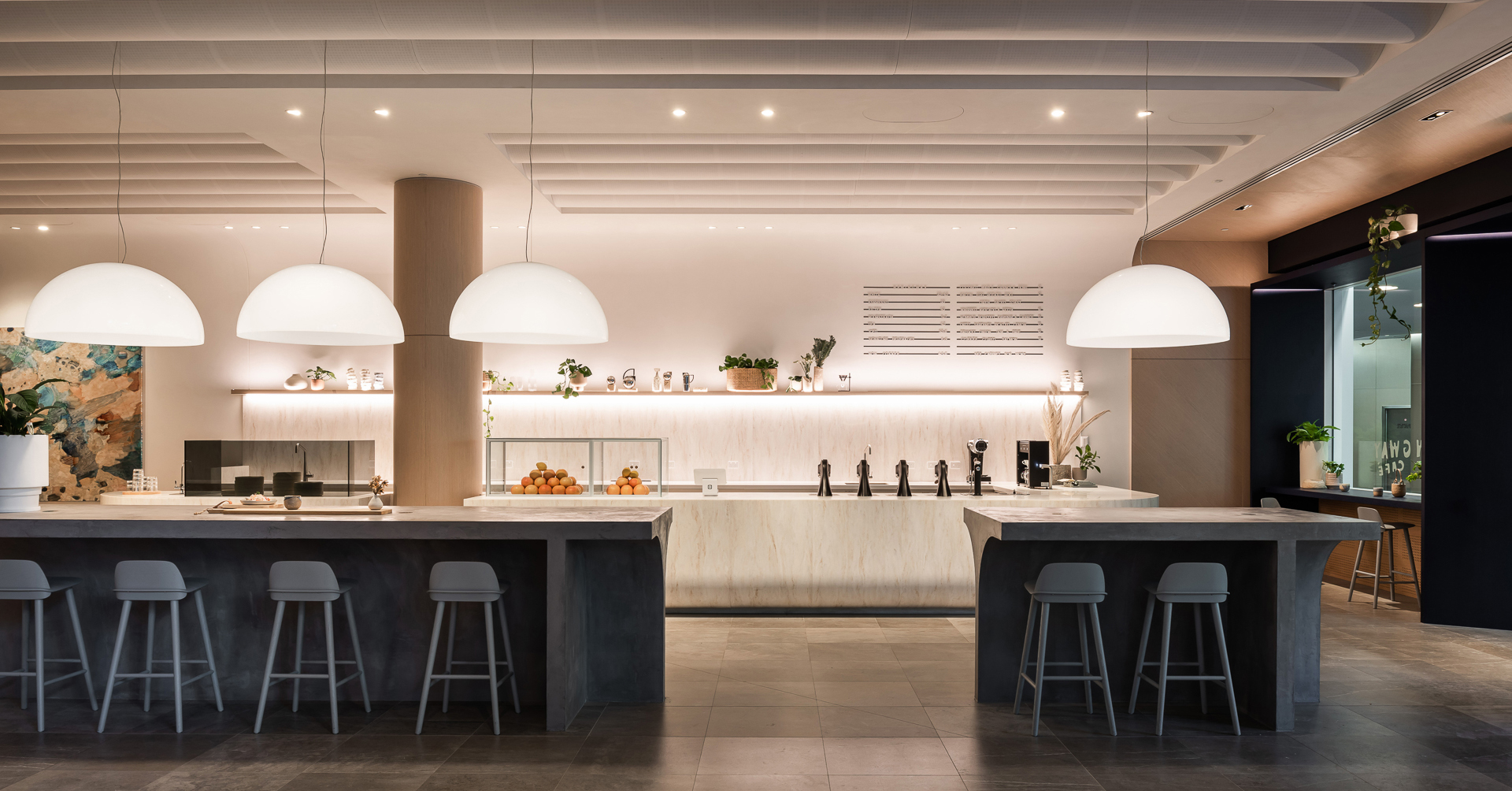 The corporate foyer has come a long way since Seidler's Australia Square first made its mark in central Sydney. Used for informal meetings, catching up on work with one's laptop or simply enjoying some downtime, these foyers now offer considerably more than simply reporting to a reception counter and letting a colleague know that one has arrived. And while time is of the essence, it doesn't seem to be nearly as pressing when relaxing in a Kyo Lounge Chair, or alternatively, propped on a Nerd stool and having a coffee while waiting for an associate to arrive.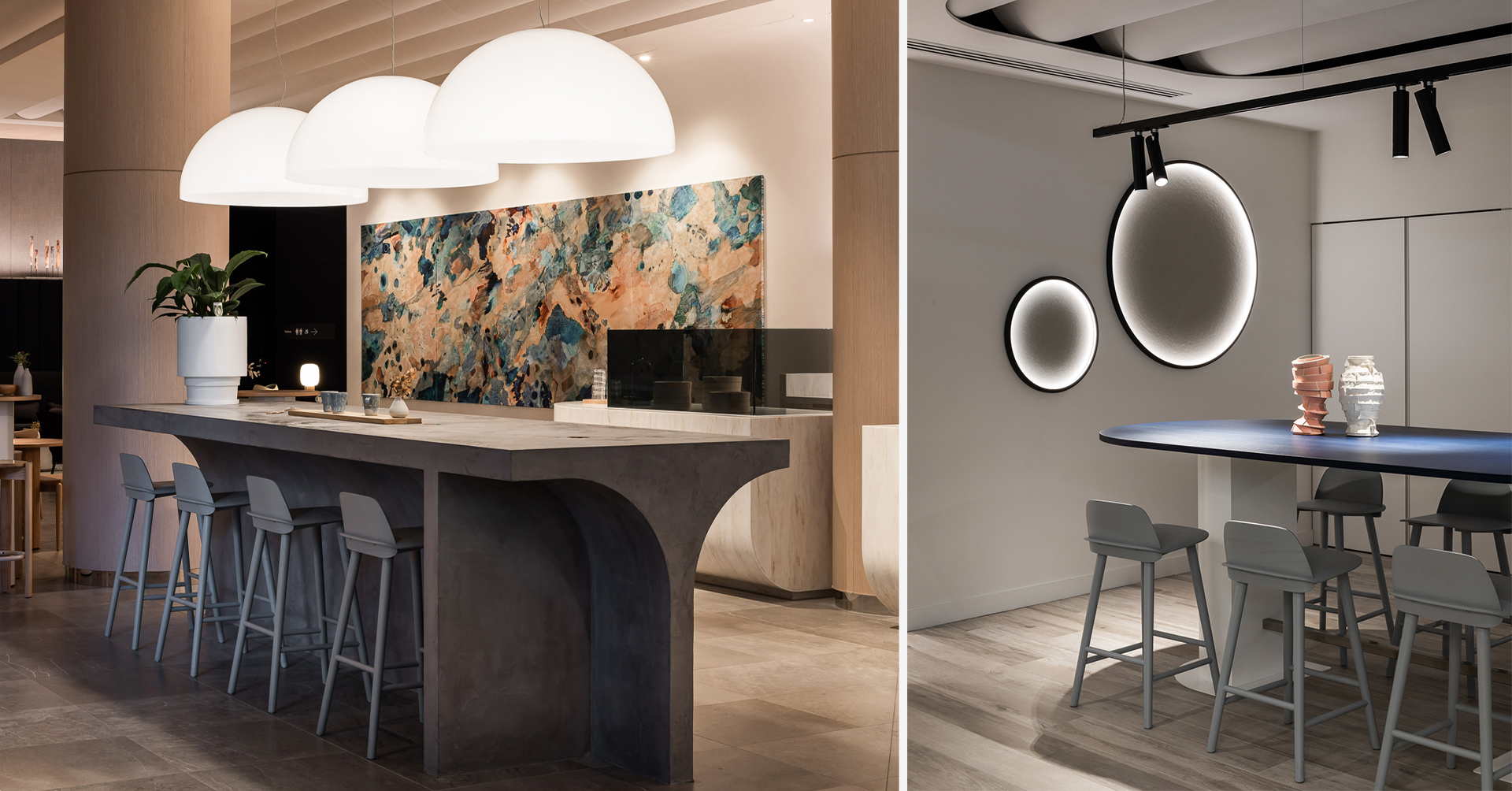 Photography
EY Centre: Brett Boardman
Barangaroo Tower 2: Trevor Mein
Central Park: Dion Robeson