1 William Street, a 44-floor office tower in Brisbane, is the new home for the Queensland Government and public service, realised by Australia's leading architectural practice Woods Bagot. The building has been acknowledged as one of 16 buildings across the nation to achieve a 6-Star Green Star rating for 'World Leadership Performance'.
"1 William Street is a stand-out example of the world-leading sustainability outcomes." - Romilly Madew, CEO Green Building Council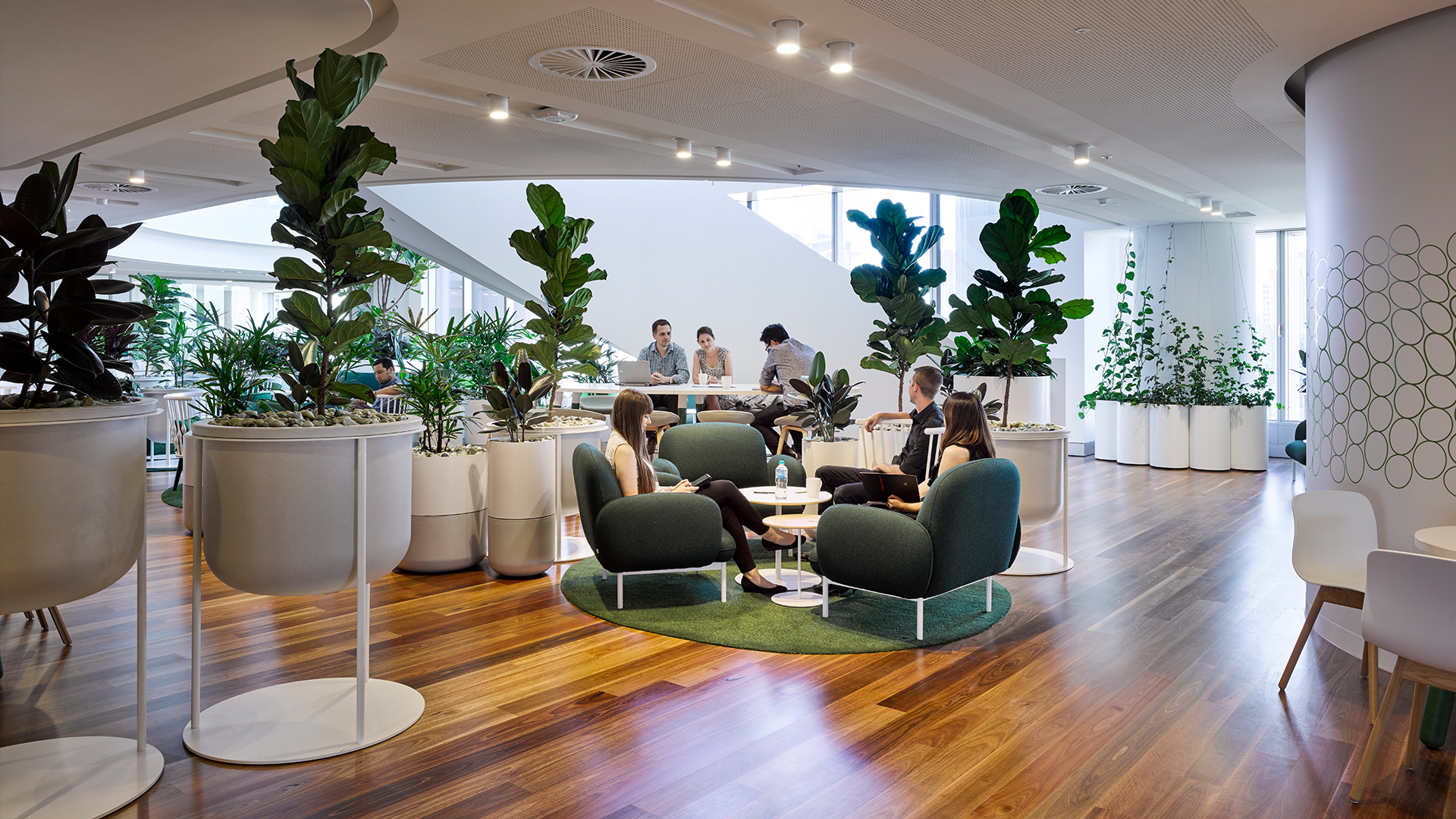 With these human-centric values squarely in mind, Living Edge worked with Woods Bagot's specification personnel to deliver interior solutions that would actively improve end-user wellbeing and occupant productivity. The central aim, according to CBUS Property CEO, Adrian Pozzo, was to create an environment that fosters culture change for government departments: attracting and retaining key individuals in this competitive talent economy, and improving the delivery of duty of care for all employees, clients, partners and collaborators with the local Queensland government bodies.
With interior specification intended to stimulate engagement with end-users – whether through dramatic changes in texture and colouring, or whether through supremely flexible and modular designs that give end users freedom of choice in optimising their workplace to best suit individual needs – generous use of biophilic design thinking is evident across tonal palettes and organic material use throughout. Additionally, a double-vaulted, full-height atrium within this smart building design includes laneways that encourage a continuous circulation flow, comprising both concentrated workspaces and shared working areas to inositol greater interpersonal engagement and collaboration between teams.
"Overall, the design promotes a collaborative space that is a modern and effective platform for creating the ideal workplace." - Woods Bagot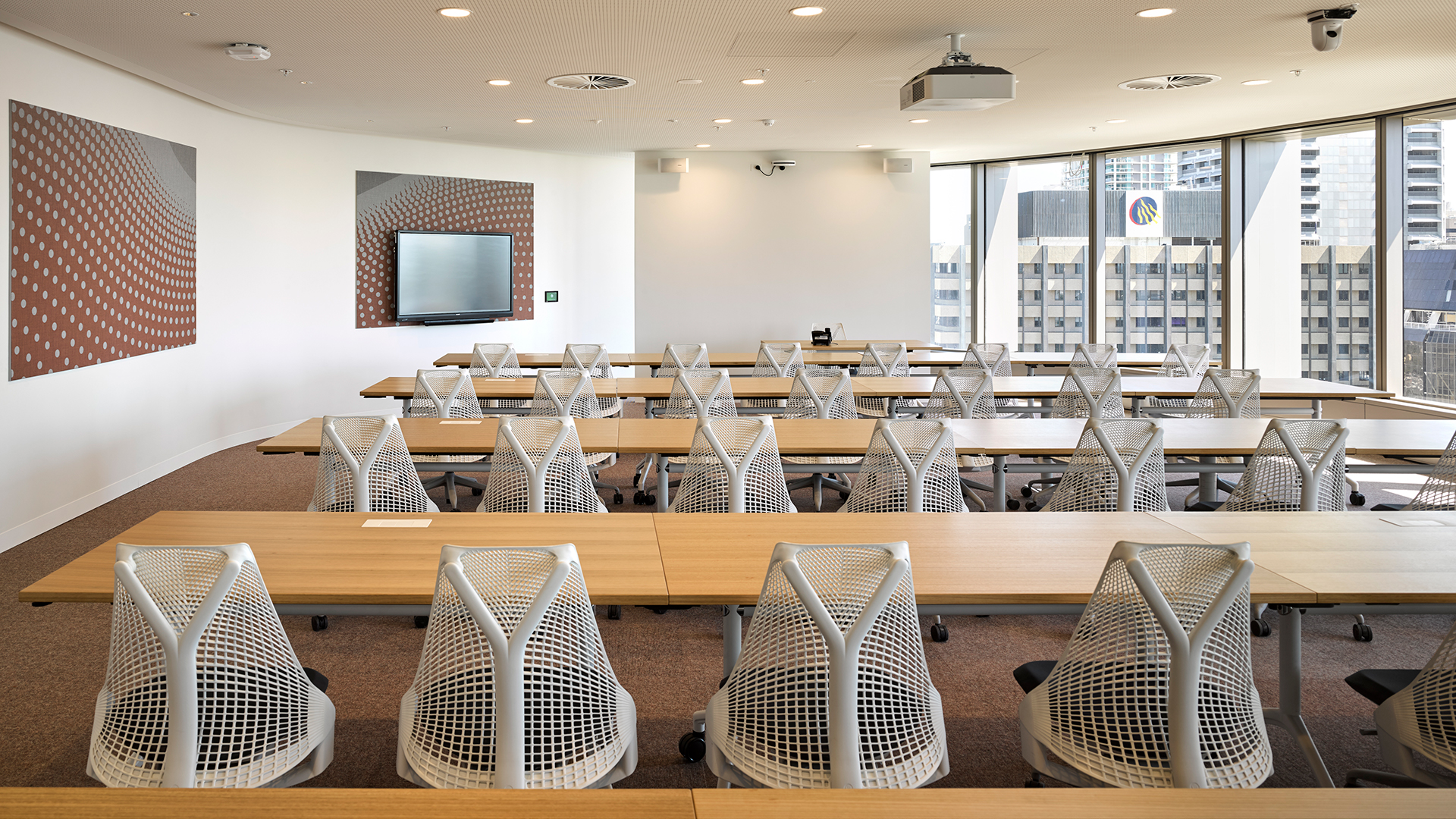 1 William Street also stands solo as a key achievement for Living Edge's Single Source initiative. As the sub-contractor engaged by Multplax Global to supply and manage the delivery of all loose furniture and meeting tables, Living Edge co-ordinated all design and logistical requirements pertaining to tender preparation, product sourcing, supplier engagement, supplier sub-contracting, contract administration, program development, project approvals, logistics and defect management. Streamlining the business of design contracting in such a way not only affords greater efficiency in the supply chain management but greater transparency and control of all freight, sourcing and emissions generated from getting product from the factory floor to installation in situ.
As a Single Source project, 1 William Street was the inaugural tender in which Living Edge assigned a fully-dedicated project team to facilitate the design delivery – with highly choreographed carbon offsetting and sustainable measures in place that reflects the total ecological impact of the build in a manner that has never been matched heretofore: comprising some 24 suppliers, supplier in excess of 17,000 pieces of product.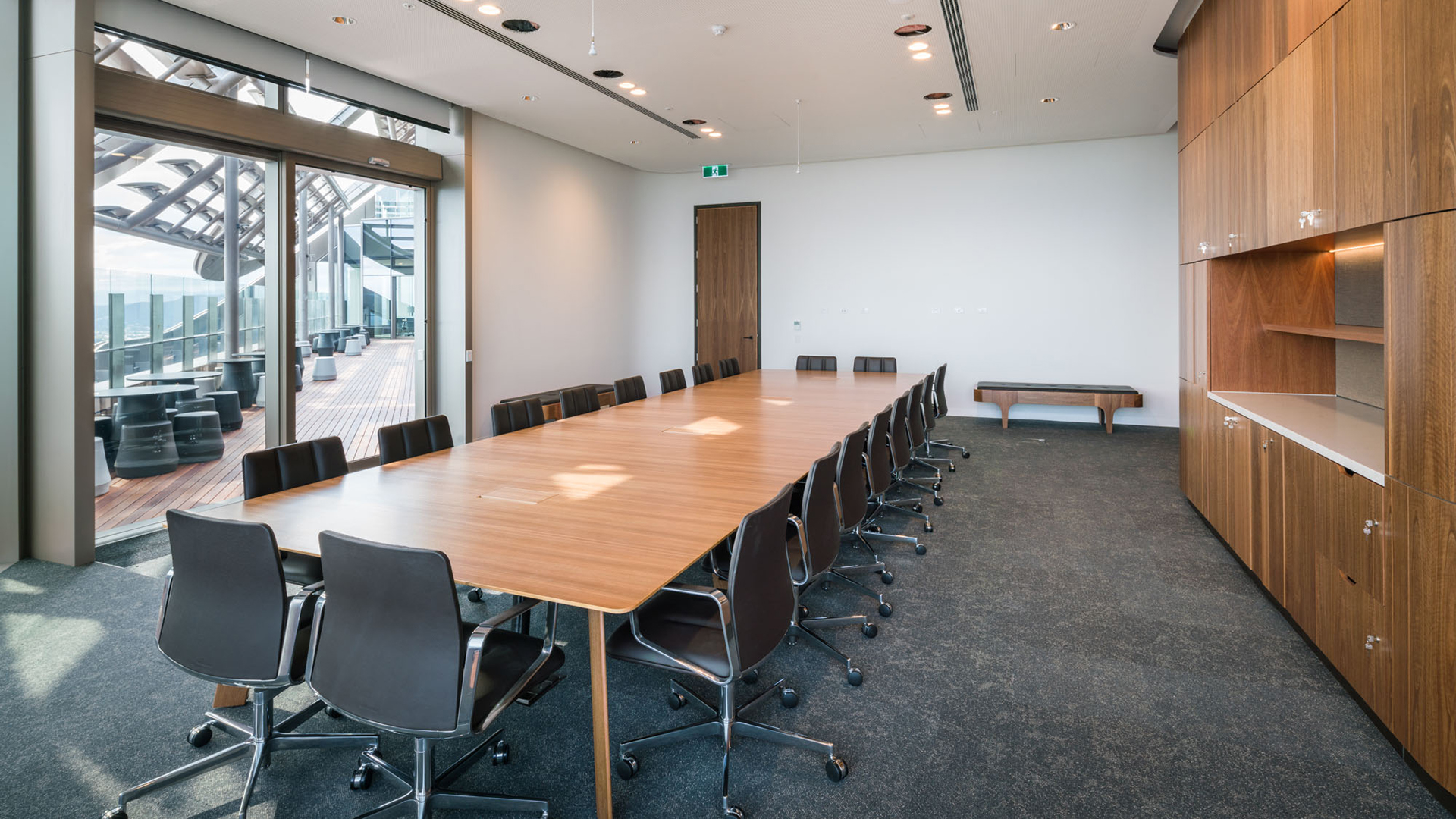 Across Walter Knoll and Herman Miller's inclusion in the specification of interior elements, Living Edge worked with Woods Bagot to ensure supremely customised outcomes that reflect the local Queensland ecology whether through tonal varietals selected in upholstery and finishes, or indeed from certain timber elements used. With ashen, lightly stained timber, this ligneous aspect not only befits the site's coastal South-East Queensland context but also reflects the biophilic intent embraced by design teams more broadly.
Amidst the efficient services and design, some of the exemplary sustainable features include façade sunshades, automatic blinds, LED lighting, rainwater irrigation and energy regeneration. The building's north-facing orientation was the result of harnessing the potential for greater passive sunlight penetration and sky glare in a bid to minimise reliance on indoor temperature regulatory systems such as air conditioning or centralised heating.
Due to pushing these performative aspects further than any previous iteration in the city, 1 William Street was awarded several certifications including a 5-Star NABERS (National Australian Built Environment Rating System) Office Energy Saving Rating, a 3-Star NABERS rating for Office Water, Waste, and Indoor Environment Rating. As the government body, architects and builders adopted a holistic approach to both the design and construction of 1 William Street, the Living Edge team developed bespoke solutions for interior specification that would actively contribute to the sustainable lifecycle of this project. 1 William Street, Brisbane demonstrates our continuous dedication to achieving the highest level of sustainability and stewardship.