Woodward explains, "foremost the project is about family. It talks about the integral connection of the past, present and future, along with a string of happy memories and hopeful aspirations across multiple generations.'
Matthew Woodward's Stonelea project is as much an architectural marvel as it is an homage to the neighbouring landscape.
Situated in the western foothills of the Blue Mountains, Stonelea by Matthew Woodward Architecture delivers an authentic country retreat that responds to both its context and climate. In the design of the space, Woodward says the intention was to "ensure the clients lifetime of activities can happen with minimal environmental impact and a sound ecological consciousness".

Connecting the home with its landscape was a key consideration of the project, which is evident in the earthy material selections, the passive design principals embedded, and the low-lying pitched form that reflects the quintessential Australian shed. The resulting project can be best described as solid, functional, and contemporarily pastoral.

In response to his brief to create a tactile, multi-generational country retreat that fosters human interaction, Woodward created a large, open plan kitchen and dining area designed with the capability to entertain. Woodward explained his tendency towards "raw and characterful materials," which is evident in his use of meranti plywood and blackbutt rafters, concrete floors and timber screens.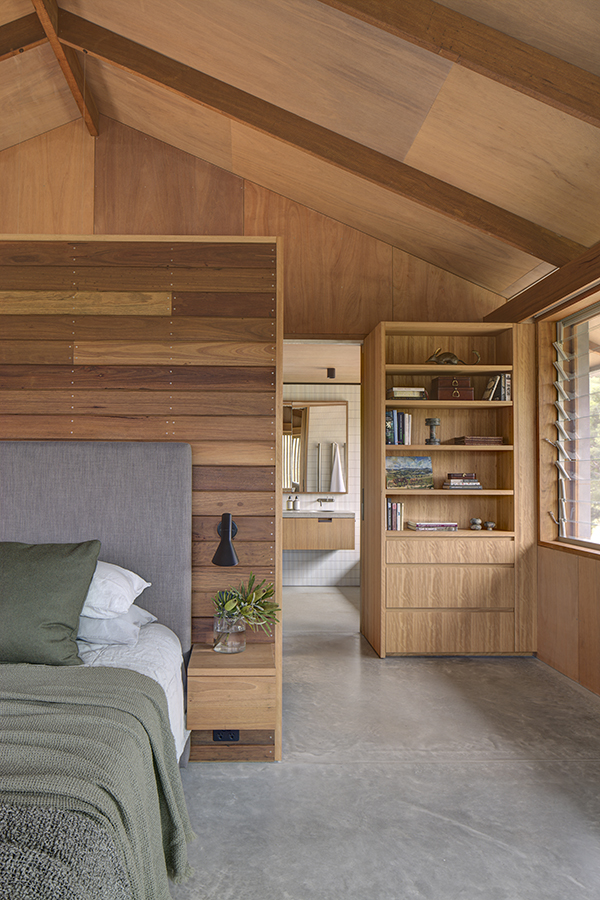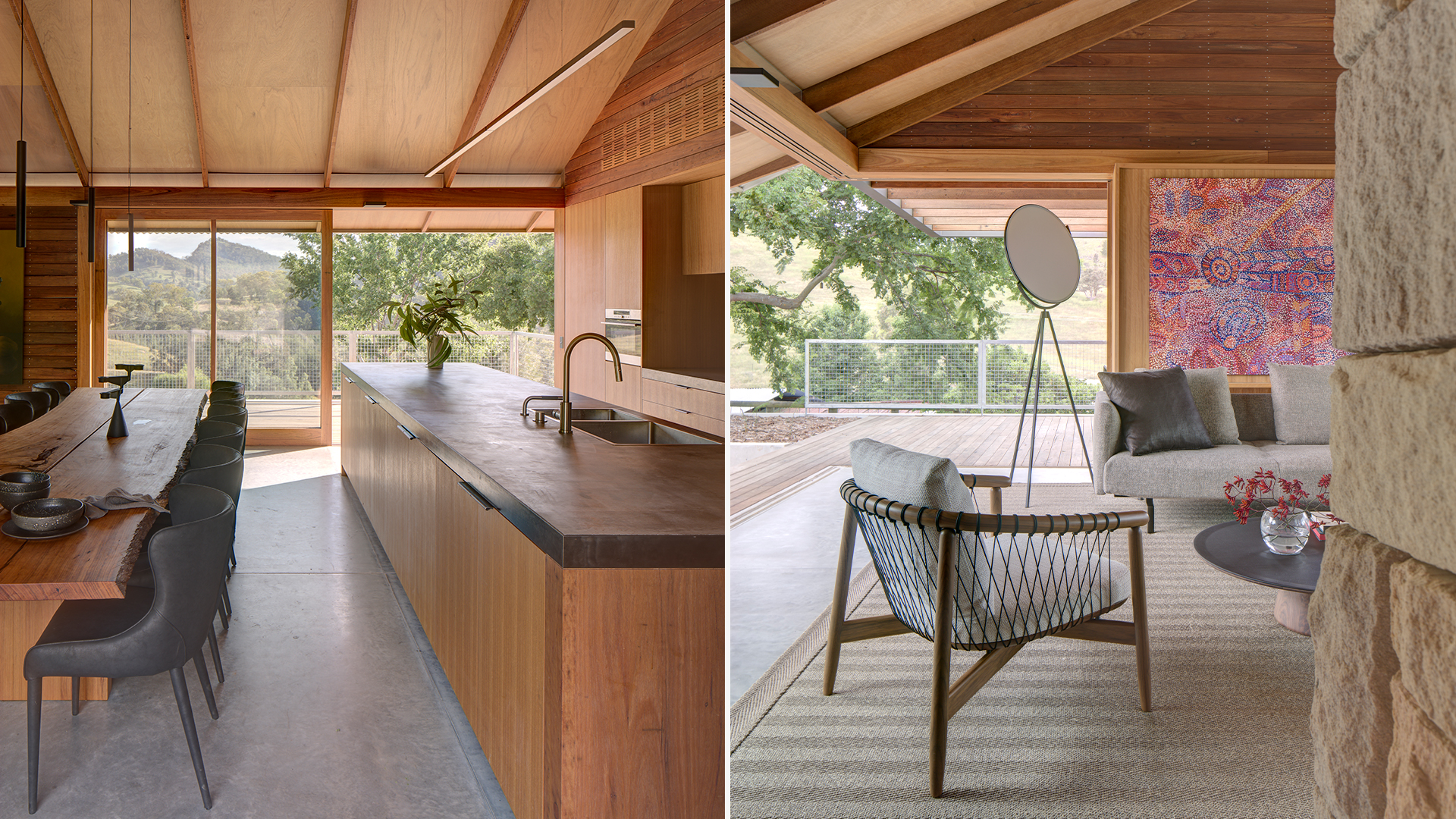 Acting as the centrepiece of the dining table is Tom Dixon's Mini Spin Candelabra. Crafted from industrial-strength iron, the candelabra eludes a sort of paradoxical grace. Equal parts curved and angular, the candelabra can hold both tapered and tealight candles, eliciting a soft lambency over the communal space.

The concrete tabletop acts as the perfect home for the Salina Pitcher by e15. In reference to the natural landscape, the unique texture of the pitcher was established through a salt treatment. The piece looks almost to be natural, un-kilned clay, and is the ideal vessel for holding foraged, native flora from the Cox's River.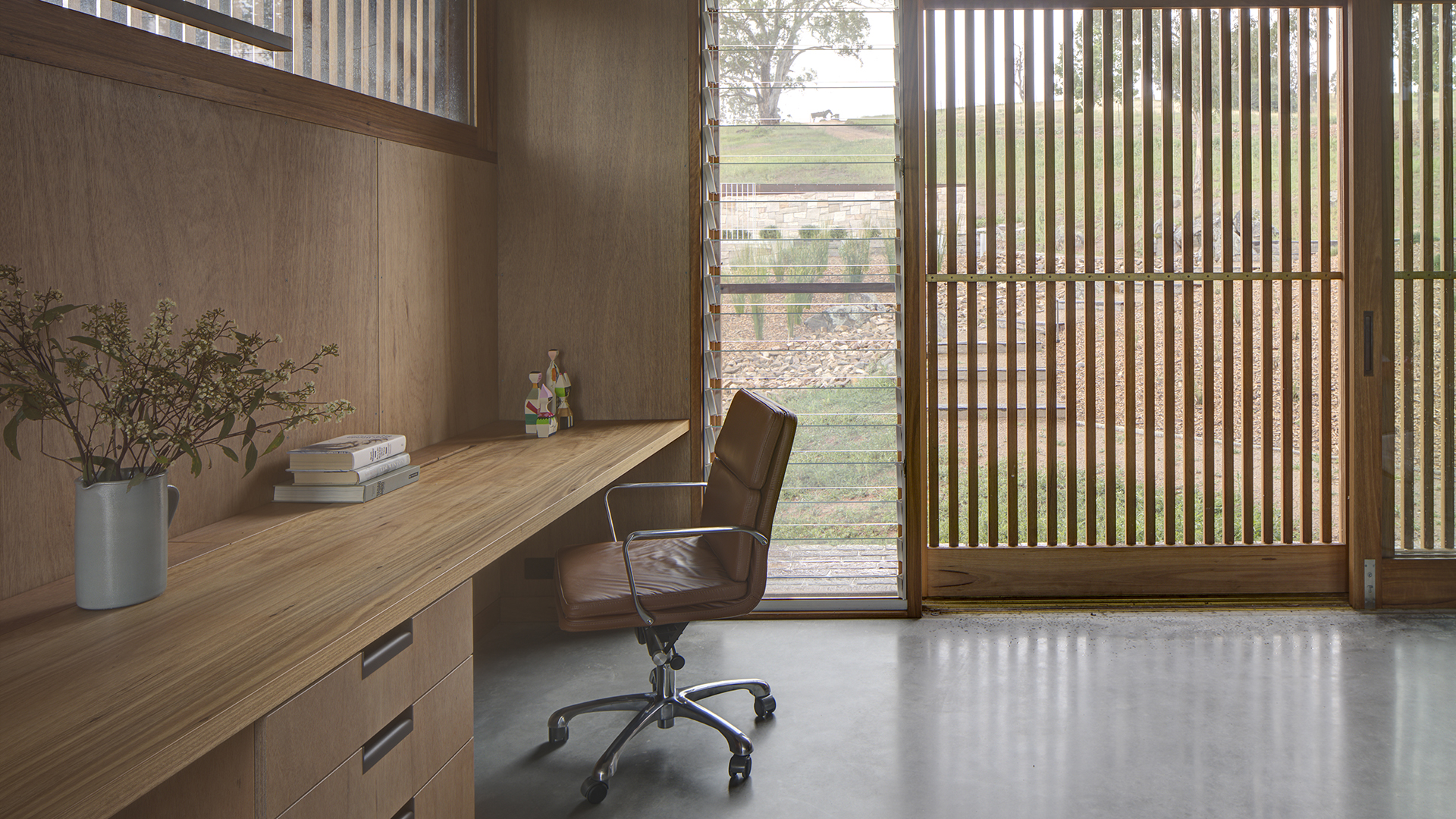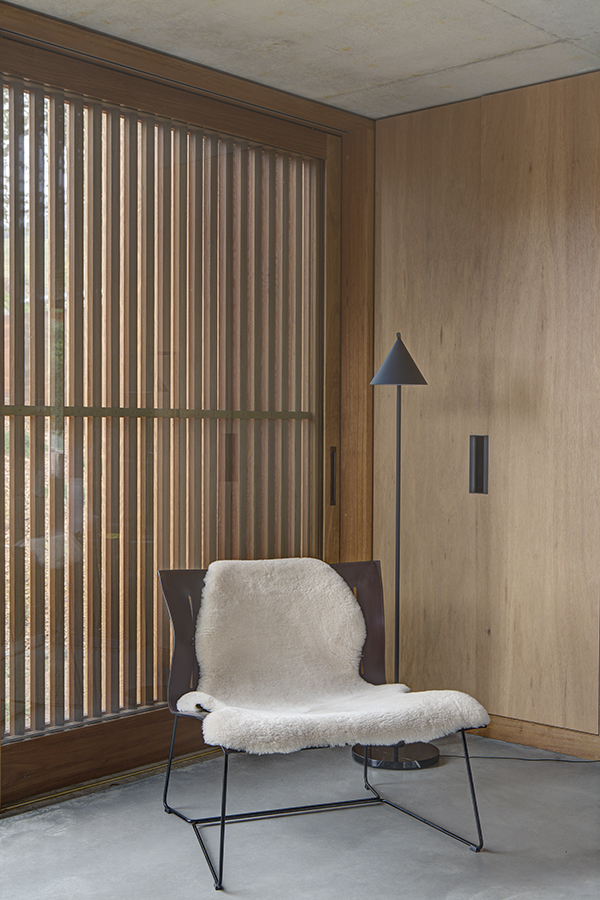 The home's study houses a Walter Knoll Cuoio Lounge Chair, nestled amongst blackbutt panelling, and atop the cool concrete flooring. The leather and steel components fit seamlessly into the minimalist aesthetic. The addition of a sheepskin throw makes reference to the rural landscape and creates a soft textural contrast to the utilitarian flooring and wood panelling.

Standing tall behind Knoll's Cuoio chair is the Captain Flint Floor Lamp by Flos. In the pursuit of refined ergonomics, the painted steel lamp produces adjustable light, perfect for a reading nook or to create a warm glow in the evening's dark. The steel manufacturing of the lamp pairs seamlessly with the steel framework of Knoll's chair, further contributing to the Australian shed vernacular. With its raw materiality, considered styling and generous spaces for meeting, Stonelea fosters comfortable, sustainable and authentic country living.