Completed in 2018, the Women's College opened the Sibyl Centre: an inclusive environment that fosters enriching conversation and a sense of connection through a distinct architectural language.
The Women's College within the University of Sydney is a formidable institution, representing a high calibre of past and present learned individuals.
A homage to the architectural work of its predecessors, Sibyl features a revered brick structure, with repeated perforations that gently filter light through the series of spaces. Designed by one of Australia's most esteemed studios, m3architecture, Sibyl features an internal circular envelopment that dates back to the 1960s – the heart and soul of the Women's College. This expansive, open space builds on the feelings of connection to community and place, where each intricate detail in its design honours women of the past, present and future.

Looking beyond the central atrium, Sibyl Centre houses an array of flexible, multi-faceted spaces for whole-of-cohort gatherings, research and study zones, tutorial areas, music rooms and studios. Embodying the learning environments of tomorrow, m3architecture imbued purposeful design pieces to elevate the student and staff experience within the college.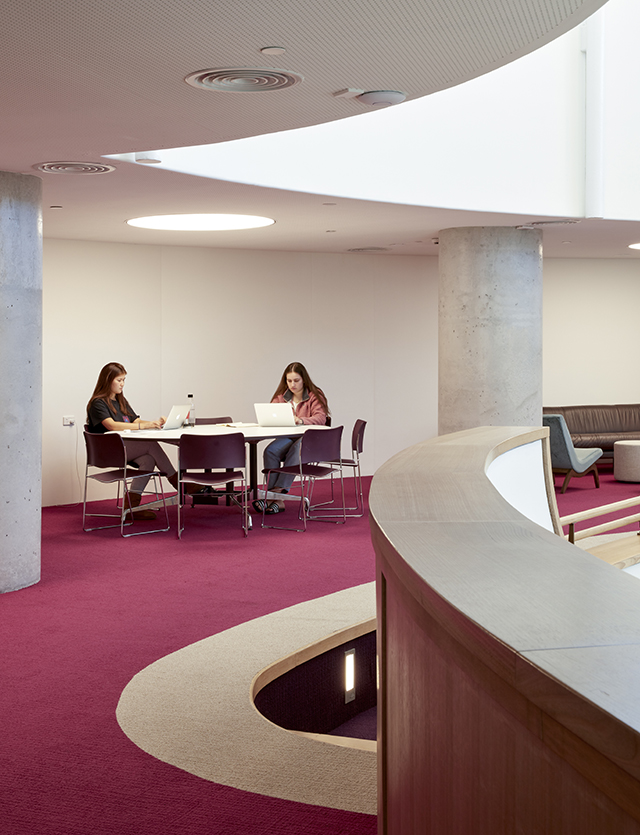 The 40/4 Side Chair by David Rowland for Howe offers an unsurpassed ability to create a multitude of interior landscapes through a minimal, sophisticated profile. This exceptionally versatile chair presents enduring solutions for any function; from speaker presentations to study meet-ups or for individual focused work; the 40/4 chair has been purposefully refined to support the energetic nature of education environments.

A place to create memories and tell stories, the Sibyl Centre is an architectural oracle that pays homage to remarkable women from history while projecting fruitful opportunities for the College well into the future.

Designed by m3architecture
Photography by Robert Frith