Completed by Lyons Architecture, the New Student Precinct at The University of Melbourne unveils rich cultural histories and shapes diverse new interactions.
Derlot seeks to innovate and realise products and solutions for an ever-evolving learning landscape.
The New Student Precinct (NSP) at The University of Melbourne unveils rich cultural histories and shapes diverse new interactions. The project, completed by Lyons Architecture, focuses on reconnecting the campus to the city and facilitates opportunities for university life to expand and meld with its surroundings.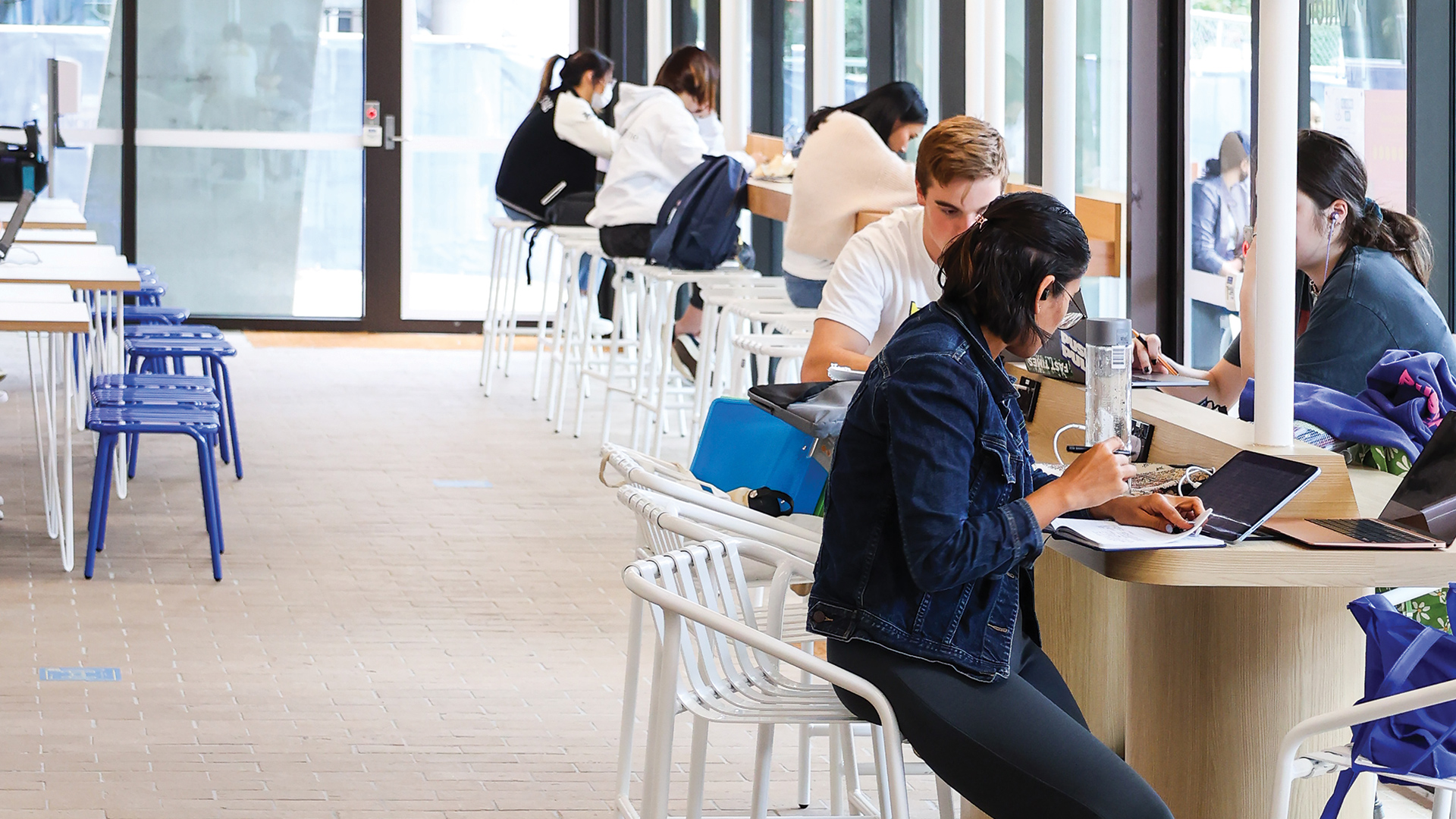 We led a collaborative design team to work closely with students to understand the nuances of the University experience – fixated on creating multiple and diverse spaces for everyone. It responds to a shift in the University's centre of gravity, moving away from an insular keeper of knowledge to a sophisticated and outward facing experience. A diversity of social spaces, retail, food, and beverage outlets and increased contemporary study spaces are integrated throughout the campus. The NSP delivers flexible spaces to support a calendar of events, allowing the site to change its mood to meet the needs of the people within it."
– Lyons Architecture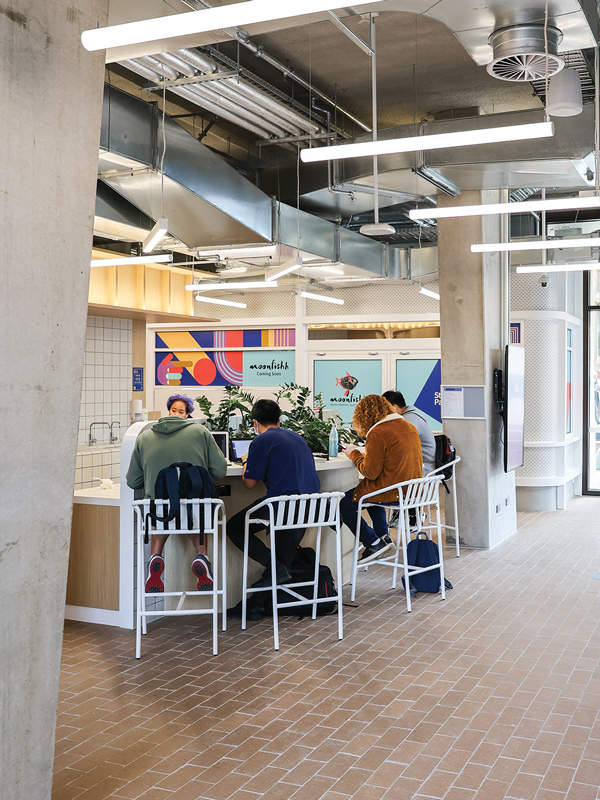 Throughout the precinct, the team carefully considered the role of outdoor space. Greenery and courtyards around classrooms play a significant role in stimulating student wellbeing and fostering activities and informal social gathering between classes. Likewise, meaningful open indoor spaces varying from courtyards, well-defined pedestrian ways, building corridor and veranda were key elements included to reshape and revitalise the campus.
For the interior and exterior design, a thoughtful selection of communal furniture needed to positively reflect the aspirations for campus experience. Well known within the industry for impactful and innovative design, specifically within the education sector, Derlot seeks to realise products and solutions for an ever-evolving learning landscape.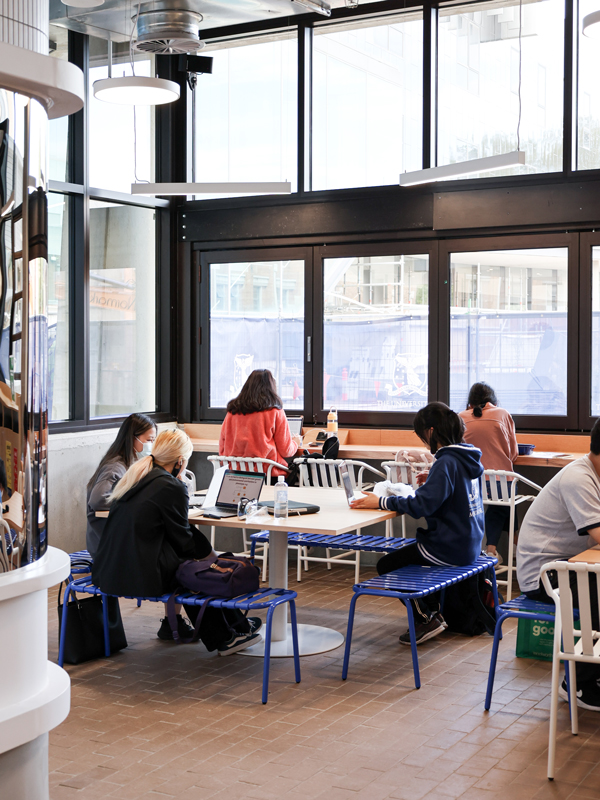 "Derlot is conscious that design implemented today will impact our future and the future of generations to come, such meaningful and human-centred design starts with a conversation. All products within the Derlot portfolio are unique and embody an honest ethos driven by communication and collaboration."
– Derlot Director Alexander Lotersztain.
Utilised throughout the New Student Precinct, the clean lines and hardwearing materials make Derlot's Strap collection a timeless classic fit for modern times. Both striking in appearance and durable, Strap is made from 70% recycled aluminium, which may be recycled again after the product has served its purpose—a situation which is rather unlikely. Also, with custom colours available, the design can match any university's aesthetic and energise any space whether indoors or out.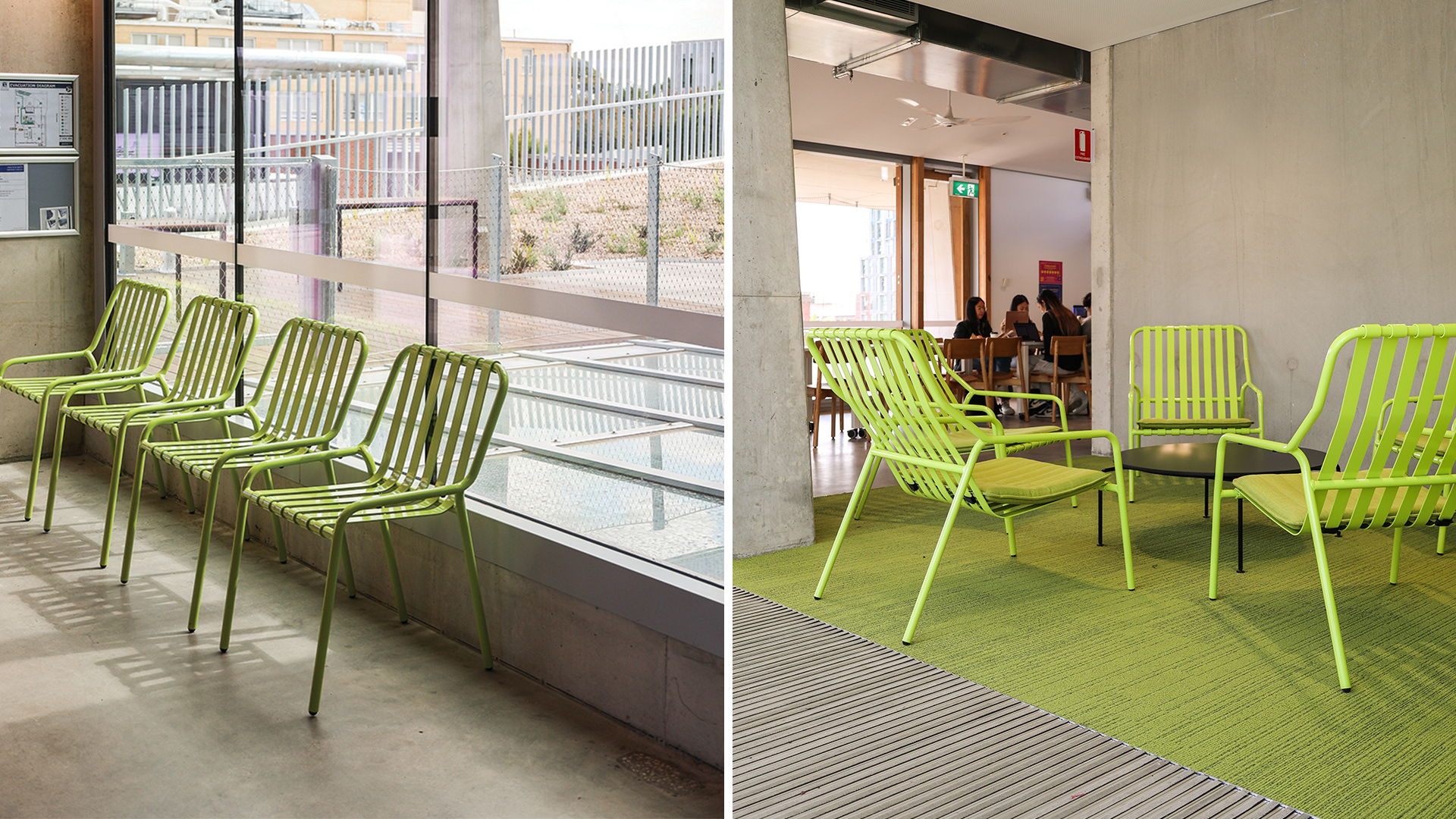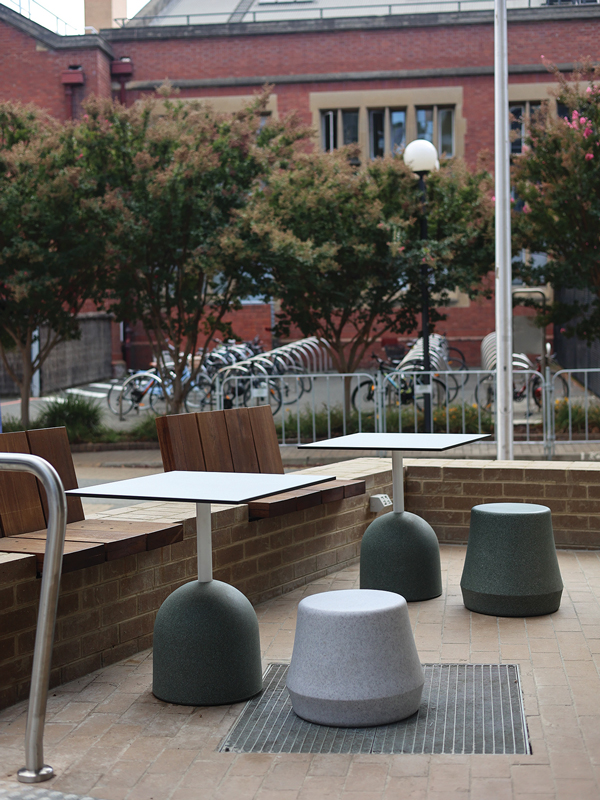 Activating the Outdoor Space.
For the New Student Precinct, special consideration was paid to the outdoor spaces. Activating the space for moments of impromptu conversation, studying between classes or a much-needed moment of repose. Derlot's Tonne table and Stump seats were used here. Tonne adds a renewed sensibility to outdoor café and communal spaces. A raised, or perhaps perfectly leavened, cylindrical base gives the table an inviting feel while also providing durability and stability. Stump Seating satisfies any social or seating arrangement. Suitable for indoor, outdoor, and high traffic areas, Stump is the perfect support for a little down time.
Lyons delivered a cohesive precinct, embedded with diversity, inclusivity, and accessibility. The project has transformed the student experience at the University of Melbourne while deeply rooting it in its cultural past.
The precinct was designed around existing heritage buildings, which allowed Lyons to harness and enhance existing cultural histories. Central to the design of the Student Pavilion was the voice of the community with over 20,000 students and staff actively contributing their views and ideas to inform the planning and design process, resulting in a truly co-created space. A persistent theme emerging from this co-creation was the importance of sustainability in all aspects of university life, from food and landscapes to energy consumption and campus operations. These priorities are front and centre in this 6 Star Green Star rated building, fostering an environment for the community to connect and learn about sustainability.

Client: University of Melbourne
Collaborators
: Koning Eizenberg Architecture
, Aspect Studios, 
NMBW Architecture Studio, 
Greenaway Architects
, Architects EAT
, Breathe Architecture and 
Glas Urban

Location: VIC
Traditional land: 
Located on the traditional lands of the Wurundjeri people
Size: 
37,300 square metres

Sustainability:
 6 Star Greenstar New Build and 5 Star target (self-certified) rating for refurbishment