Living Edge Design Studio brings a softness in palette and materiality, creating a home layered by curious and engaging moments to partake in the rituals of daily life.
A Modern and Minimal Mediterranean Aesthetic with repetitive materials and nuanced tones.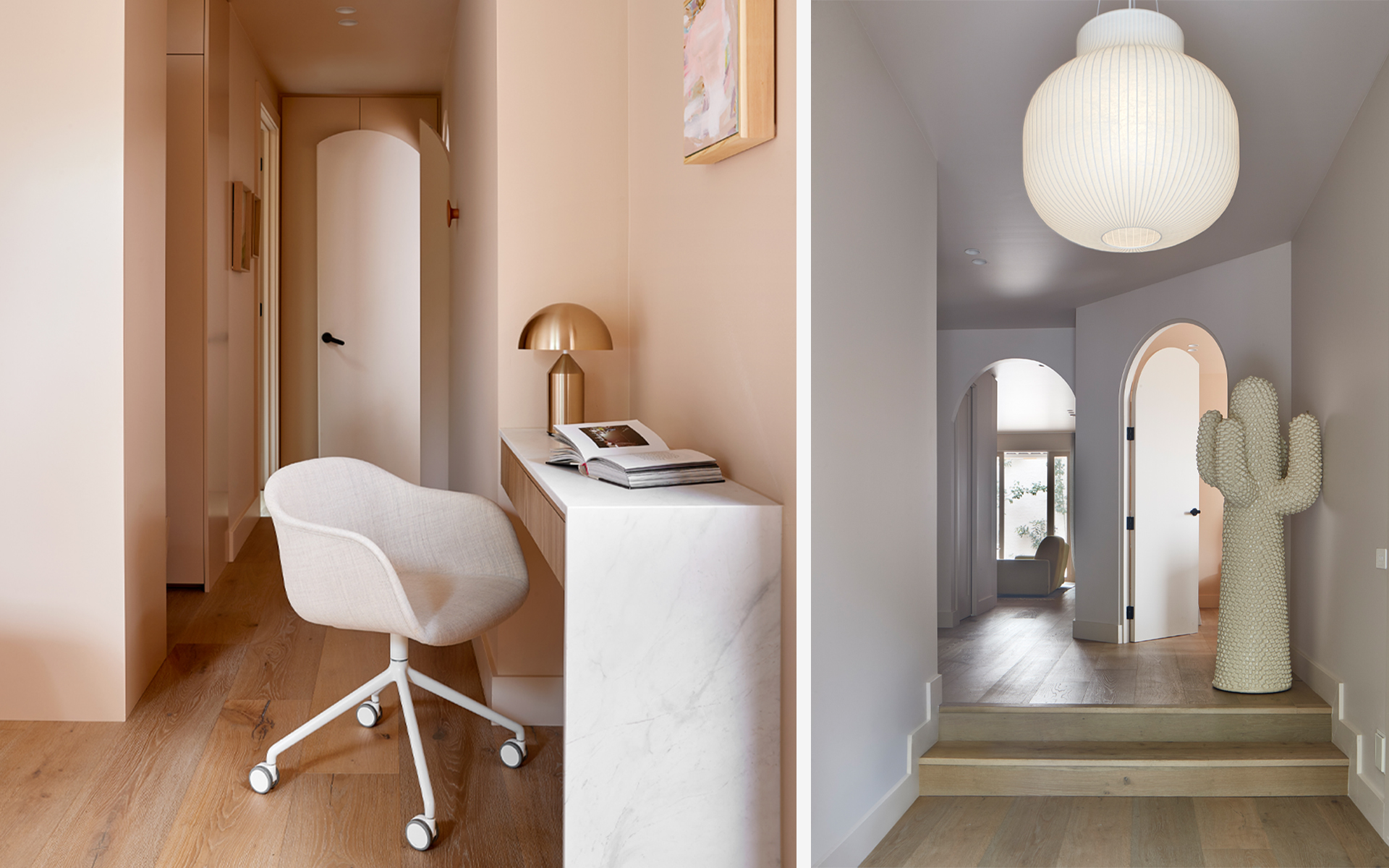 Briefed to renovate a Tuscan style family home built in the 80s, Zoe Murphy - of the Living Edge Design Studio team - crafted a modern and minimal Mediterranean home for 5. Featuring a layering aesthetic with repetitive materials and nuanced tones, the Bayside Brighton home has been brought back to a life full of colour.

"With an Italian heritage the family loves to entertain, so we set about reconfiguring the floorplan to allow for a larger open plan kitchen, with butler's pantry in the centre of the house that flowed into an outdoor alfresco kitchen and dining area," said Zoe.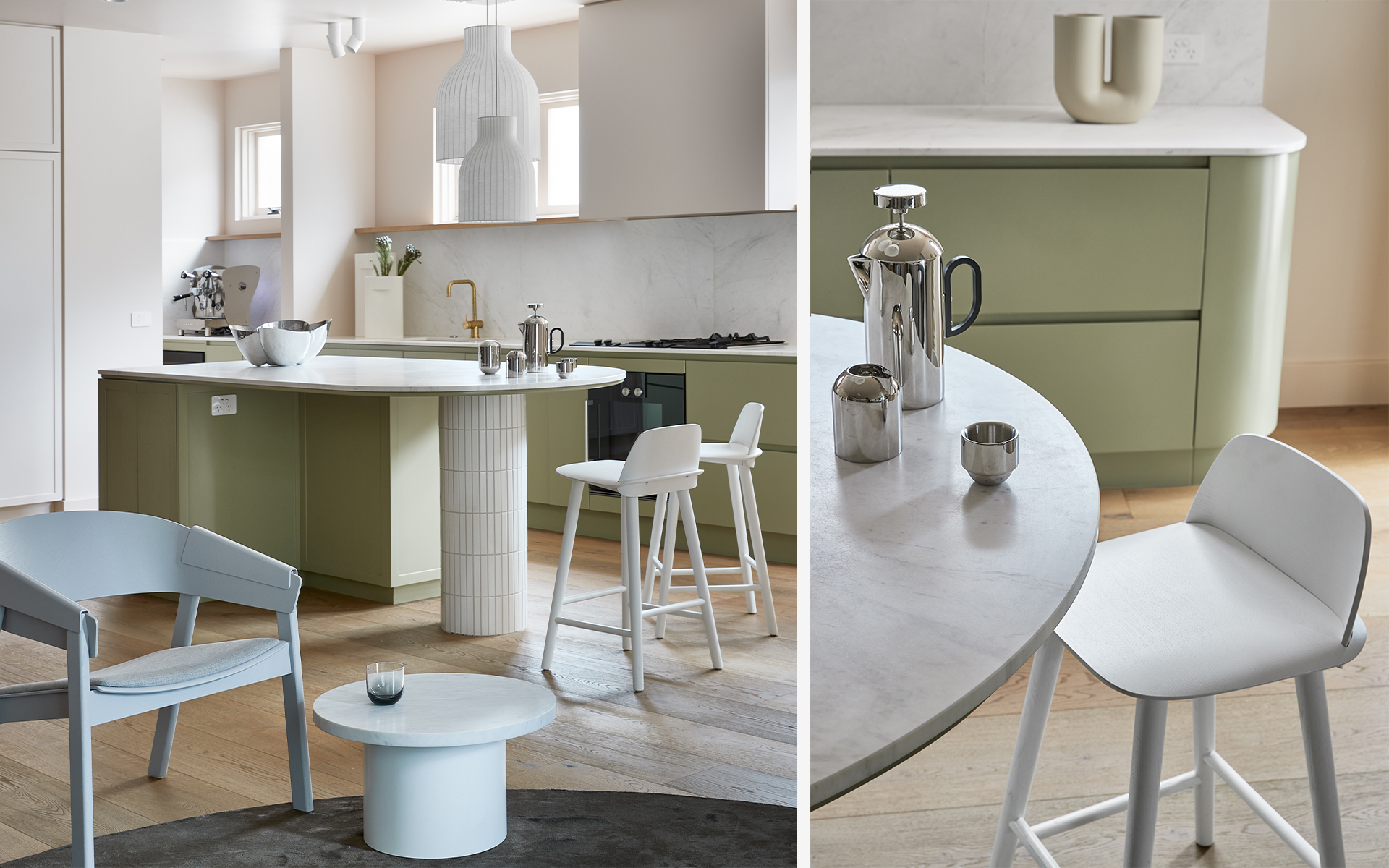 The material palette was inspired by soft hues, textures, patterns, tiles, and archways from the Mediterranean. The kitchen is the heart of the home with the focus firmly on curved forms and texture. A white Cactus adds to the tactile combination of materials and references the flora of the warmer Mediterranean climate. Nerd Stools in white were selected to fit comfortably around the bench, designed to seat up to five comfortably around the curved end. Muuto Strand Pendants insert a modern form and a warm, comfortable soft glow, a reference to the curved lines of the archways.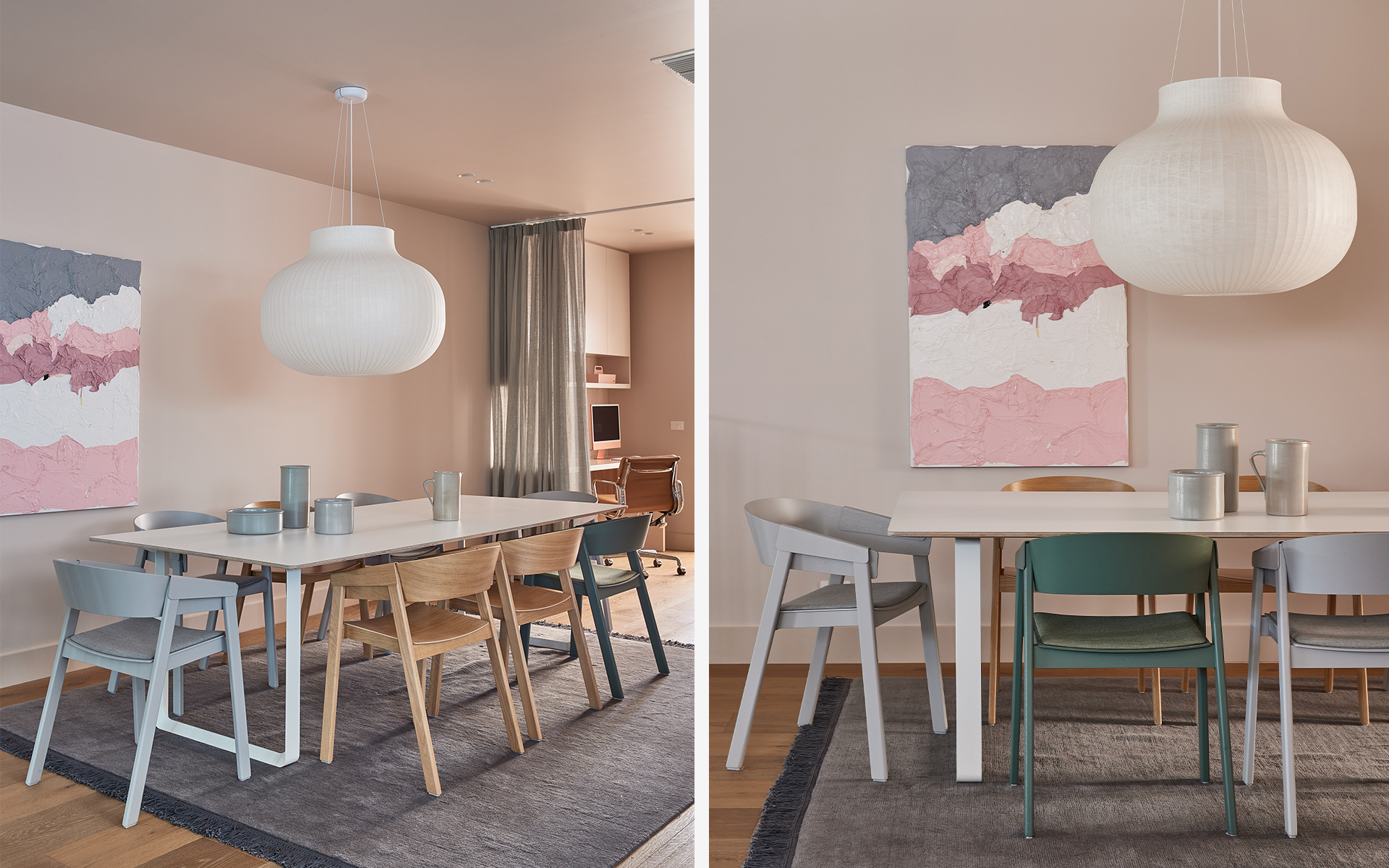 In the dining space, Muuto Cover Chairs were utilised in a playful colour range, seated around Muuto's 70/70 Table. For the chairs, a mix of green, grey, and oak timber, some were upholstered with matching coloured seat cushions. The home office is curtained off from the open plan living/dining space in the same pinkish tone, home to the Eames® Soft Pad Management Chair customised in tan leather and a minimal Muuto Tip Lamp for light.

The first of two living spaces plays with texture, pairing the Established & Sons Quilt Armchair opposite Muuto In Situ Corner Sofa.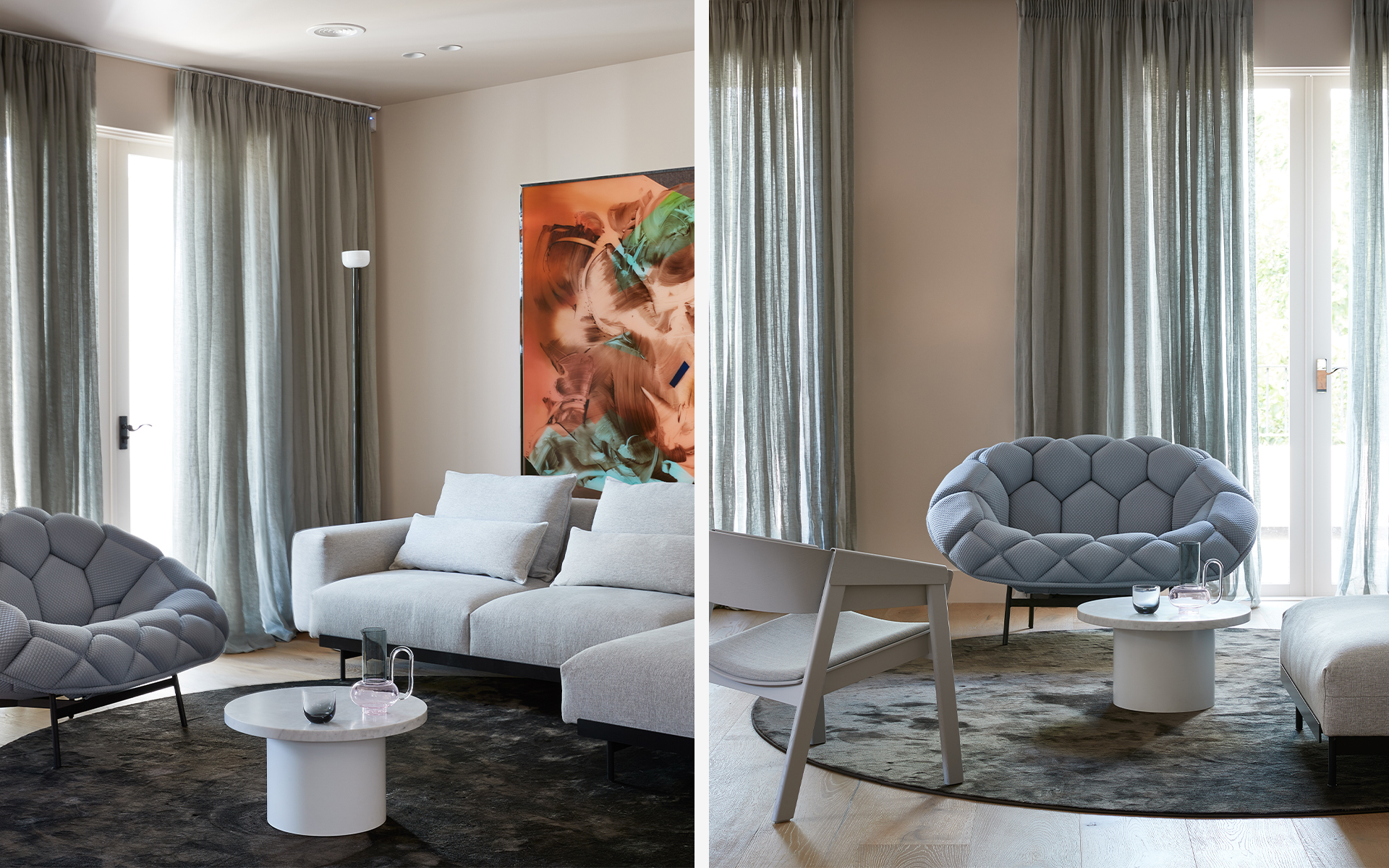 Painting the entire house in colour, even the ceilings, allowed the lighter coloured products to stand out and tonally is easy on the eye. In the second of two living spaces, the Vitra Polder Sofa offers an additional splash of colour in a bright yellow paired with neutral oak and gold accents creating a warm inviting space.

The Muuto Linear Steel setting was the perfect solution for the Alfresco dining area, the off-white colour was selected to match in with the yellow and white stripe awning, referencing beach umbrellas along the Almalfi coast.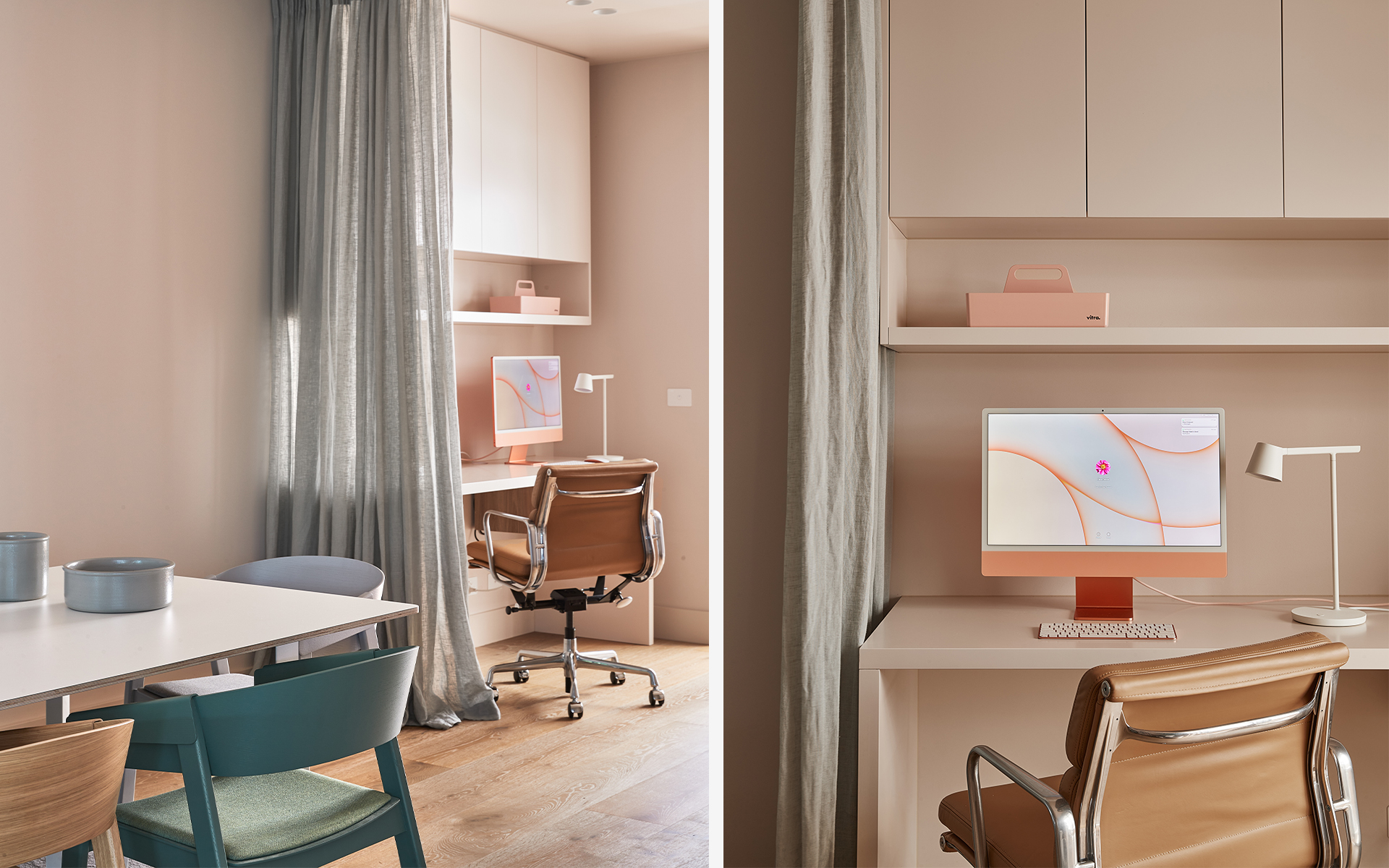 The interior has come together with a uniform look that has a modern Mediterranean essence. The function and flow of the space works well thanks to strategic space planning at the start of the design process and thoughtful furniture procurement.

Photographer: Shannon McGrath
Interior Design (Architecture): Zoe Murphy
Interior Styling: Zoe Murphy