On the cusp of a new era for commercial interiors, Hayesbery combines advanced sustainability operations with flexible work imperatives.
Goodman's new Headquarters takes 'leading by example' to the next level – crafting a space for innovation, ambition, and greatness.
Australia's East coast continues to drive innovative approaches to architectural and design sustainability with the arrival of Goodman Hayesbery. The global property group's flagship workspace in Sydney was specifically designed around the health and wellbeing of people – catering for flexible working in a COVID era. Goodman engaged global architecture studio Woods Bagot to create a workable design solution, holding the highest sustainable performance and impact possible in complete balance with the need to achieve new and dynamic commercial efficiency. Living Edge was proud to collaborate on this project and dive deeper into our commitment to support our industry; aid in sustainability offset and reduction strategies, promote greater awareness and education surrounding end-user health and wellbeing.

The Hayesbery warehouse, constructed in 1921, for ladies' hat manufacturer R.C. Henderson, is a distinctive feature in the streetscape and history of Rosebery. In the immediate chapter of Hayesbery history, Woods Bagot has transformed four of the remaining industrial buildings into a sustainable, integrated, flexible campus-style workplace. Ensuring the industrial heritage of the site is celebrated through the use of materials – timber, metal and brick. Refined finishes paid tribute to the original craftsmanship of the building heritage as a hat manufacturer that specialised in woven straw and felt hats.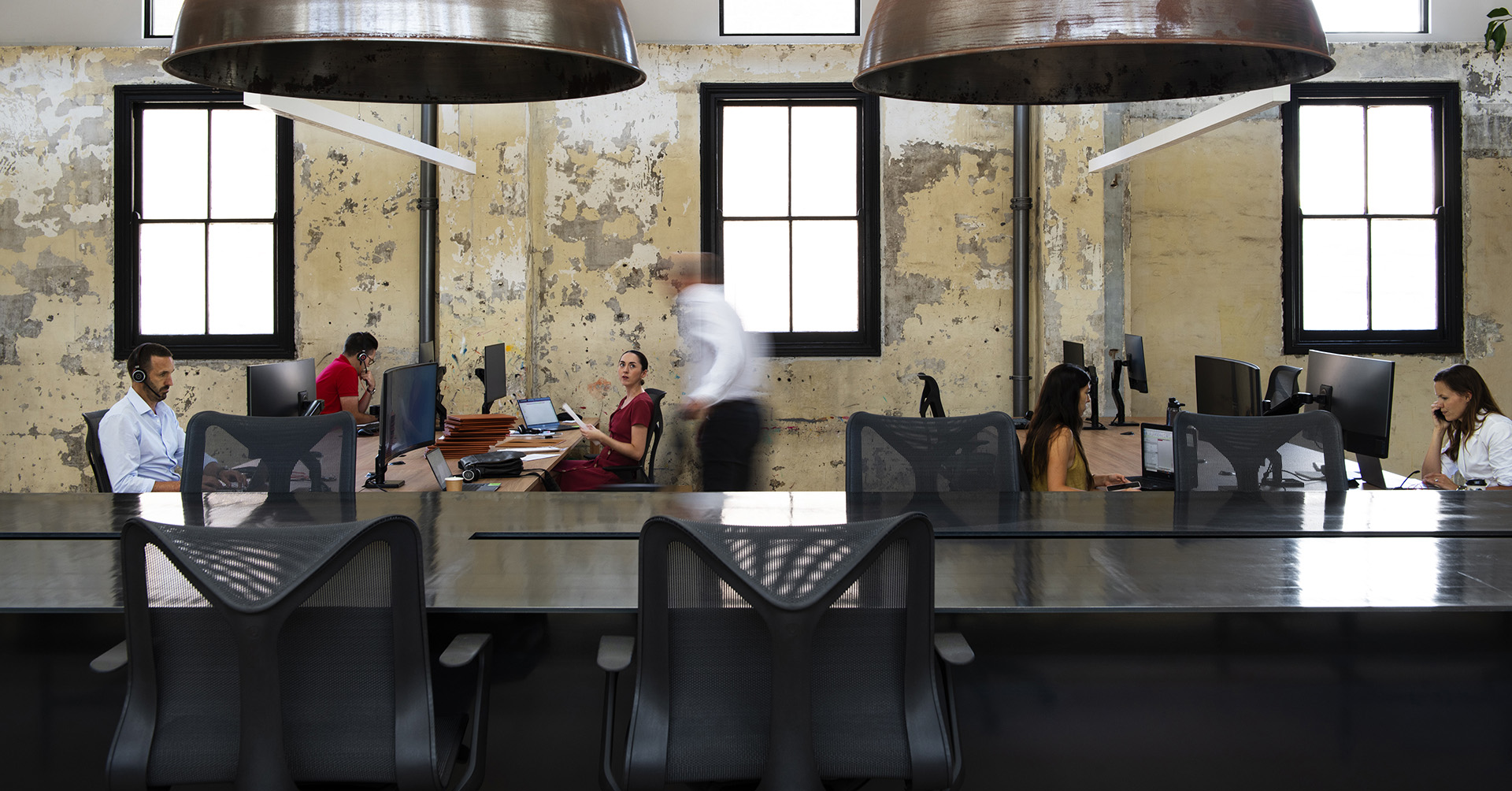 With the project underway when COVID first struck, the design quickly pivoted to incorporate specific health and wellness features that would help protect their people and support a shift to flexible working for the whole team. This in turn has been adapted to allow for greater work – life balance, diversity, reduced travel time and overall efficiency and collaboration.

The Ackland building is NSW Heritage listed and has been adapted and developed for re-use. This space includes the lobby, meeting rooms, communal café and workspaces. Woods Bagot worked alongside Living Edge to select interior elements that would address end-user wellbeing in a direct manner. The seating selection was of the utmost importance. Herman Miller's Cosm Chairs and Work Stools were specifically utilised throughout the offices and collaborative work settings. Cosm has been designed to increase mobility, improve blood circulation, and alleviate both physiological and psychological fatigue. The hourglass-shaped suspension attaches to the frame, creating areas of high- and low-tension that provide comfort and support where it is needed most—regardless of body size or position in the chair.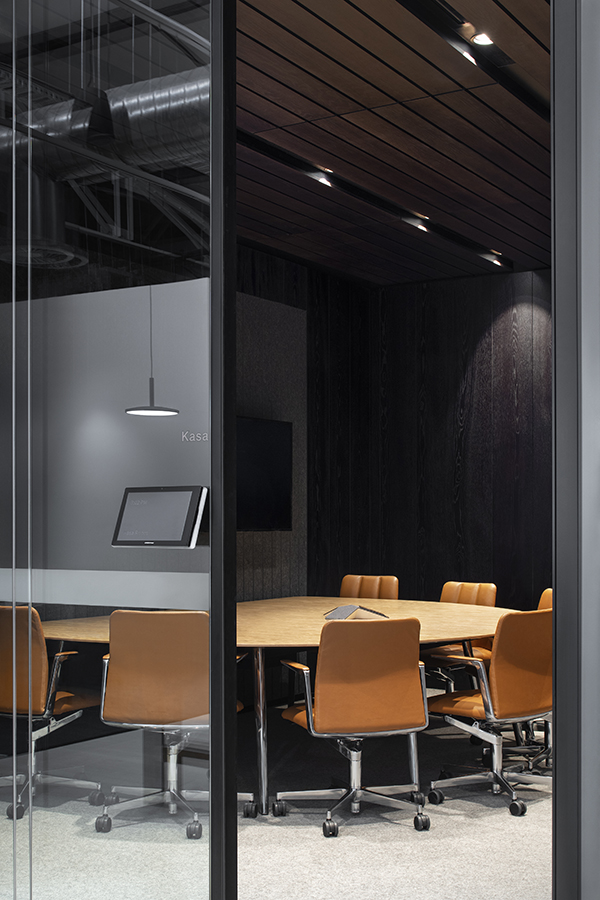 WoodsBagot worked alongside Living Edge to select interior elements that would address end-user wellbeing in a direct manner.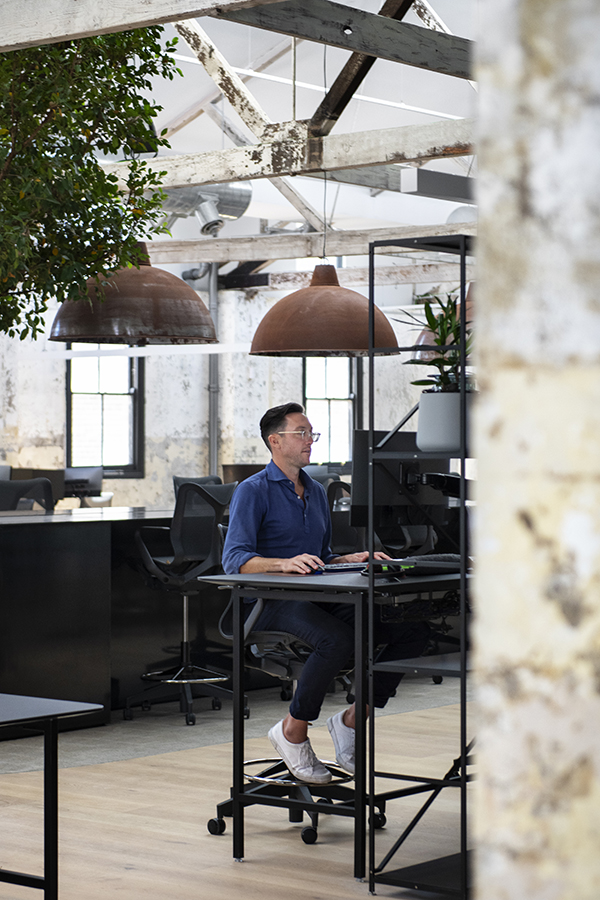 The FK Bucket Chair utilised in the boardroom is an icon of international design history, a beacon of modernity, a pioneer of minimalism. Designed at the end of the 1960s by Preben Fabricius and Jørgen Kastholm, the fine lines and clear contours are as compelling today as they ever were. The Craftsmanship of Walter Knoll's leather is unparalleled and aides in celebrating the industrial heritage of the site. Other finishes honoured in the space include woven metal work, hand stitched leather details and solid timber joinery, hand finished with expressed connections.

Through incorporating a greater scope of modular interior elements, the various spaces of Goodman now embrace opportunities for individuals to complete their daily tasks in quiet focused zones, buzzy collaborative settings, and multi-purpose breakout areas across the project's entire floorplate. In honour of Goodman's vision for the future of work, Walter Knoll's Jaan Living Sofa have transformed traditional breakout areas. Positioned around integrated technology, screens, or boards, and co-mingled with Walter Knoll Oki Side Table, these areas have become comfortable collaborative experiences to be enjoyed.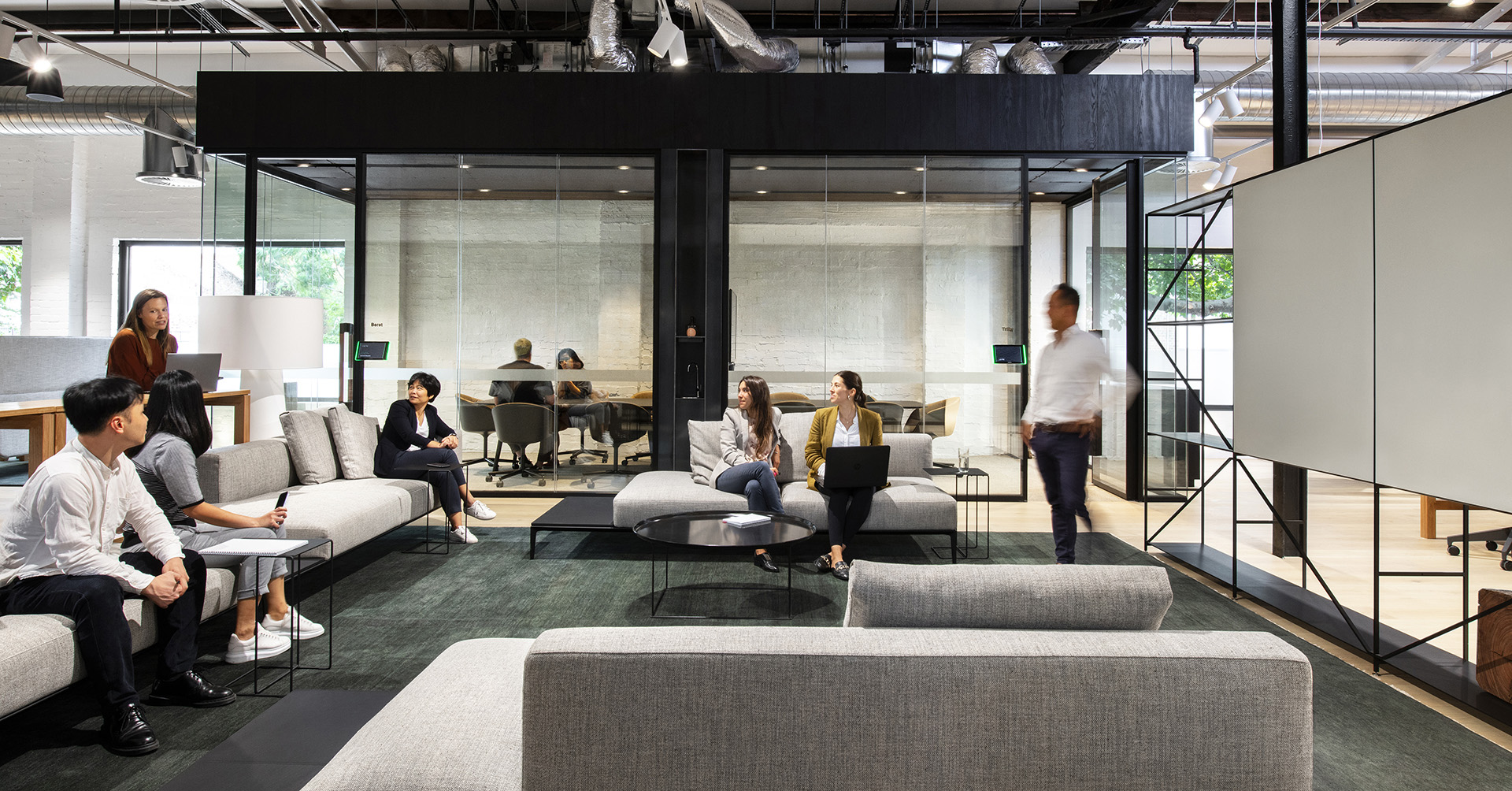 Considerate of those necessary moments of peace and quiet, Walter Knoll's Jaan Silent provides closed quarters in an otherwise open office plan. Jaan Silent is available in a range of configurations, creating a safe space for a spontaneous get-together in a small team, a creative session or quite simply five minutes of composure.

Characterised by its own maverick energy, the Goodman meeting spaces are not easy to forget. To compose a lasting impression, Living Edge worked intimately with Goodman and Walter Knoll to coordinate highly tailored design solutions. At once understated, progressive and authoritative in style – Keypiece and Leadchair Management make a truly complementary match. Keypiece satisfies every demand: from cultivated business routine to the highest demands of the boardroom. For Goodman, a Keypiece Conference System was customised to seamlessly house the various technology solutions that are core to Goodman's consultative offering. The ultimate pair for any boardroom table, Leadchair Management designed by EOOS is at once understated, progressive and authoritative in style – a truly complementary match for the Scale Media Conference Table.

Thanks to Living Edge's ongoing thought leadership in commercial interior specification; our team delivered a sequence of spaces deeply reflective of Goodman's values that enticed employees to the office, provided enhanced amenity, service and a heightened focus on wellness.
Designer: Woods Bagot
Builder: Intermain
Location: Rosebery, NSW