Work has changed. Most offices haven't. Living Office is a high-performing workplace that provides a better experience of work for people, and helps organisations achieve their strategic goals.
Redesigned Living Edge Office Welcomes New 'Post-Pandemic' Hybrid Workspace Model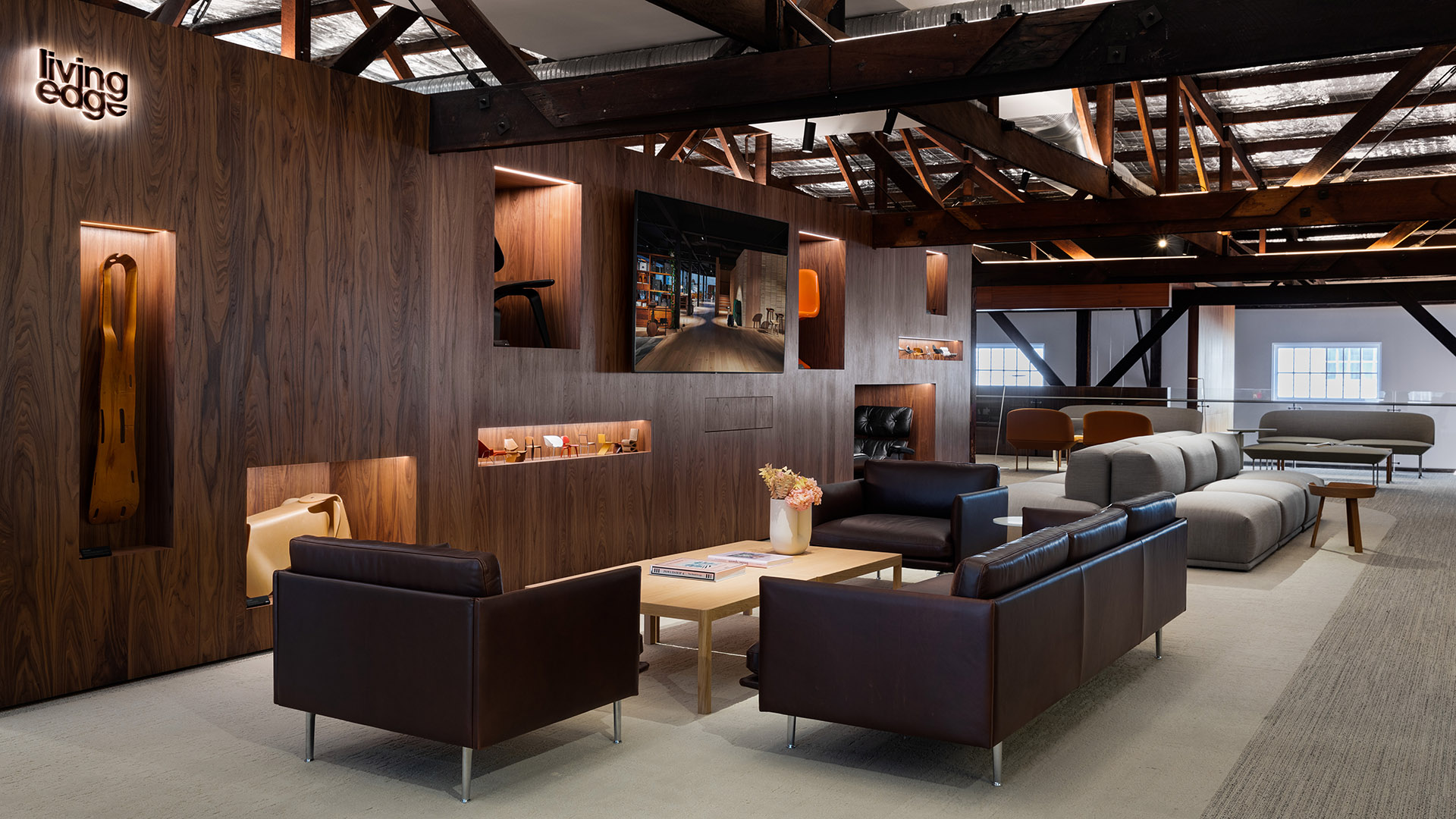 On the cusp of a new era for commercial interiors, the Living Edge design studio team directed insights inwards and crafted an exemplary space to showcase new product and reinvigorate commercial efficiency. Utilising Herman Miller's Living Office plan, the Living Edge design studio team created a floor plate with a variety of spaces optimised to support work and interaction. Each setting is distinct in its purpose, scale, and sociability. Each may be executed in a variety of ways to enable purpose, express character, or enhance the activities of work.

Each organisation and its people are different, yet many offices today look and feel the same. Herman Miller's proprietary research-based Living Office Discovery Process helps envision an office that better reflects what you need and provides greater support for what you do.

Living Office provides an updated understanding of people and their work, founded on elements that are naturally human: how we experience the world and what motivates us. Informed by this understanding, Living Office provides ideas for the arrangement of surroundings, furnishings and tools to meet the needs of people and deliver a better work experience.

From improvisational creativity to standardised processes, work today is more varied than ever before, so shouldn't our offices be more varied too? In a Living Office, people can choose from a range of spaces that better support their activities, strengthen their connection with colleagues and help fulfil their specific purpose. These settings can be designed in ways that uniquely express the culture of an organisation and further their ambitions, making place a more valuable asset.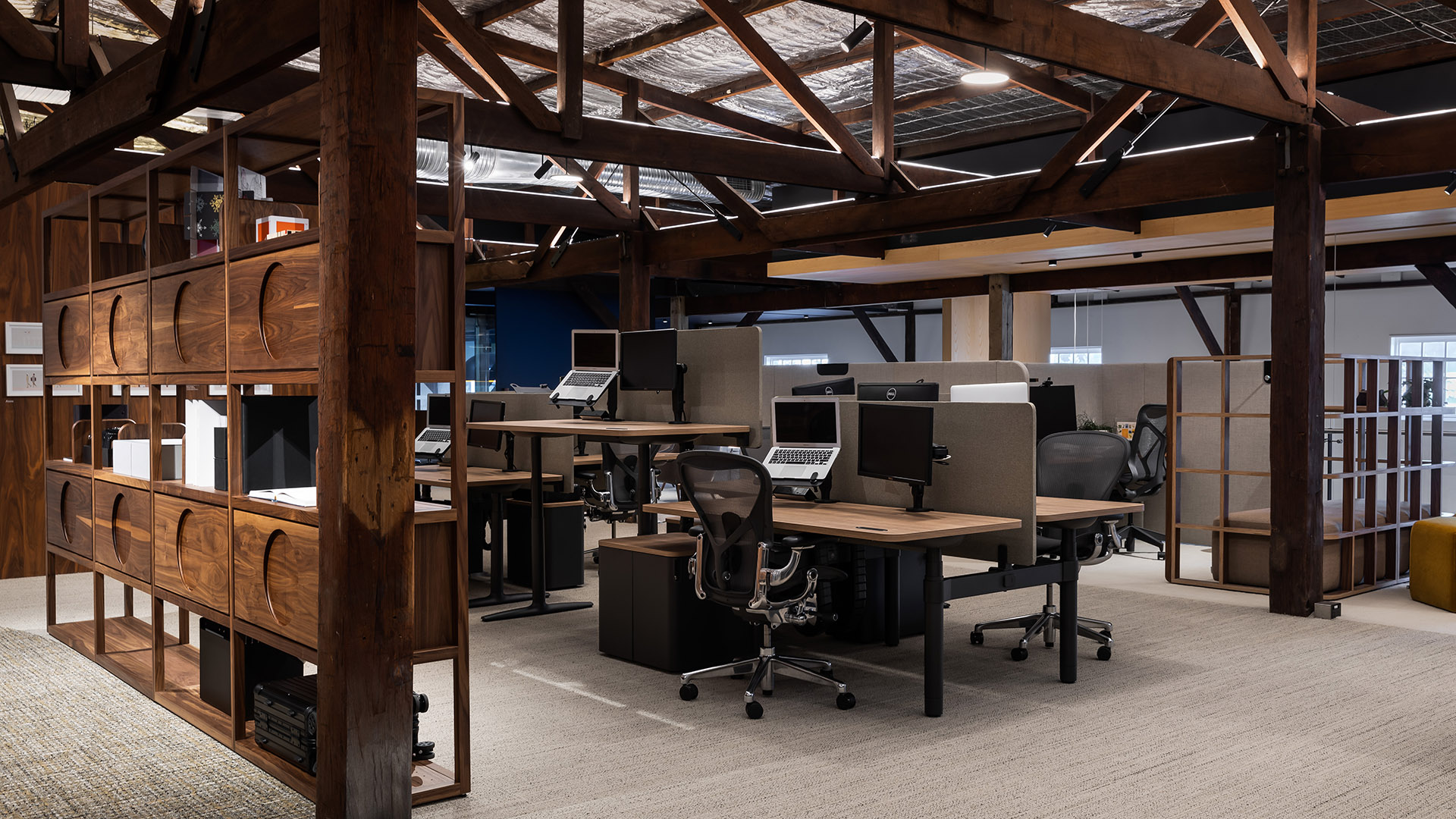 Work Spaces in Action

Hive - A Hive is a grouping of workstations that allows people to harmoniously engage in individual and collaborative work. In the Living Edge office, Hive working areas have been optimised with Atlas and Catena work solutions from Herman Miller. The Atlas Office Landscape is a work system which brings together height-adjustability and collaborative working in one elegant solution. While Catena is a versatile honeycomb partitioning system that can be configured and reconfigured with ease.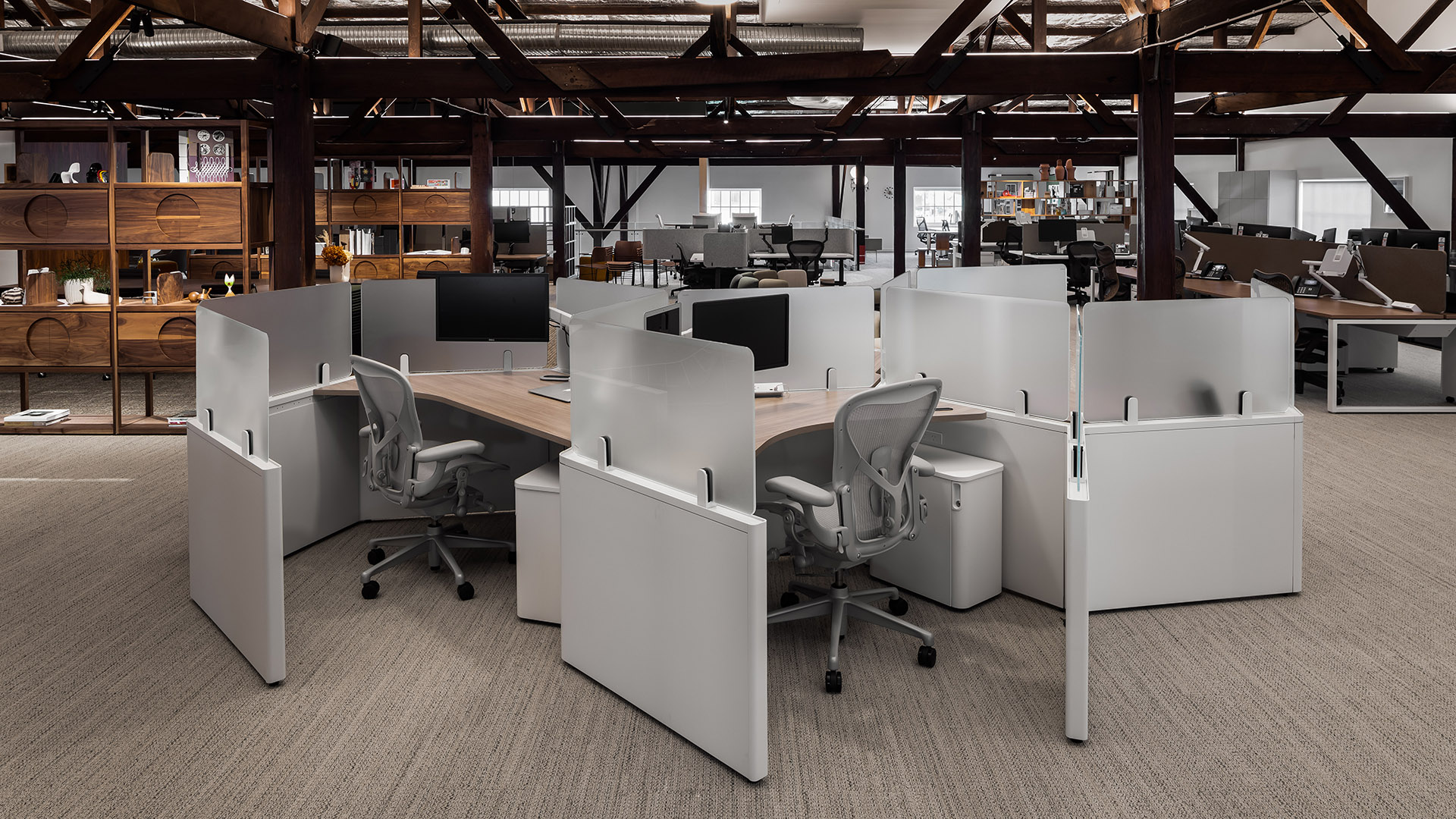 Haven - A Haven is a small shelter where focused work can be done without distraction. BLOC by Caon creates the ultimate Haven amongst a busy office. The BLOC system of modular furniture is a distillation of Caon's extensive experience devising award-winning aviation interiors.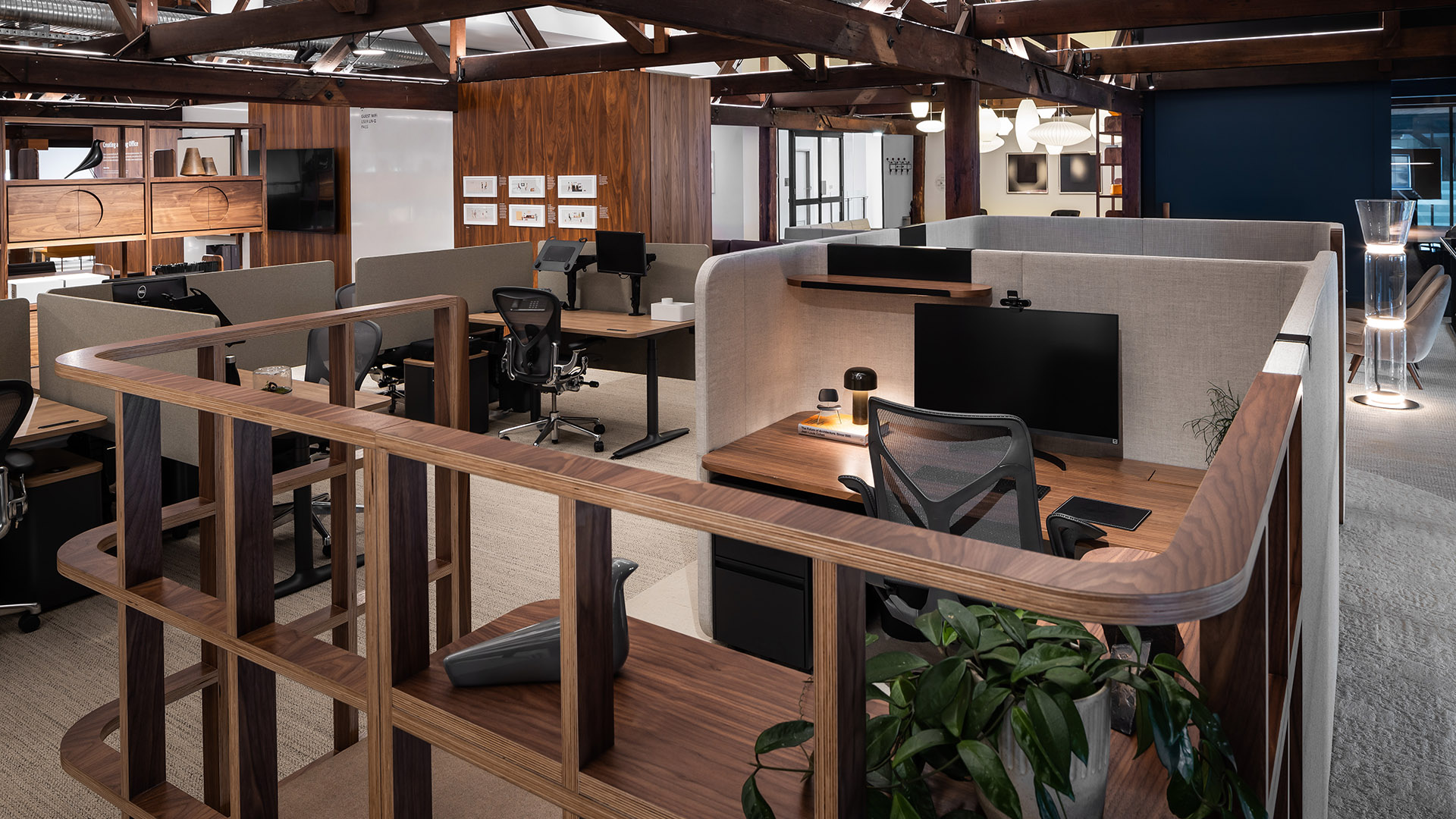 Clubhouse - The Clubhouse, a working neighbourhood designed to belong to a specific long-term project, features a group work point with ergonomic seating to enable people to freely and intuitively cycle between tasks and activities. It encourages the use of a variety of fixed, mobile, personal, and remote technology. The Herman Miller Tuxedo Sofa, Arie Shelf by e15 and Herman Miller Exclave are signature furnishings deployed for use in this space. The Herman Miller Exclave, as a suite of collaborative products, features mobile whiteboards, noticeboards, eco boards, tables and media tiles, to ensure information and ideas are easily shared between users of the Clubhouse space. The ergonomic design flow of this interior space reflects the expertise of the Living Edge design team, who thoroughly considered the human experience to inform a renewed workplace experience.

Forum - Enabled by a clearly defined point of focus, a Forum supports the presentation and discussion of content.

Jump Space - Comprised of highly approachable work points, a Jump Space facilitates work for short periods of time between other activities.

Cove - A Cove is a compact setting near individual work points that enables people to work together for short periods of time.

Plaza - The vibrant and dynamic heart of the landscape, a Plaza is a place where people can intuitively take the pulse of the organisation. Within this space, Grid by Elan Plus is a striking modular shelving system with adjustable inserts to be arranged with endless flexibility to suit the owner's needs.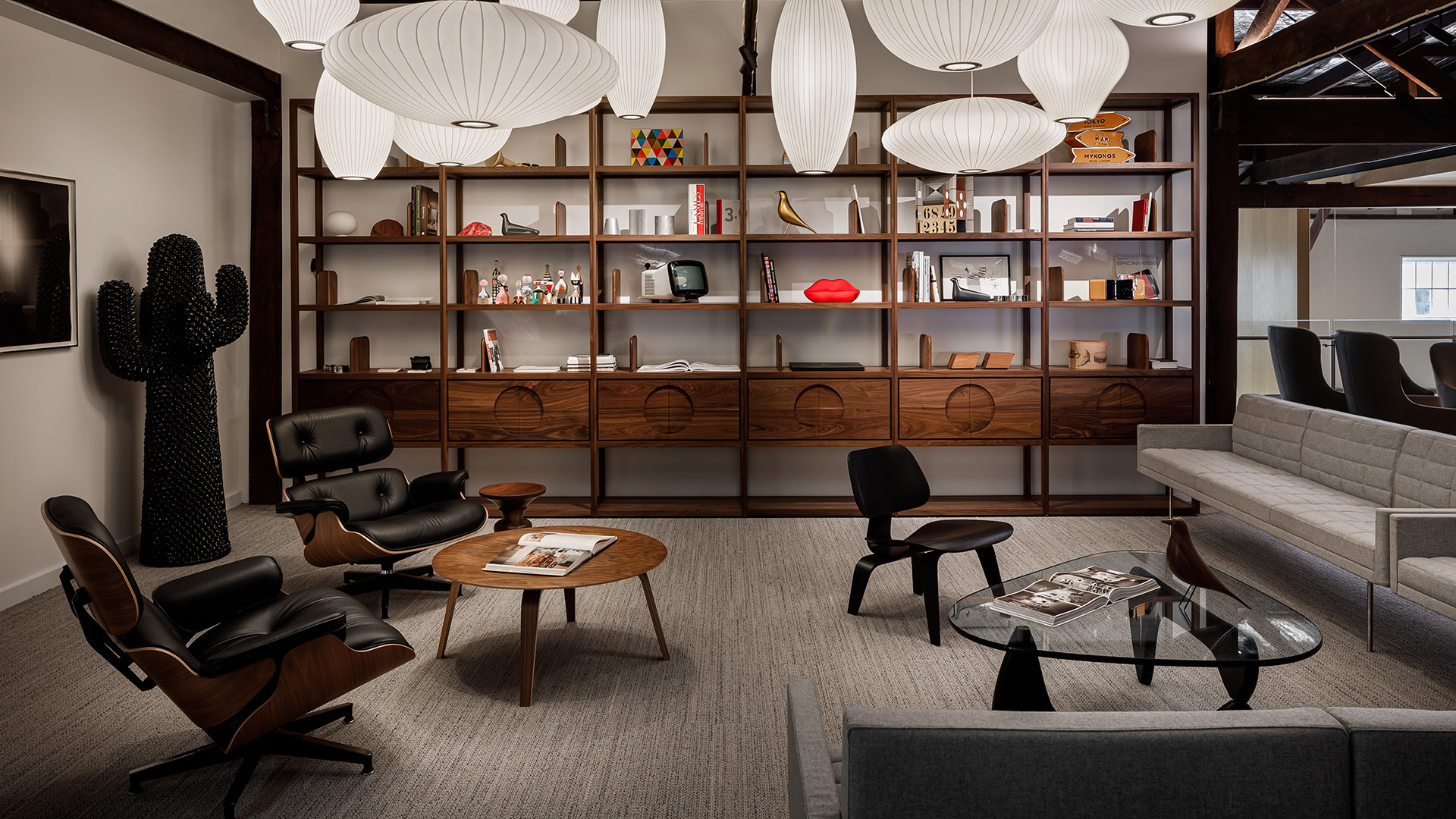 Workshop - A Workshop is the ideal setting for people to work together to generate the ideas that drive work forwards. At the heart of the commercial floor is an area conceived for collaboration. Conference X by Walter Knoll takes centre stage, a conference table showcasing beauty, efficiency, and stability –crossed with maximum flexibility. While Caterpillar by Derlot adds a comfortable seat and a homely element of comfort. Caterpillar segments come together to form a continuous undulating sofa system offering the flexibility of tight radiuses.
Meeting Space - A Meeting Space is designed to support information sharing, whether it's a single speaker at the head of the room or a group of colleagues conversing among themselves.

Landing - A Landing is an open perching spot adjacent to Meeting Spaces or Forums, where people can warm up before meetings and cool down after they end.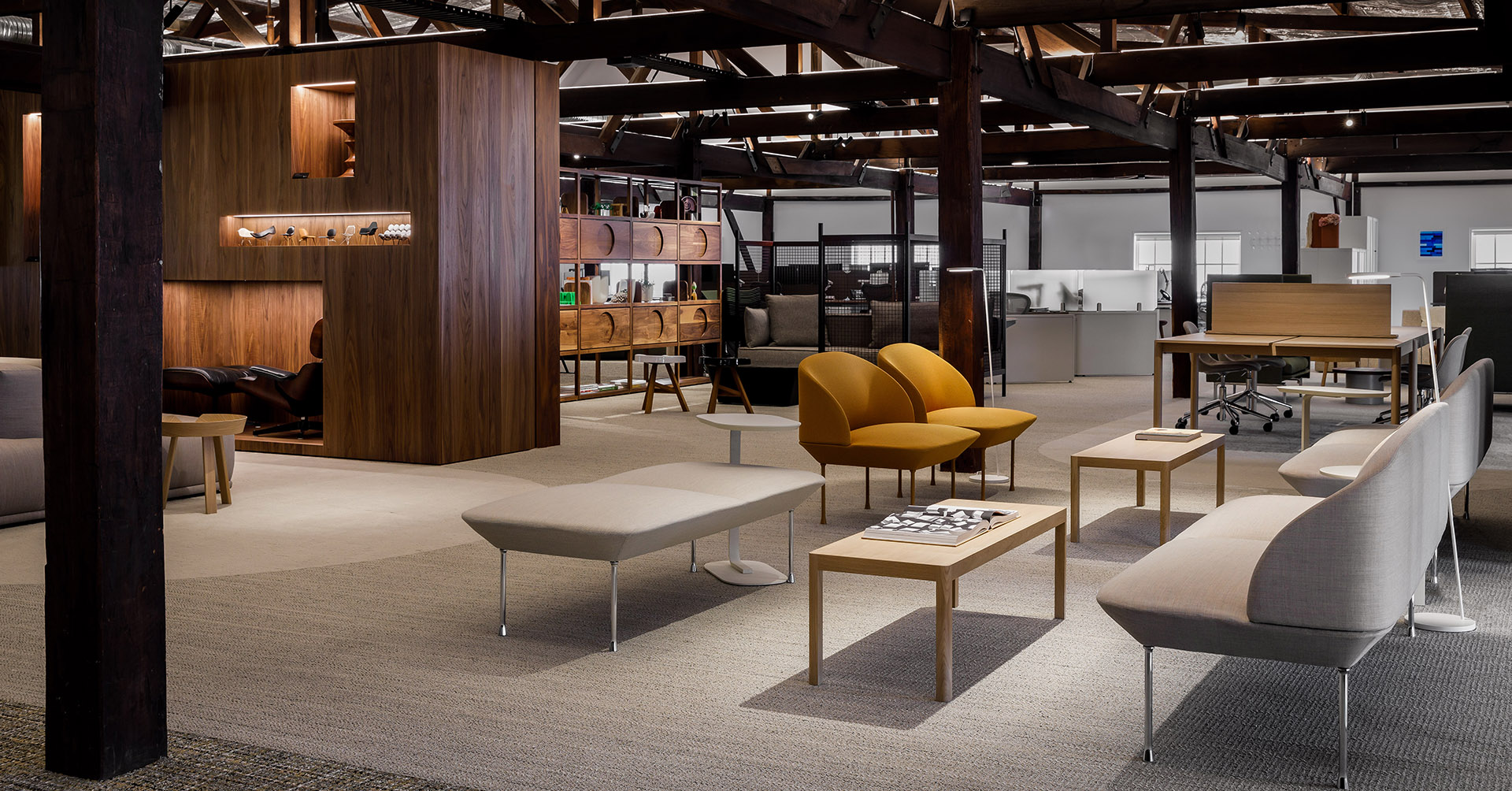 With an original design by Woods Bagot, the Living Office was reimagined by the Design Studio, Living Edge's team of in-house interior designers. Offering consultations at their Sydney, Brisbane, Melbourne and Perth showrooms, as well as online virtual consultations, Living Edge's Design Studio offers a personalised and curated interior design service that spans from the initial consultation through to concept development, furniture selection and final delivery stages.

Incorporating the ergonomic and contemporary interior furnishings of designers Herman Miller, Muuto, Walter Knoll, e15, Elan Plus, Lambert and Fils, and more, the innovative Living Office invites flexibility, creativity and diversity as central values of its design.

Achieve More with Living Office

If you'd like us to email you updates about Living Office and other work and workplace insights, tell us about yourself and your company.

Photography: Sebastian Mrugalski