Monolithic and established as their infrastructure tends to be, universities are by and large struggling to keep up with the increasingly nomadic needs of a new generation. To the surprise of approximately no one, technology is the driving force behind this check-in-check-out model of education – but a full embrace of this revolution requires more than just a fast internet connection and an investment in some new computers.
RMIT's New Academic Street pushes new boundaries for designing the conditions for an inclusive campus culture.
And, frankly, it would be a waste to disregard the monolithic architectural structures of our educational inheritance out of hand. For example: despite the less-than-ideal moniker that RMIT's old concrete block buildings had earned – the 'grey ghosts' – it was hard to overlook the potential of such infrastructure when the time came for a contemporary facelift. If a few structural interventions could be achieved, it would be possible for the existing 'ghost' shells to be left in-tact; for them to have second lives as icons of Australia's new era of education.
And, thanks to a select team of architects, this is exactly what RMIT has become. The bold reimagining of this Melbourne institution, completed in 2017, was led by architectural firm Lyons, in tight-knit collaboration with NMBW, Maddison, MvS, and Harrison and White. Not so coincidentally, all of these practices comprised RMIT alumni, and they were therefore intimate with all of the benefits and limitations of prior learning models. This entwined history made Lyons' appeal for a cross-firm effort for the project particularly appealing to the university.
At the heart of this reimagining – which, make no mistake, required a diverse portfolio of solutions – was the broadly encompassing idea of connectivity. To be clear, this did not just mean connectivity between the students (although, to a great degree, it did entail this). Increasingly, universities around the world – or at least those not so resistant to evolving student needs – are disavowing themselves of their previously inward focus to play larger roles as the bastions of local communities.
"It's not about a one-size-fits-all approach anymore. Rather, it's about giving students the option to choose the sort of space they want to study in."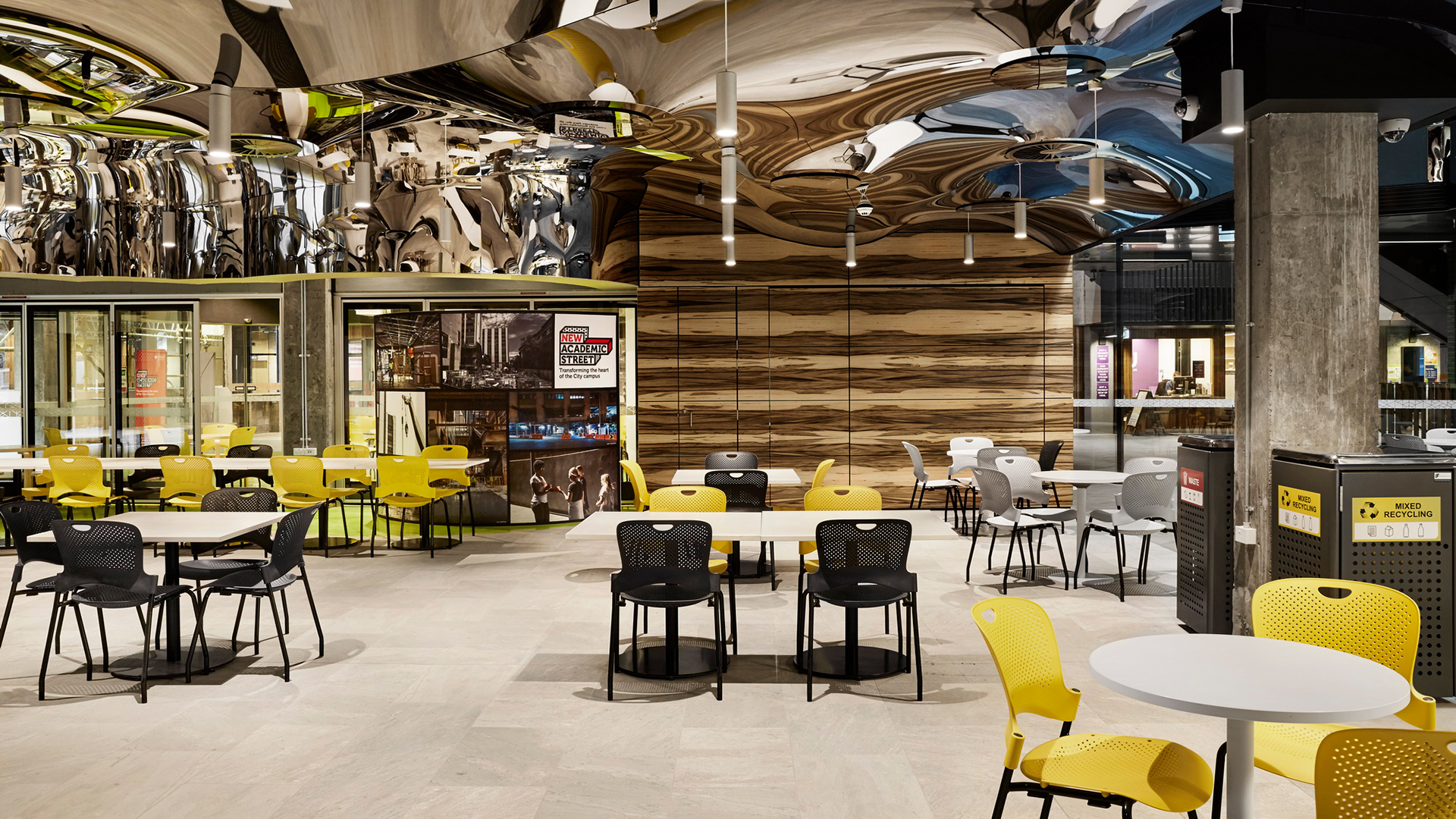 Both inward- and outward-looking models of connectivity were investigated and enacted within the Lyons-led intervention for RMIT's New Academic Street (NAS) project. The latter of these models was lent particular ease by virtue of RMIT's central location within Melbourne CBD. Whereas the groundwork of the existing site had blocked out interaction with the public and street levels of the buildings, the new age of connectivity was ushered in by the architectural team through the incorporation of street-level laneways that were peppered with retail outlets, arcades and walkways. Between them, this actively and conspicuously welcomed the public into the student fold.
As pertinent as it was to have infrastructure that encouraged social interaction around the campus, so too was it important to incorporate these kinds of spaces within the hunting grounds of the student population. Not just a surface-level aesthetic enhancement, the architects completely reconfigured the existing RMIT buildings inside and out, opening them up to a range of new and innovative functionalities.
A full spectrum of learning nodes can be found within RMIT'S pioneering NAS project. The kind of connectivity that is seen at street-level within the laneway additions can further be witnessed with a climb through the buildings' core. While structural changes were made to enhance the less tangible 'feel' of the buildings – such as with the demolition of pre-existing concrete pillars for the sake of creating a sense of light and air – a lot of the changes were necessarily tangible and functional.
For instance, Living Edge was engaged to provide flexible furnishings that could balance the varying needs of the student population, from focussed study areas with softened acoustics to spaces that were designed for talking and collaboration. This mixing of formal and informal learning portals was accommodated in NAS through the addition of 4,600 seats across the project's 32,000 square metres.
As representatives of Lyons explained to Indesign Media: "It's not about a one-size-fits-all approach anymore. Rather, it's about giving students the option to choose the sort of space they want to study in."
Now, instead of the outdated and rigid tertiary formula of hard plastic seats rolled out ad nauseum through an institution, NAS has welcomed the more relevant age of agile education into the gamut of RMIT's offerings. On the inside, this encompasses everything from rocking chairs to a Lyons-designed 'grassy' space that mimics the lawn of the State Library of Victoria. On the whole, this manifests as a city-in-miniature; a smart community that is as hospitable to the general public as it is to the student population that relies on it.