Primary to its brief, Melbourne Entrepreneurial Centre (MEC) was to be a place to work – but with maximum flexibility and adaptability, so that both MAP and TRaM – and the diversity of individuals that engage with these bodies – might mould the MEC spaces and facilities to their varied needs.
Derlot seeks to innovate and realise products and solutions for an ever-evolving world.
Placed at the edge of Melbourne's CBD, the world class innovation precinct, Melbourne Connect, is a 'connected ecosystem' that houses a plethora of faculties and bodies whose primary focus is on innovation. Within the main building, an open floor plate connects numerous functions and services including the Melbourne Entrepreneurial Centre (MEC). Some might consider this to be the very cosm of Melbourne Connect, where innovation is born through ideation.

Architectus was engaged by the University of Melbourne to undertake full interior design services for MEC, which stretches across three levels. It was to bring together partners Melbourne Accelerator Program (MAP) and Translating Research at Melbourne (TRaM) under its one roof, as well as a third complimentary organisation, The Wade Institute.

Within the space there is no defined wall or door that closes it off from neighbouring spaces, and yet there is a distinct sense of arrival. Everything about MEC, says Architectus senior associate and project lead, Brett Simmonds, is designed to be hyper flexible and "hackable", but with the intent of keeping mess to a minimum. So anyone might change the space to suit their needs, while also leaving barely a footprint behind.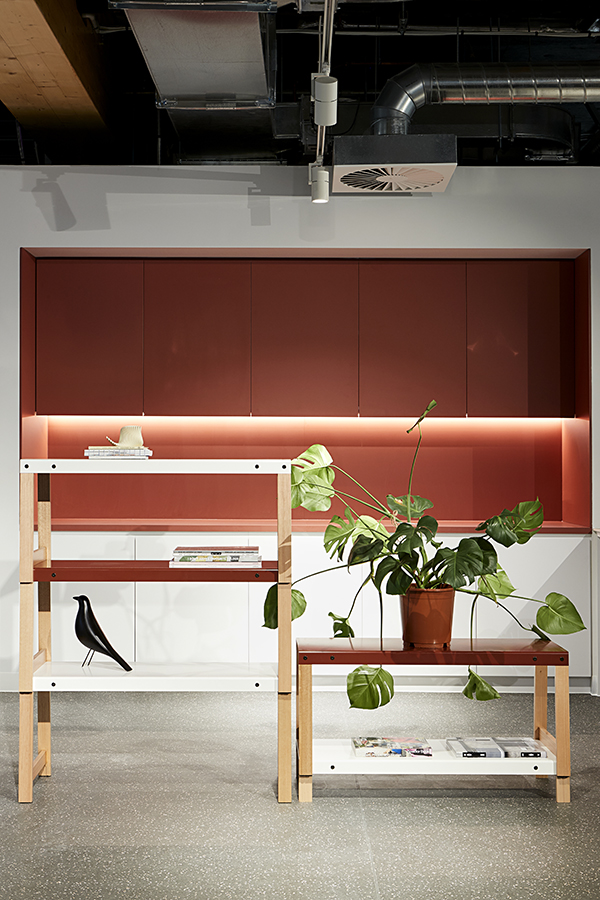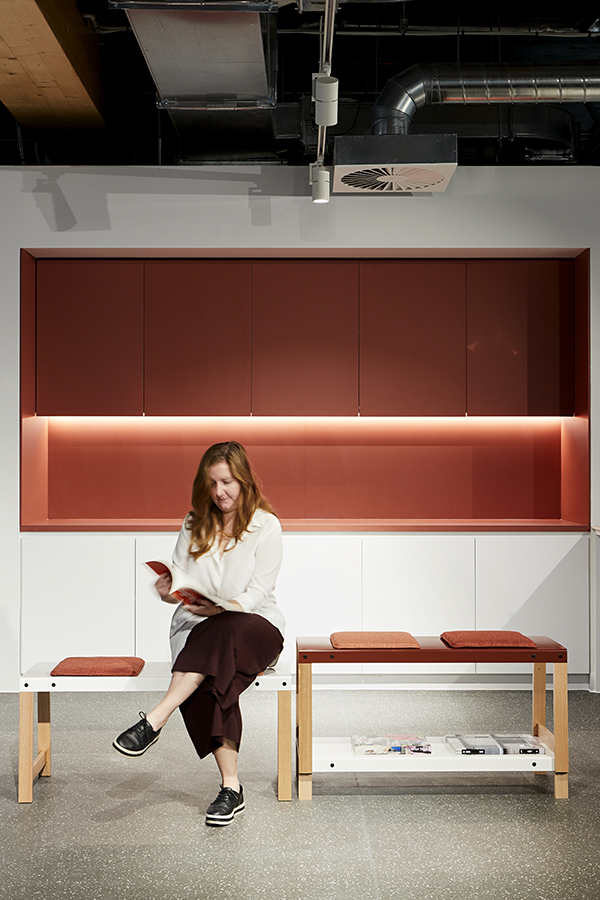 One key trait is that 'no thing is one thing' with an emphasis on maximising flexibility. Here, Simmonds points out the double-seat benches as an example, Designed by Derlot. Balancing versatility and functionality for living and working, Derlot designs are timeless with adaptability and flexibility defining their brand approach.

"As part of our company's core values and as designers ourselves, we understand the importance of great design and operational excellence. Our team of dedicated designers draw upon their experience to generate effective product innovations for bespoke design and customisation projects alongside our established product offering." Says Alaxander Loterzstain founder of Derlot.

The benches utilised in MEC feature magnetically affixed cushions, custom-made for the project and easy to remove should the benches need to fulfil another purpose. Smart peg-points in the legs allow the benches to be stacked, which means they also double as room dividers, display cases or even a bar for event service.
These tailored design solutions maintain Derlot presence as an all-encompassing furniture and lighting brand. In early 2021, we announced the merging of our brands Derlot Editions and Les Basic under Derlot, evolving to solidify our future as a design and manufacturing industry leader.

Photography by Shannon McGrath