The bedroom is an important sanctuary for your peace of mind and sleep, so a balance between functionality and comfort is key.
Create a calming bedroom environment by incorporating these five essential elements.
Choose the Right Size
Whether you're starting from scratch or it's simply time for a bedroom refresh, start out with a floor plan and a measured drawing of the space. Furniture should fit the room, and this is particularly true for bedroom furniture.
Be careful not to overwhelm a small room. George Nelson's approach to design sought to free the home from clutter, and the Nelson Thin Edge Bed and accompanying Bedside Table is representative of that philosophy.
With a slim, horizontal profile, efficient and precise detailing, and expert woodcraft, the Nelson Thin Edge family brings an elegant minimalism to today's bedrooms as it did when it was first introduced in 1954.
If you have a large space to fill, a bed of more substantial size will feel right at home. An iconic e15 design celebrating the beauty of wood, the Mo Bed is an enduring piece. The Mo Bed showcases a simple construction yet a highly impactful design.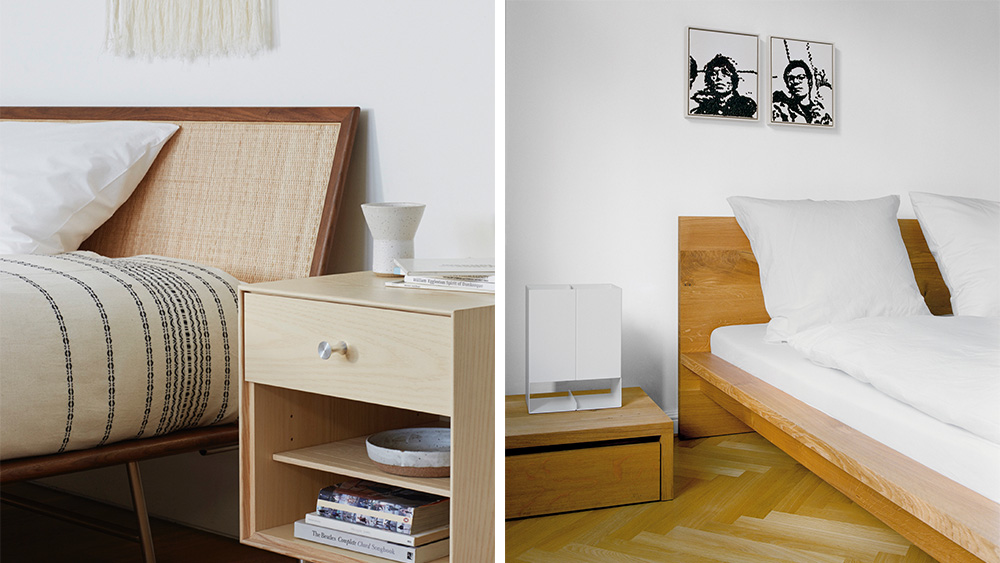 Keep Calm and Declutter
Create a calm environment by decluttering, store things away and out of sight. If your Bedside Table doesn't have storage, things can start to pile up and a create an unnecessary mess. A bedside with drawers, such as the Emil Bedside Table, is perfect for holding books, chargers, and other necessities.
Warm, light neutrals work beautifully in the bedroom, and a variation in textures helps the space feel softer and more inviting.
Don't Ignore the Floor
Rugs are a great way to add texture to the bedroom and considering frequent use of wooden floorboards and polished concrete they are also much needed. Nobody wants to hop out of bed in the morning only to have their feet hit the ice-cold floor, and a rug offers the perfect solution to this problem.
Using natural colours will keep the space serene and timeless. Warm, light neutrals work beautifully in the bedroom, and a variation in textures helps the space feel softer and more inviting.
Danish textile designer Margrethe Odgaard created a collection of rugs for Scandi brand Muuto, inspired by the sensuous feeling of walking across a pebbled beach. Woven with jute yarn – a vegetable fibre – and wool, the Pebble Rugs feature a centralised grid of soft, fluffy wool loops.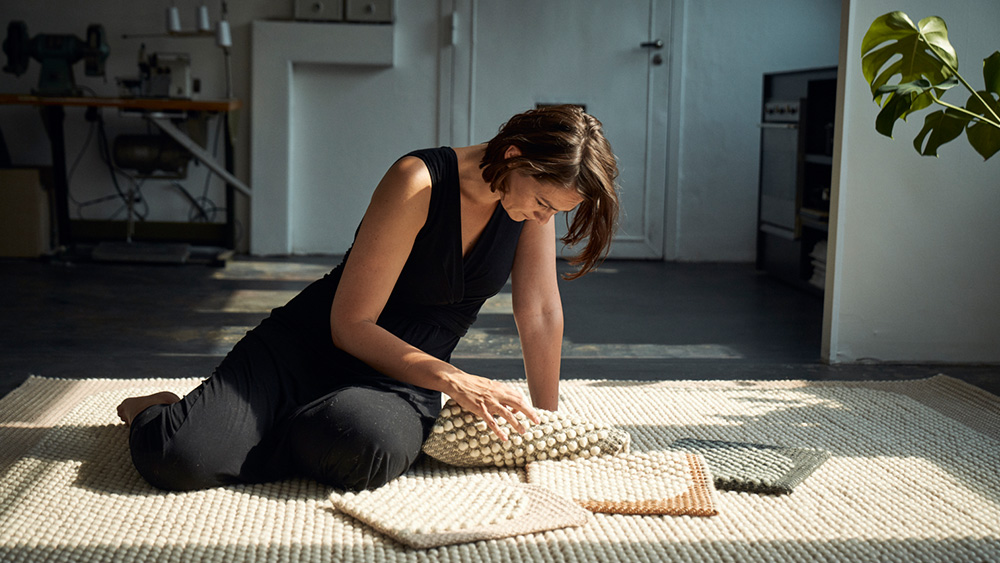 Layers of Lighting
Consideration of your daily needs is important for where to position lighting all around the bedroom. Ambient lighting fills the entire room, while small lamps can focus light for reading and other activities, and accent light helps to wash the walls in soft illumination.
When selecting lighting for your bedside, consider going wireless. Evoking the spirit of a candle, the Bellhop from Flos can be carried from room to room, casting a pool of direct light wherever it goes. Portable and wireless, it charges via a micro USB-C and holds a charge for up to 24 hours.
Go Green
Not only are plants brilliant to look at but they also offer many health benefits.
Studies have shown indoor plants:
Boost mood, productivity, concentration and creativity
Reduce stress, fatigue, sore throats and colds
Clean indoor air by absorbing toxins, increasing humidity and producing oxygen
Ensure you select plants that will suit the lighting availability in your room and perhaps take them outside every now and then for a breath of fresh air and sunshine. You can add plants to your bedroom in a myriad of different ways from pots on window sills, hanging planters, pot plant stands, by resting them on your bedside or furnishings in your room, or simply with the addition of a focal plant and pot in a corner of your room, the possibilities are endless and results are always exquisite.