Colours are bold and sometimes graphic, and Mardi is often inspired by the 1980s, a period she sees as 'brave and courageous'. "It was a time when everything seemed possible and you were encouraged to take risks," says Mardi, director of Doherty Design Studio in Melbourne.
Interior Mardi Doherty has established a name for her adventurous contemporary interiors.
While Mardi doesn't simply rework the 1980s, she is drawn to the Memphis period at the start of that decade and some of the architects from that period: Cox and Carmichael, and architect Peter McIntyre, just to name a couple. Doherty Design Studio recently reworked a 1980s house by McIntyre, located in Malvern. Featuring a monolithic façade and a dramatic two-storey glass atrium, it was completely reworked for a family of five. With the update came a 1980s-inspired palette of colours, including peacock green in one room and navy blue used for the balustrade that forms a 'bridge' on the first floor. "When the navy is juxtaposed with white walls, it becomes very graphic, like the '80s," says Mardi, who looks for a similar graphic quality in furniture.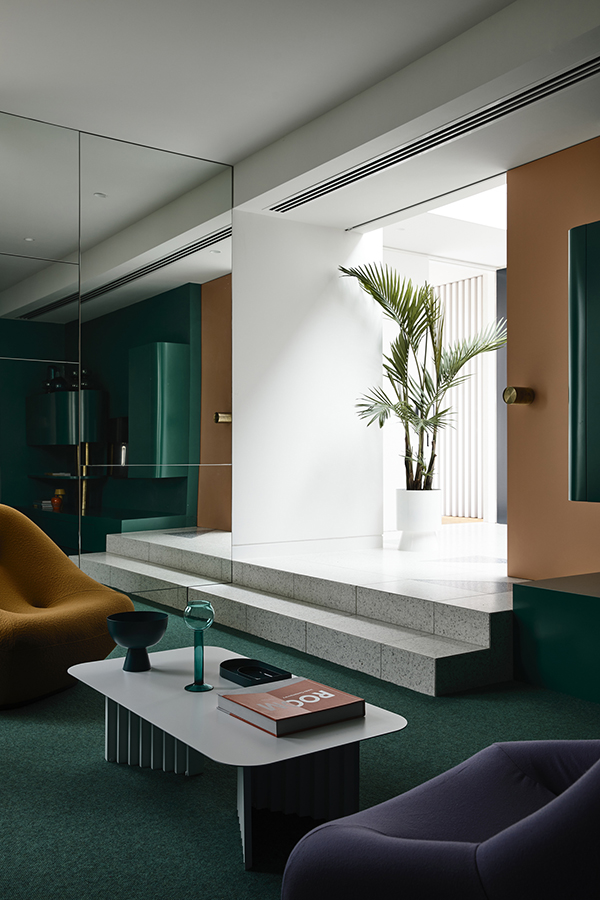 Sometimes, furniture or lighting comes on to Mardi's radar during the construction process. Her team is currently working on a retro-inspired house designed by Nth Degree in East Doncaster. And before rooms come together, she has already sourced the light that will appear in one of the home's dressing areas. The Colour Floor Lamp by Daniel Rybakken was selected for its colours, as much as for its sculptural/artistic qualities. Made from two chunky pieces of glass, 850 millimetres by 750 millimetres, the pink and purple glass slabs intersect to create an ethereal moon-like quality. "You could say that it's a work of art, combining light with sculpture," says Mardi, who was also conscious of creating a soft ambient light in the dressing area to ensure a full night's sleep. "We couldn't achieve this effect simply with down lights," she adds.
Doherty Design Studio is also currently working on renovating a large two-storey house in South Yarra. Originally built in the 1920s, the house had lost many of its rich Art Deco embellishments after it was renovated in the 1990s (brown joinery, taupe-coloured walls and overly shiny floorboards). "I am continually looking for great pieces of furniture or lighting. And I'm not always sure which house they will end up in," says Mardi, who just this morning, saw images of the Tout va Bien Cabinet by Parisian duo Antoine Audian and Manuel Warosz, produced by BD Barcelona Design. "It would look perfect in the South Yarra house, being a combination of Arts and Crafts and Art Deco. It's the type of detailing that's been stripped out of the house," says Mardi, who loves the graphic quality of this credenza, its fanciful three-dimensional scenes on each cupboard and in particular, the eccentricity of the different shaped legs supporting this unit. "It will look perfect in the hallway, providing a sense of arrival and a place to contemplate before moving into the living areas," she says. "I'm always looking at furniture. That search is often wide and not necessarily related to a certain project that we're working on. But I know if it's the right piece and whether it has a 'voice' and needs to be 'heard'.
For Mardi and her team, the client's brief, the spaces she's working or the style of house, both period and contemporary, always come into the mix. "We often select pieces of furniture or lights that our clients may not have seen or even thought of. But when you show them the concepts and spaces, these items, whether furniture, or lighting, just feel the right choice," says Mardi, who appreciates both the breadth and combination of designs available at Living Edge, some established, others emerging and about to make a name for themselves. "It also combines the classics, such as Eames pieces, with designers who are equally at the forefront of our industry today," says Mardi.

Images courtesy of Mardi Doherty