Moving from Northbridge, Living Edge is now located 7 Queen Street, next to the new Raine Square entertaining and dining precinct where its accessible and central location caters for the commercial design community and retail clients. "This new location is in celebration of our 10 years of operation in Western Australia, and we look forward to cementing our position as the premier design location in Perth," said Aidan Mawhinney, CEO of Living Edge.
"We believe in longevity, simplicity and sustainability, this building reflects all those attributes that we look for in everything we do." - Aidan Mawhinney, CEO of Living Edge.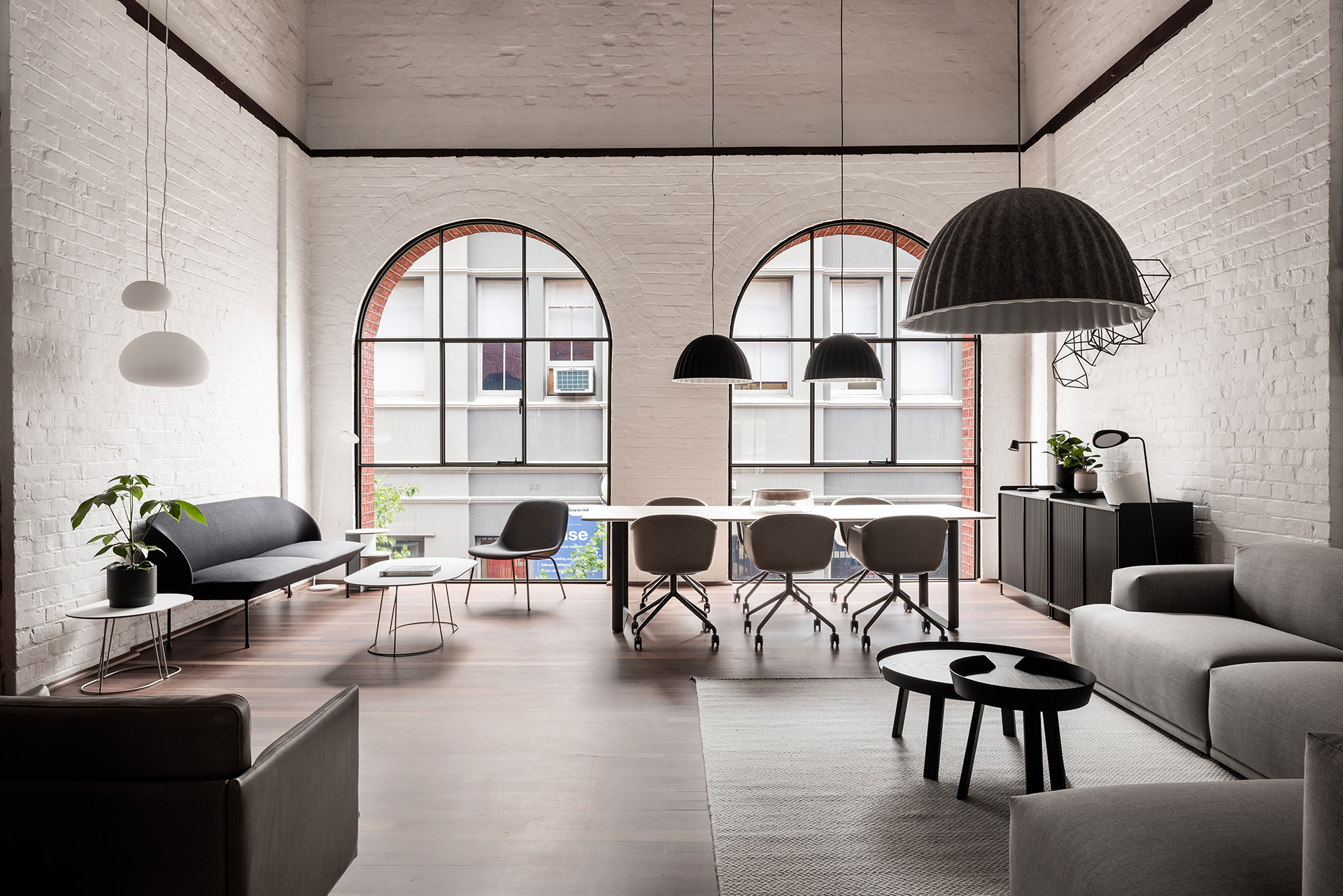 The contemporary design of the three-storey, 950-square-metre showroom continues the flagship concept established at Living Edge in New South Wales, Queensland and Victoria. It provides a memorable customer experience and reflects the Living Edge brand values of longevity, simplicity and sustainability.
Living Edge engaged HASSELL to transform the heritage merchant building, dating from the early 1900s, into a modern, luxurious showroom. HASSELL pared back the building to its bones and took a light touch to the interior with a refined material palette and sculptural inserts. "It is an exploration of craft and material, which is thankfully making return to the conversation of contemporary design and architecture," said HASSELL Practice Director Jonathan Lake.
Six tall arched windows along the street front provide exposure and presence for the showroom and bring natural light into the ground and first floors. Inside, the building is stripped back to expose its original brick walls and timber beams and trusses, which have been complemented with dark bluestone, burnished steel and brass trim.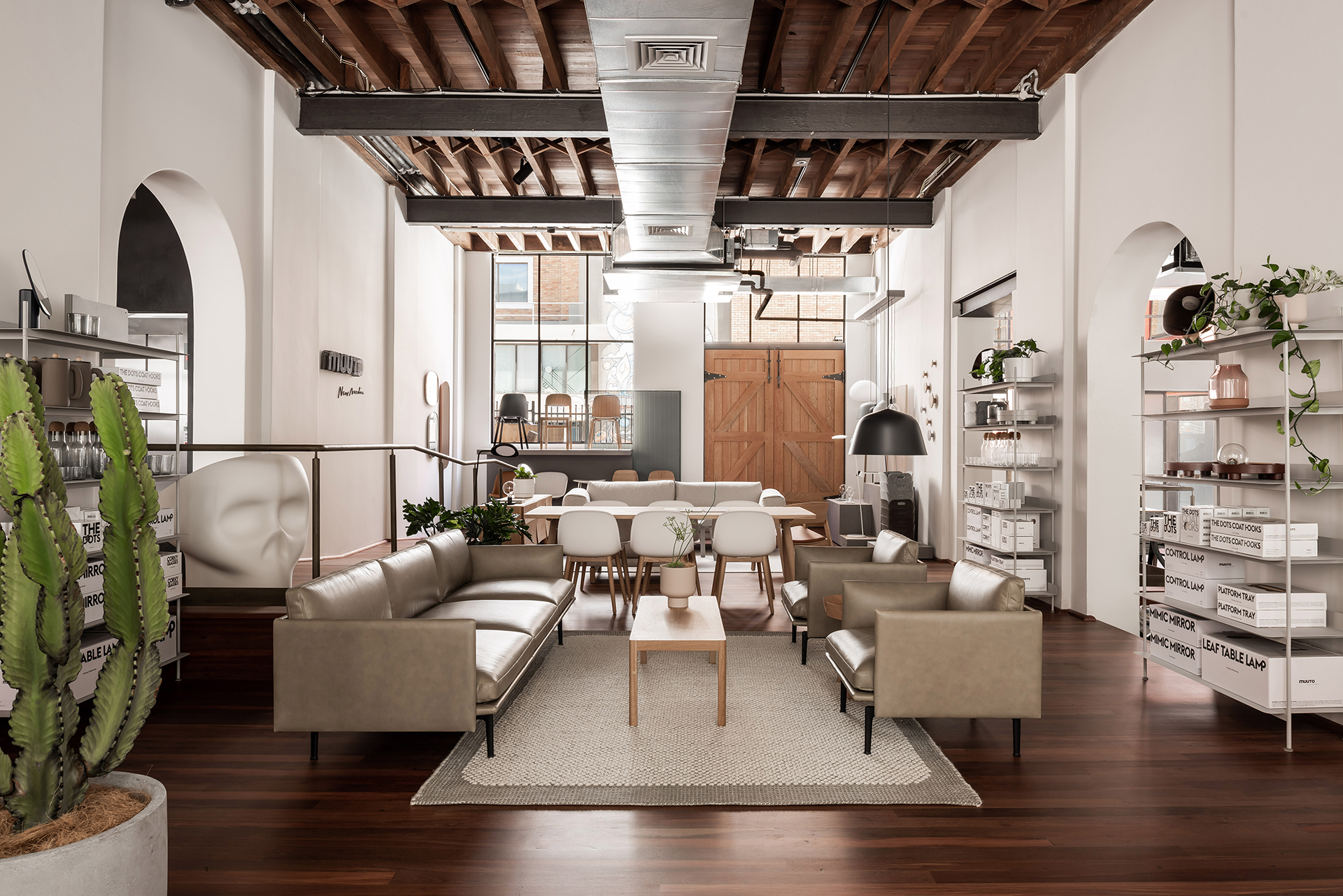 Like the Living Edge products, the showroom is authentic, desirable and discerning with a richness of material and simplicity of form.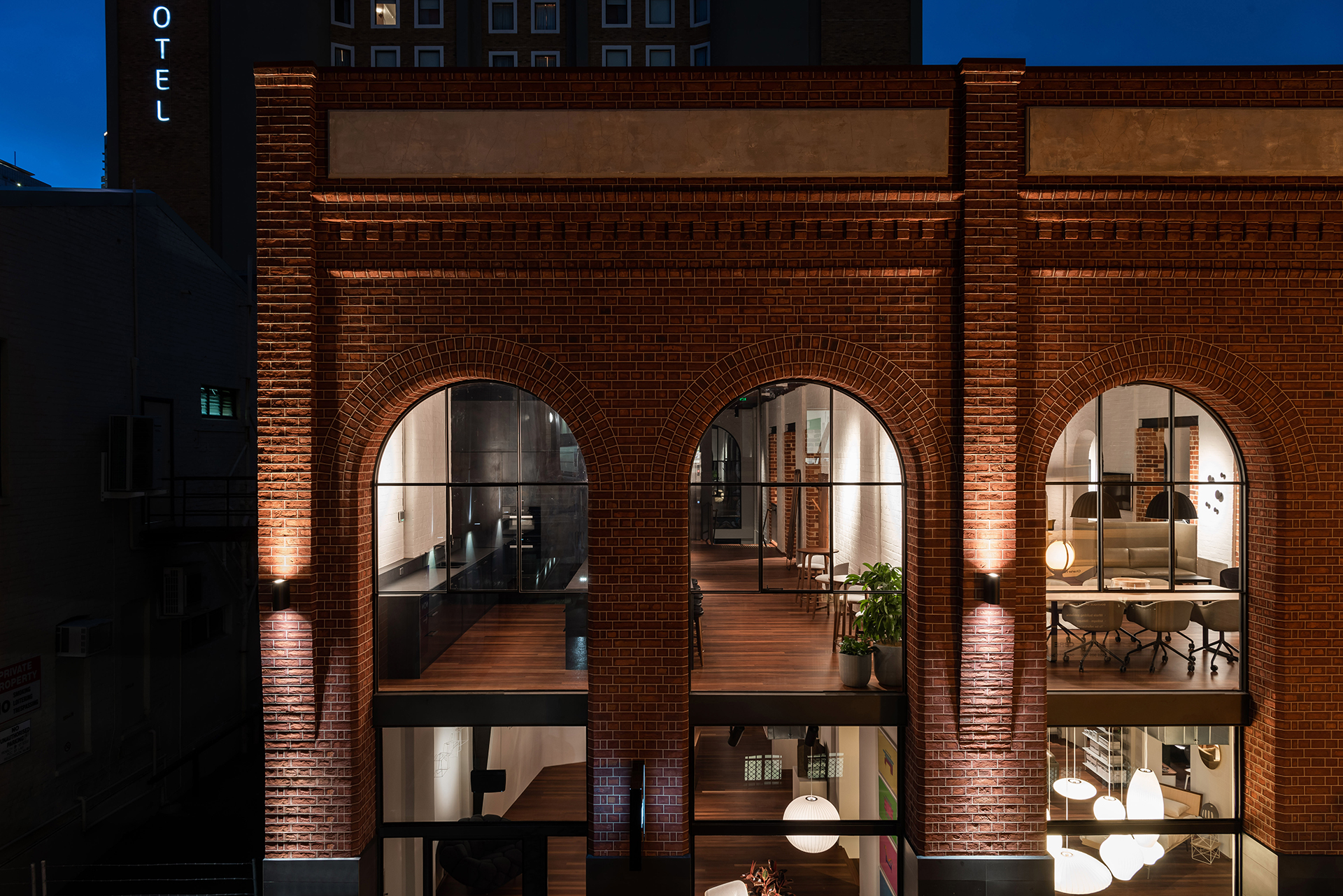 A sculptural, bronze point-of-sale desk designed by Morgan Shimeld creates a striking and welcoming arrival and departure on the ground floor. The walls and ceiling ripple and fold around the desk as if a force is emanating from Morgan's work. Upstairs, the client and staff engagement space on the first floor is wrapped in burnished steel and has insertions inspired by the work of sculptors Donald Judd and Jorge Oteiza, as well as a spectacular 608-bottle wine wall in bronzed metal finish. Downstairs, the basement level is a warm and intimate space, reminiscent of a speakeasy bar but with Living Edge luxury.
This beautifully crafted environment provides a platform to showcase Living Edge's contemporary, world-renowned brands, such as Herman Miller, Walter Knoll, BassamFellows, Muuto and BD Barcelona. Each brand has its own unique area, simplifying the choice for consumers and providing a meaningful, engaging and immersive experience. All lighting and fixtures in the showroom are from the Living Edge range, including the minimalist, geometric lighting by Lambert + Fils, and rock-n-roll door and joinery hardware by Buster + Punch.
Living Edge will achieve WELL certification for the showroom, demonstrating the company's commitment to sustainability. It will be the second WELL-certified building in Perth. "We are very proud to have been able to influence the base build in the use of materials and renovation processes to achieve WELL certification," said Aidan.
Living Edge is committed to bringing its customers the best designs from the world's most established and forward-looking luxury furniture brands. Its unique range and knowledgeable service has made Living Edge Australia's preferred destination for architects, interior designers, and those who share a passion for authentic design.