As professionals on a 14-hour working lifecycle we now blur and integrate our social interactions throughout a working day. Access, not ownership, is a model disrupting traditional commercial real estate, where access to quality amenity is favoured over owning dedicated space. This model when applied in public spaces facilities our new normal of work anywhere anytime.
No longer are commercial lobbies minimalist cavernous spaces to transition from the street to the office, they offer so much more.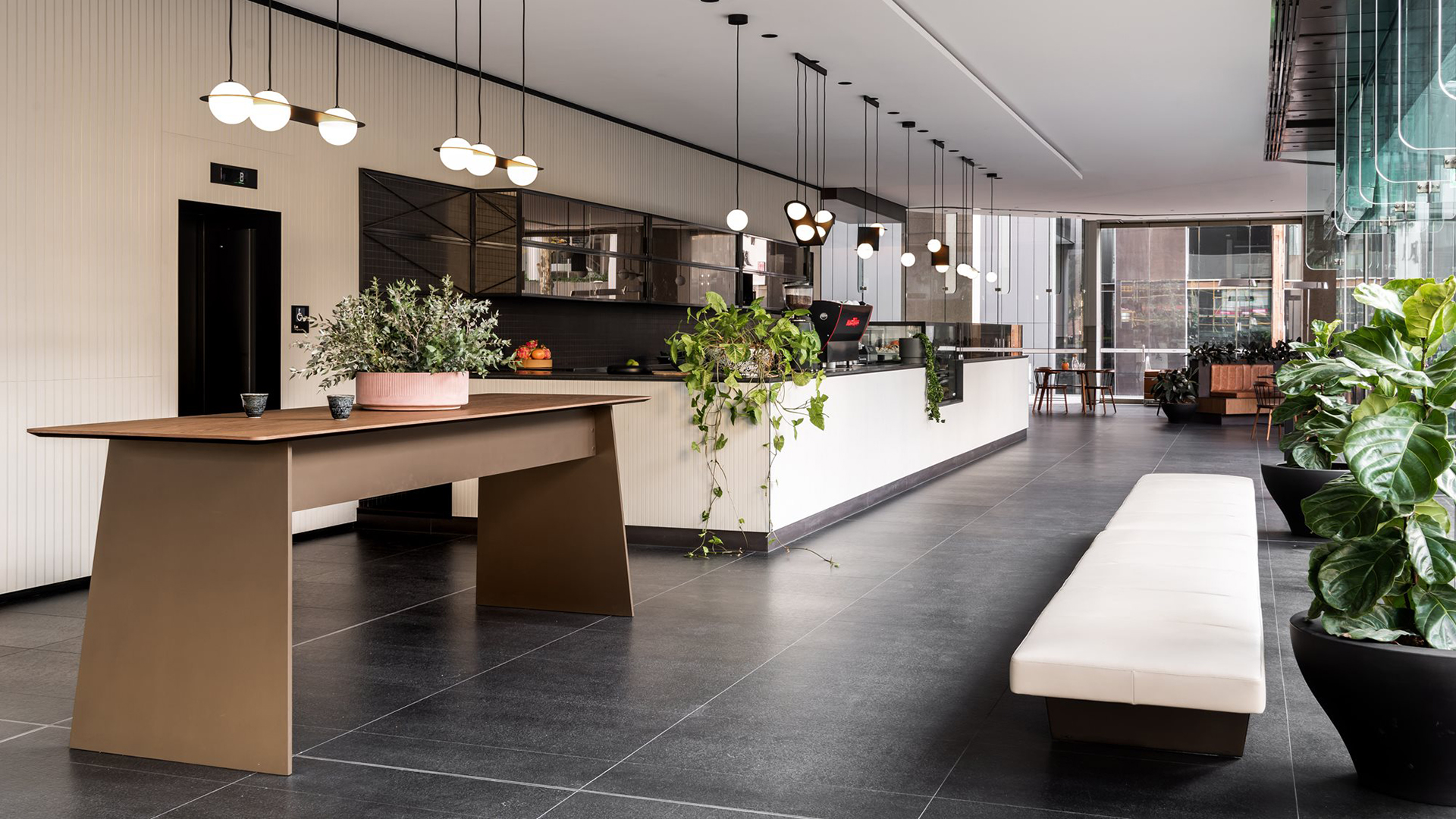 This project commenced in September 2016 and completed in February 2018. This was during a time that Perth was experiencing the highest levels of vacancy rates in the commercial leasing market in the previous 5-8 years. AMP's vision was to reposition the lobby as a quality shared amenity space that reinforced the brand of the building and contributed to improved occupancy rates. AMP looked to Woods Bagot to create an array of diverse, intimate yet functional spaces for meeting, pausing, collaborating and dining in a highly public and transitional setting. The design needed to exude a timeless quality to last the 25-year lifecycle of this project.
The project is a prime example of how technology and the pace of change are influencing how we use and experience space. No longer are commercial lobbies minimalist cavernous spaces to transition from the street to the office, they offer so much more. The acknowledgement that these spaces can provide a moment to pause in our ever connected and fluid world creates opportunity for people to connect in a new environment. This design solution is compelling in its nod to a nostalgic era, but still delivering a space that is functionally geared up to support 21st century wireless work anywhere anytime – with integrated USB and power banks disguised in joinery.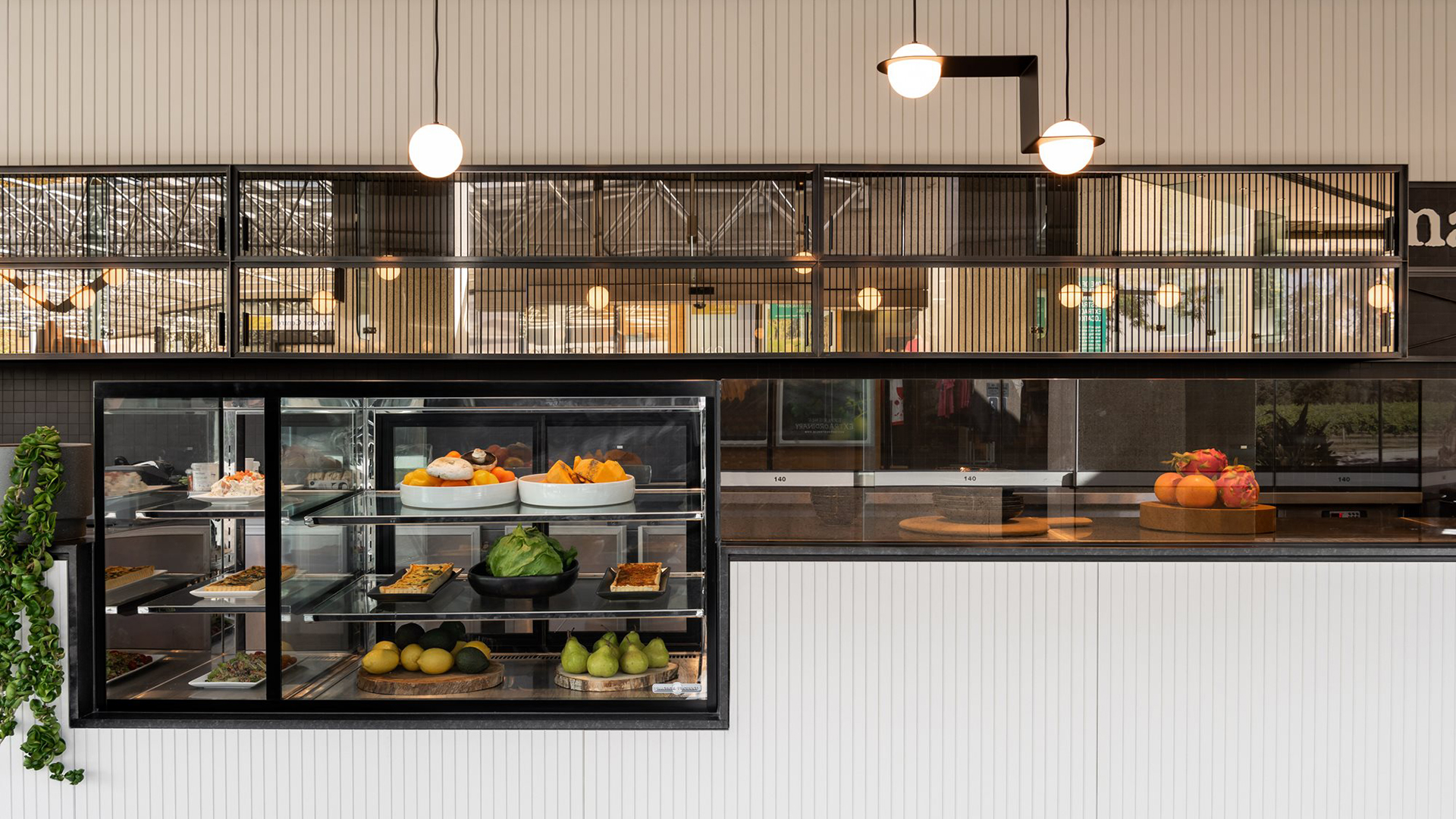 "Our vision was to activate the lobby as a facilitator of collaborative, communal and contemporary settings that support the diversity of 21st century work styles. By transitioning from building lobby to work café & business lounge, the design approach is one of inclusiveness that creates a variety of spatial tones; intimacy, small gatherings or social interactions all underpinned by the purity of functional comfort." - Tenille Teakle, Woods Bagot project design leader.
The furniture and styling items contribute to the modernist aesthetic reflective of the 1970s lush, lived-in leathers, classic soft detailing and use of rich walnut timbers with opulent trimmings in brass and bronze. The Stellar Works range offered this diversity yet similarity in its collection of dining tables, dining chairs and coffee tables while the Lambert & Fils Laurent collection of decorative light fixtures add both a modernist aesthetic and contemporary nuance while providing a recognizable object exclusive to 140 St.
Sustainability, durability and quality were driving factors for the specifications of this project.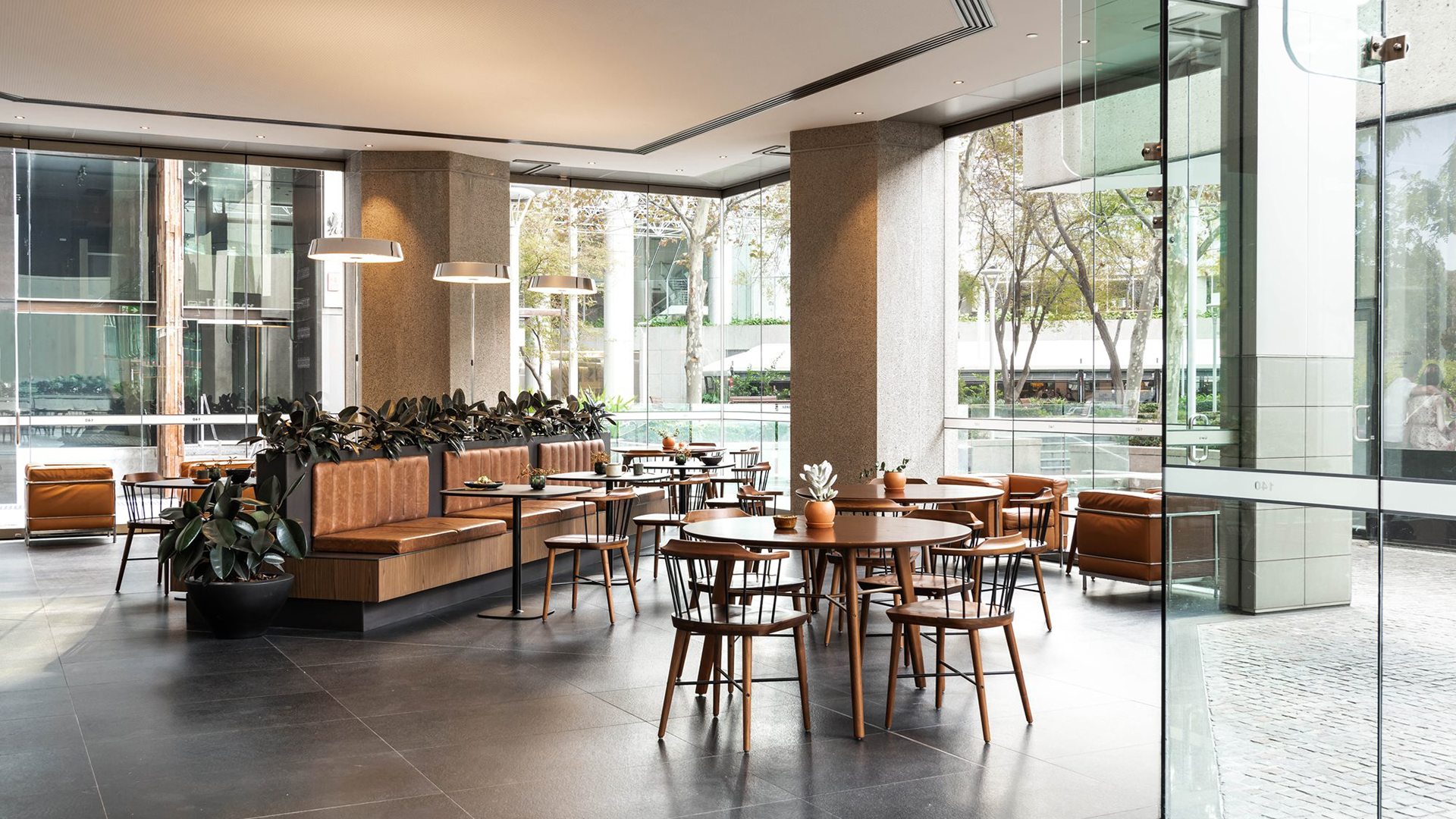 Public spaces are highly utilised environments, with typically little personal care given to avoid damage. For this reason, solid timber and high-grade leather upholsteries were favoured. Walter Knoll who utilises local manufacturing in Adelaide was an obvious choice. Several of the original (2015 refurbishment) lobby furniture pieces were re-purposed in the new lobby vision and set the tone for the new selections. Plant life is introduced throughout which contributes to improved indoor environmental air quality. With lobby spaces not forming part of NLA, cost efficiency is paramount. This project investigated relocating the café in content of the overall masterplan but ultimately settled on retaining the current footprint, raised slab, services and ceiling to this area.
Woods Bagot is attuned to the intrinsic value tenants place on high quality public space amenity – for brand association, convenience of work anywhere, diversity of space and memorable authentic spatial experiences. By staying true to the original brief, and working in close collaboration with the consultant team, the result was a project that champions the transition from building lobby to work café and business lounge, creating a destination address and sense of place.