The lines between home and the office have been 'blurred' for the last five years, with furniture designed for the office, equally finding a place in one's home, and vice versa. With COVID-19, this distinction, or more correctly, lack of it, has only become more 'clouded' as staff oscillate between working from home and the office.
It seems timely then to look at some of Muuto's designs that straddle both worlds; adding a sense of the home to the office environment, or alternatively, bringing a sense of professionalism for those choosing to spend more time working from home.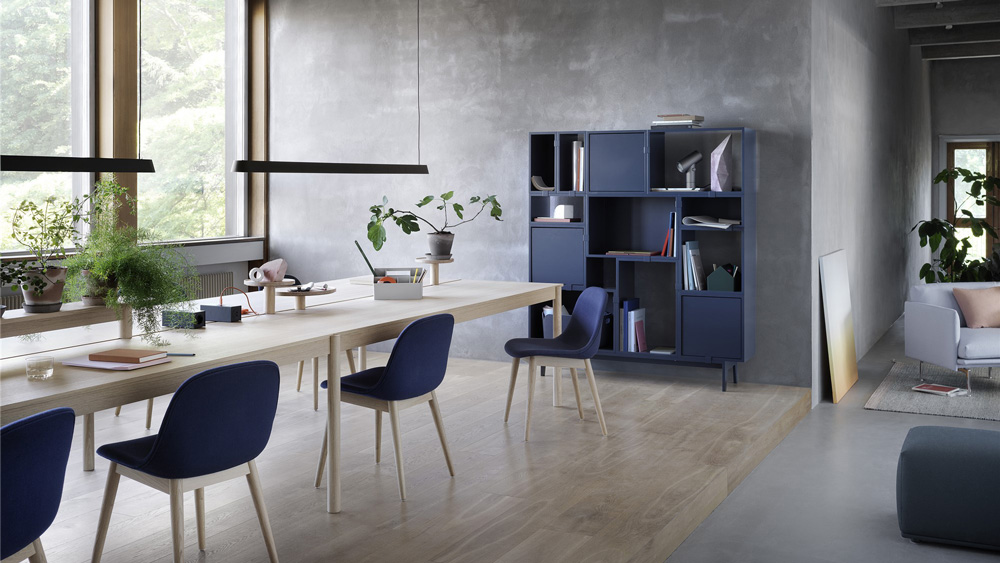 The Scandinavians have been at the forefront of designing home/work furniture and lighting, with companies such as Muuto, meaning 'new perspectives' in Finnish, collaborating with leading Scandinavian designers. Founded by Kristian Byrge and Peter Bonnen in 2006, the company grew exponentially until it was taken over by Knoll in 2017. As mentioned by Byrge - "design is part of our culture here. We feel like Scandinavian design has some great values that work not just here, but across the world."
Not surprisingly, many of the Muuto products have become integral to office, educational, hospitality and domestic environments Down Under. Offering flexibility, comfort and style, these designs also capture the Australian aesthetic and the importance of well-designed and highly functional pieces. The inherent flexibility of these Muuto designs also allows for greater freedom, irrespective of which environment they are found.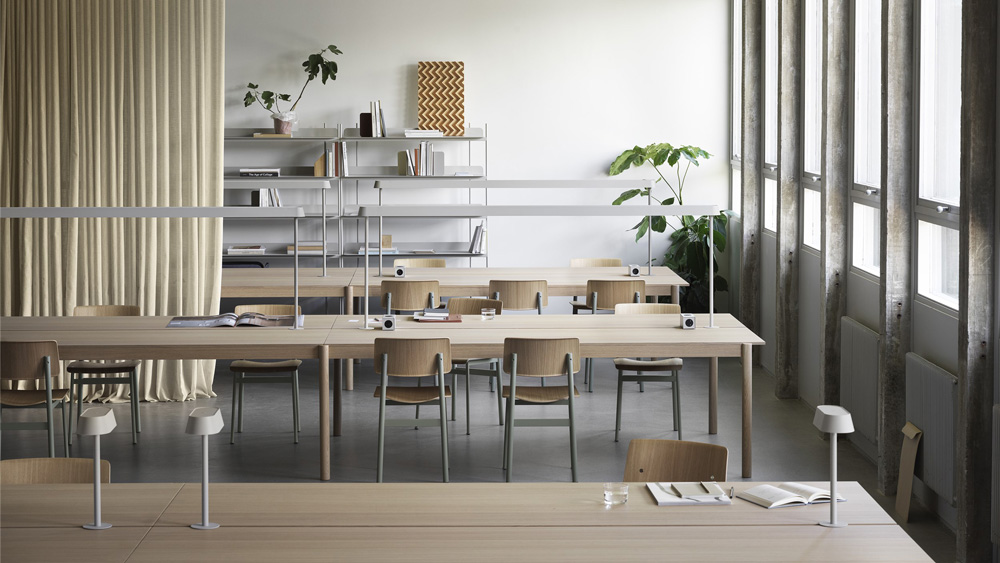 Designed by Danish designer Thomas Bentz, the recently released Linear System Series is one of the most flexible and reconfigurable workstation systems available today; ideal for workplace, hospitality, educational institutions, or even at home. Combined with numerous accessories, such as screens, trays, and a range of lighting (both table lamps and overhead lighting), the Linear System Series isn't tied to a designated spot on the floor, given there's integrated power solutions.
Made from oak with sculptured legs, this design, according to Bentz - "places people at its centre, being a place to meet, collaborate and work in focused solitude." Capturing the warmth and tactility of Scandinavian design, the Linear System Series can also be customised to be integral into any environment. If there's a black spiral steel staircase, why not finish these workstations in black steel to create a holistic, rather than piecemeal solution?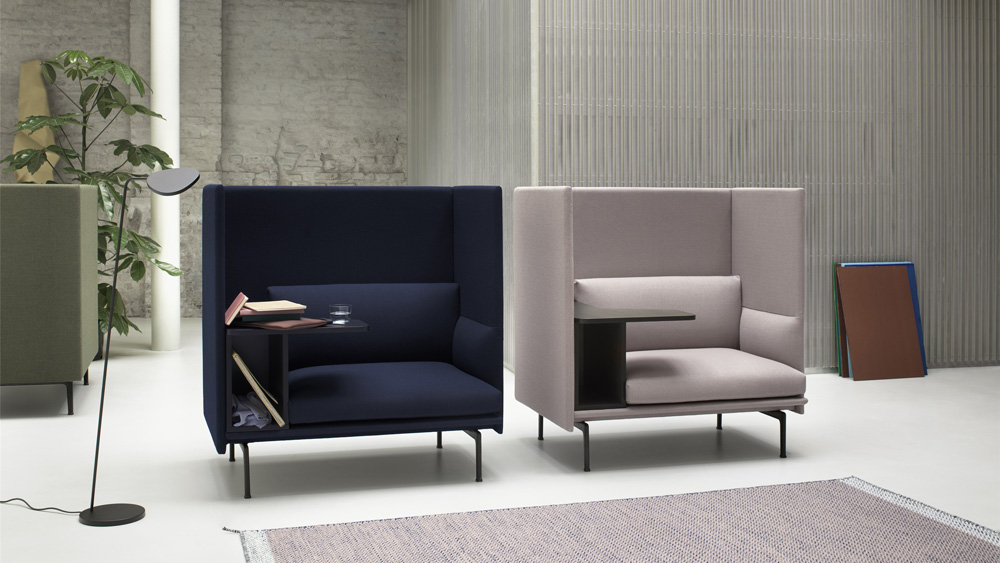 Over the last decade or so, there's been a strong move to open plan offices. Yes, sight lines are improved and one can simply raise a hand to get a colleague's attention, but one's train of thought/concentration is often lost with this interference. So, it was timely to see the arrival of the Outline Highback Work, designed by Torbjorn Anderssen and Espen Voll of Andersen & Voll. Conceived as either a single or double-chaired system, with a built-in desk and storage area, this unit includes a high backrest (like its name) to allow for privacy and acoustic control in an open work environment. As mentioned by the duo - "a good product builds and expands on tradition while simultaneously breaking the rules of the said tradition." And knowing that work colleagues will be meeting informally in the Outline Highback Work, there is a built-in storage unit in a nifty design that can be fitted on either side depending on whether one is right or left-handed.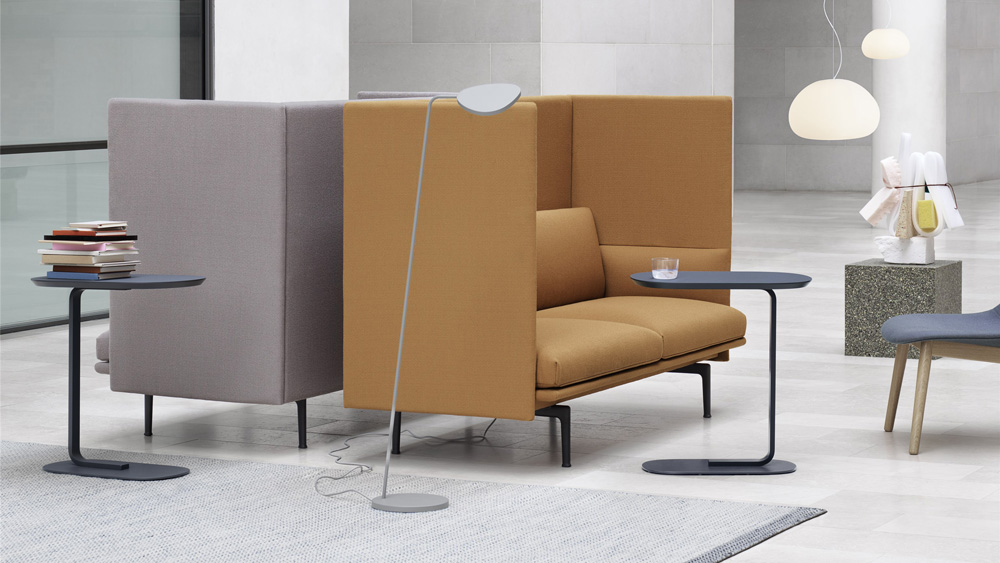 Those wanting to add the creature comforts of home to the office or the hotel lobby will appreciate Muuto's Outline Highback Sofa. Equally, those wanting to create a sleek and minimal environment at home will be as attracted to these two and three-seater sofas that can easily be configured like module furniture. "We wanted to create a visually light and elegant sofa with lots of comfort, translating some of the elements and poetic qualities we find in modern architecture." Recipient of numerous awards, including a wallpaper award, a Red Dot Award (Germany) and an honorary award for best design in Norway, this talented duo continues to push boundaries and cause design ripples around the world. If there was significant architecture to compare this sofa to, one could easily recall the Farnsworth House by architect Mies Van der Rohe, where structural elements are beautifully expressed. Like the Farnsworth House, the outline of this sofa is both eloquent and clearly legible with each detail clearly expressed. While marble and other sumptuous materials such as walnut joinery feature in this mid-century icon, the Outline Highback Sofa features textures by Kvadrat, one of Scandinavia's leading textile houses which regularly collaborates with Andersen and Voll, often in silk or camo leathers.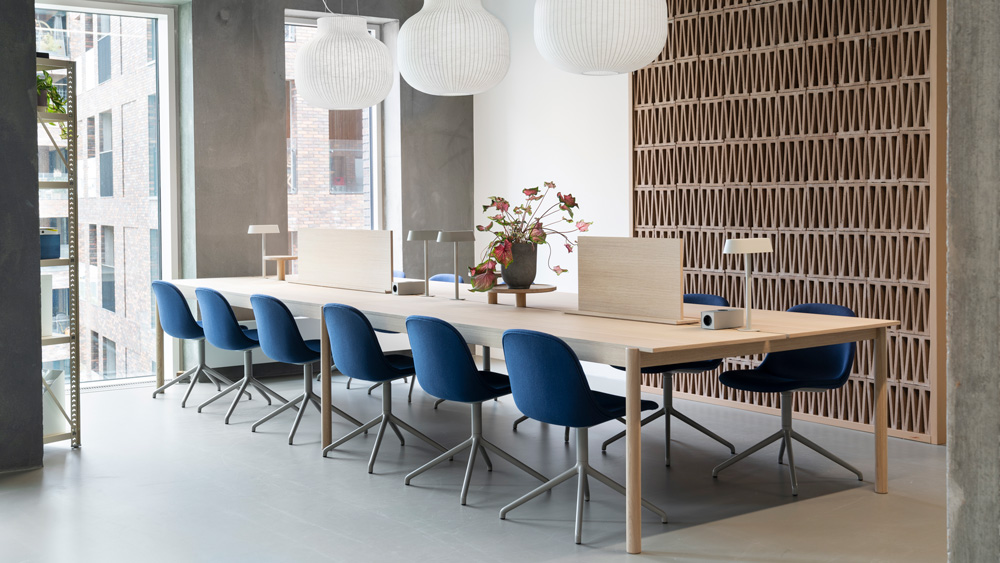 At a time when 'flexibility in design' is the new catchcry, these Muuto designs are perfectly timed. And rather than being 'fixed in cement', they can easily morph to enhance the environment at hand. As with Muuto, it's a 'new perspective', but one that's aligned for the present and into the future.