Right now is an important time to re-think and re-set the way of work. At Living Edge, we want you to do great things. That's why we work with forward thinking brands and designers who make problem-solving solutions that are as beautiful as they are useful.
Investing in flexible furniture solutions means an office can adapt as the needs of the business ebb and flow.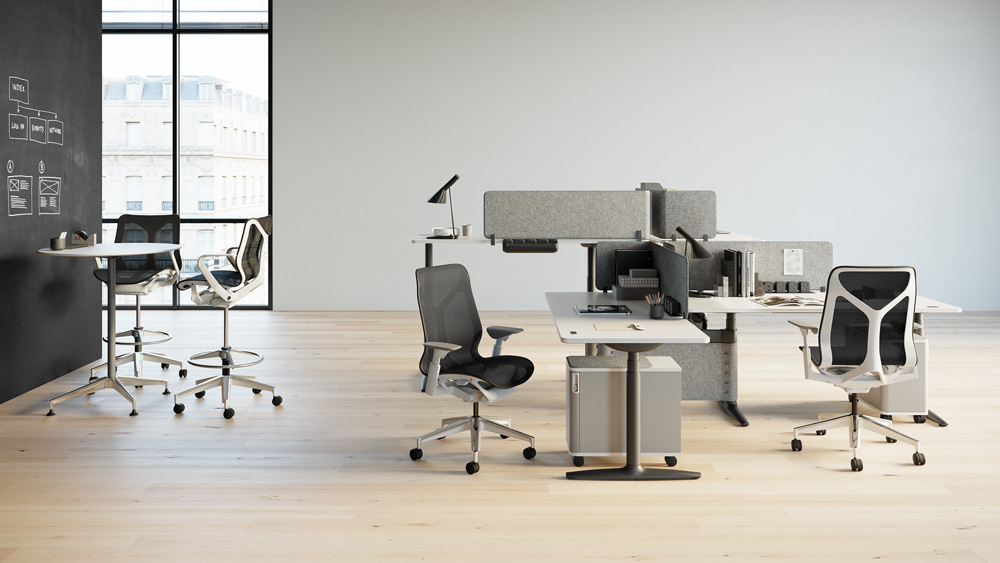 As the personal, professional and spatial needs of an office is ever changing, so too must the furniture design and layout. A tailored approach is key as we look at integrating employees back in to the workplace.
Flexibility and adaptability in working spaces are not new phenomenon, but the resulting benefits have re-entered the spotlight in light of the post COVID environment. Every workplace is different and as we begin to explore re-entering the workplace no doubt each will come up against its own unique set of hurdles. However, here are four simple and universal strategies to evolve your workspace.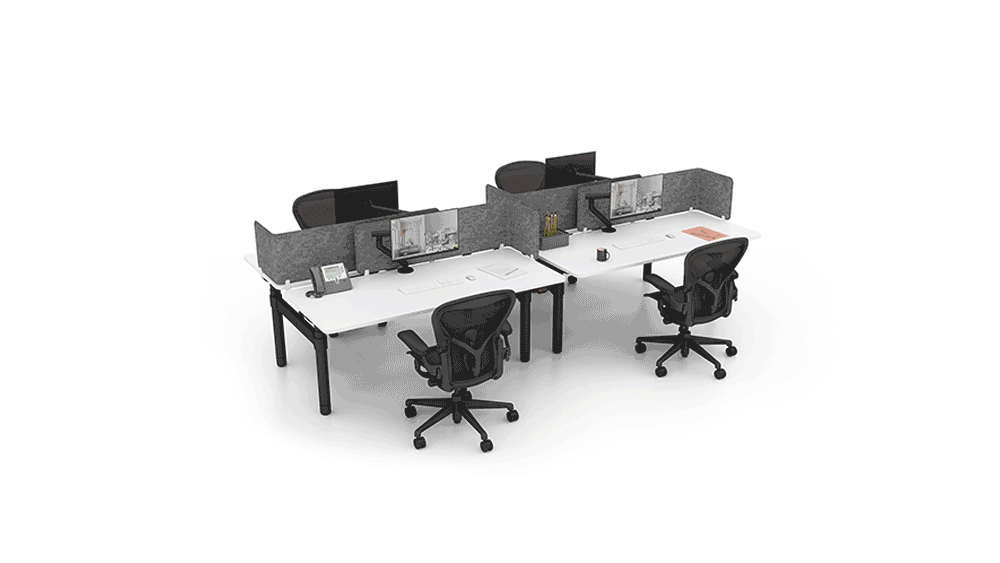 1. Spacing
The biggest hurdle for many offices will likely be the need to increase the distance between workstations. 1.5 meters has been cited as the necessary distance between individuals to comply with new regulations to mitigate the spread of contagious viruses and diseases. Companies can use the placement furniture such as workstations, breakout spaces and collaboration settings to subtly enforce social distancing.
The primary worktop within the Atlas workstation range from Herman Miller comes in a variety of sizes and configurations. Depending on space available and staffing needs,
One can use physical space to separate employees using single workstations in the smaller size (700x1400). Alternatively, larger desktop sizes (up to 800x1800) accompanied by screens and worktop dividers may allow for connected but staggered workstations.
2. Orientation
It's no surprise, the needs of one company differs extraordinarily from the next. Therefore, if you visit two offices in the same building with the exact same floor plate, more often than not, they will be completely different to one another.
Rows of linear seating (almost as iconic as the office cubicle, designed by Robert Propst for Herman Miller in 1964) have remained popular over the years for space saving. But when the goal is to create space while maintaining creative work hubs, consider yourself licensed to play with unorthodox shapes and patterns.
The ability to change the direction of seating and the positioning of settings within a floorplan can be useful in spacing out workstations without making a room or office feel desolate.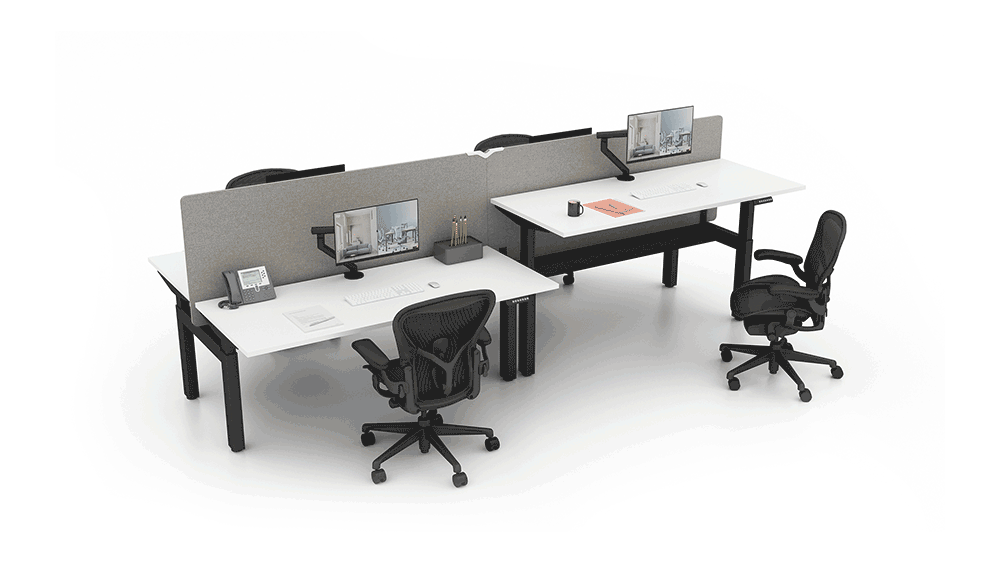 3. Parameters
Many workstations, including Atlas from Herman Miller, offer screen and backing attachments. These devices help create a comfortable, private-yet not too private work space; they reduce noise and limit unintentional visual distraction from neighbours. However, in situations where screens are not suitable, desired, or enough, there are other measures to encourage visual and spatial separation between employees.
Flexible monitor arms and laptop mounts, like those from Colebrook Bosson Saunders, create visual blocks and imagined parameters between spaces. They also make up an essential element to an ergonomic work space - keeping neck in line with spine for long term ergonomic support.
Another option for ensuring clear parameters between employees is to go for self-contained, yet linked, workstations. Take the Catena Office Landscape from Herman Miller. Meaning chain or connected series in Italian, Catena is perhaps most recognisable for its hexagonal, modular structures that in groups of three or more evoke a honeycomb model.
However, Catena can be configured in multiple ways: modular, linear, stepped or rotary. Moreover, it can also be applied to many tasks within the office: spacious traditional workstations, breakout spaces, independent study or one-on-one meetings, catering to the full spectrum of user behaviour.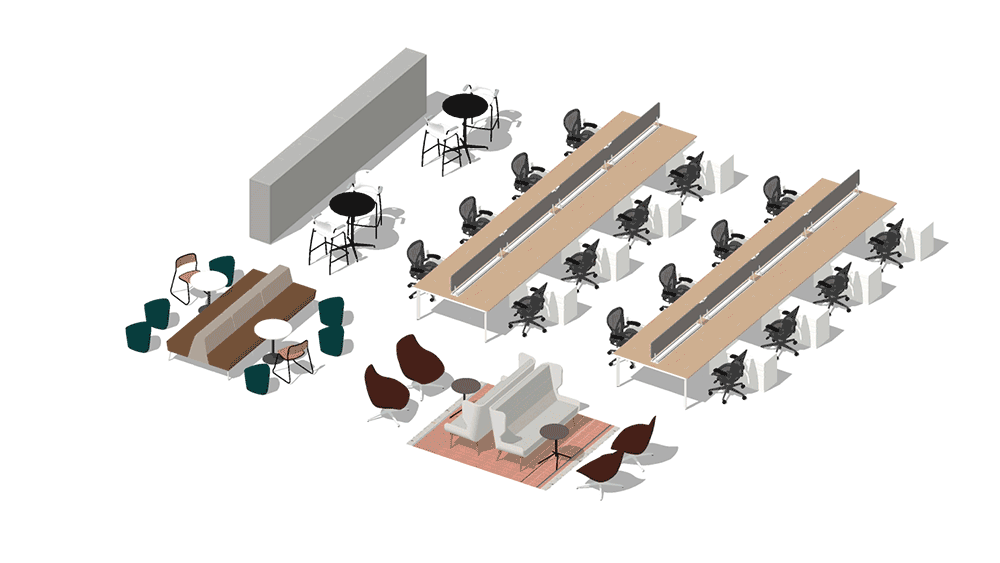 4. Flexibility
Reconfiguring the office doesn't need mean - out with old, in with the new. Employers can take this as an opportunity to look at the capabilities of existing furniture and equipment. Adding a few new elements, while re-organising the office layout, can help align a space with changing needs and guidelines.
The Ratio desk from Herman Miller can be can be specified as single desks or in clusters; it also works seamlessly into other Herman Miller desk solutions.
Flexibility doesn't only apply to furniture selection. Moving forward, a flexible work arrangement could be necessary. In an office where the number of employees has remained the same but new guidelines reduce the office capacity, this can be an opportunity to implement, or trial, flexible work schedules or team rotations to decrease the number of people in the office at one time.
In conclusion, flexibility and adaptability is a key factor to any business as it moves through natural cycles of expanding and contracting. Perhaps this is the most important lesson we need to [re] learn.