The new collection features the brand's new signature linear knurl pattern, in addition to two new finishes – Gun Metal and Burnt Steel, the latter which results in a rainbow of blue, purple, and yellow, mimicking that of artificial oxide seen on motorbike exhaust pipes.
The rebellious home label Buster + Punch has carved a niche for itself by bringing glamour and colour back to forgotten home furnishings.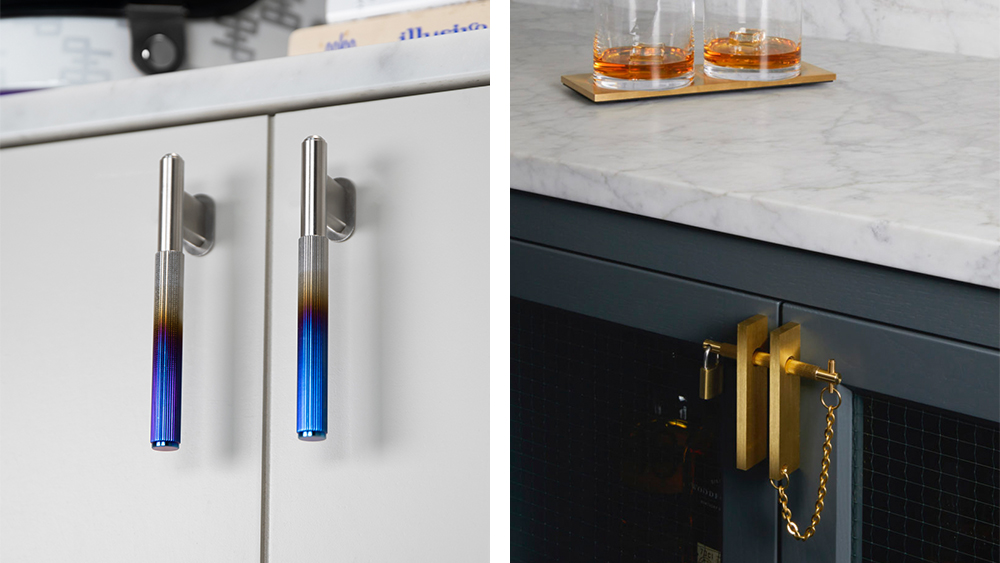 Linear is a range of cabinet handles inspired by fashion accessory hardware. Diamond-milled from rare solid metals, the range features Buster + Punch's new signature, linear knurl pattern and machined torx screws. LINEAR features new products – L-Bar and Precious Bar and new finishes – gun metal and burnt steel. The range also includes reimaginations of the Furniture Knob and Pull Bar and will also be available in classic finishes – steel, brass and black.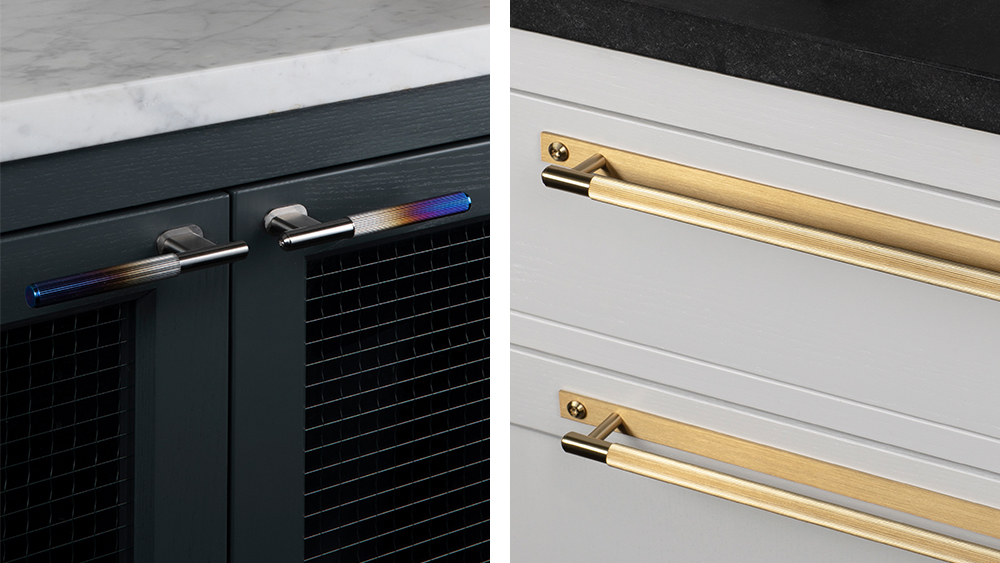 "Linear marks the next chapter in our exciting story as we continue to blur the lines between home and fashion," said Massimo Buster Minale, Buster + Punch founder and creative director. "The Linear collection is a forward-thinking range of precision hardware that would work just as well on your bedside cabinet as it would on your favourite handbag."
B+P have innovated a new technique to harness this oxide effect and when applied to marine-grade stainless steel, the final finish is both elegant and unexpected.
New Finish – Burnt Steel
Inspired by motorbike exhaust, Burnt Steel is a trailblazing new finish. When an exhaust runs lean, the excessive heat turns the metal into a stunning rainbow of blue, purple and yellow. Buster + Punch have innovated a new technique to harness this oxide effect and when applied to marine-grade stainless steel, the final finish is both elegant and unexpected.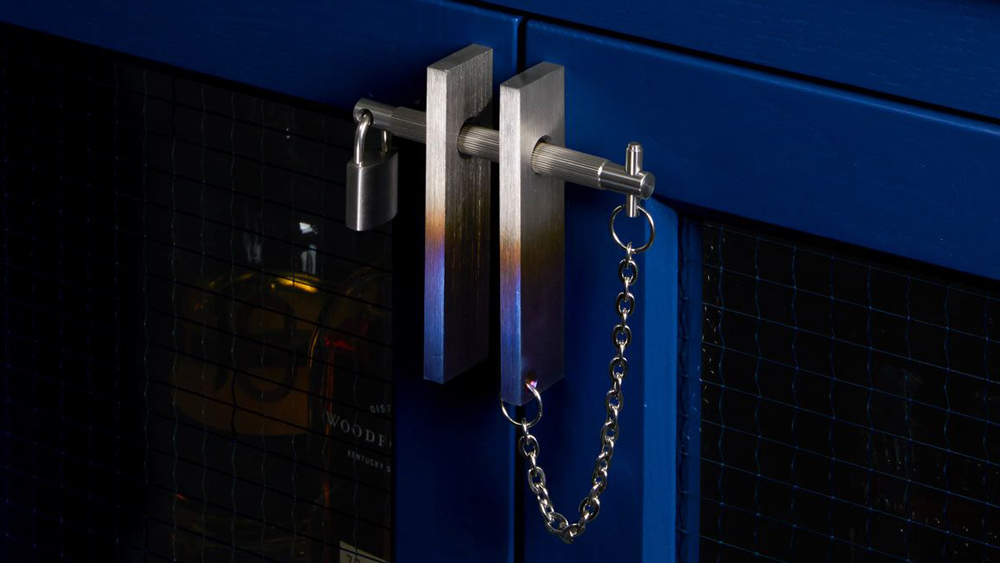 "As an Architect by trade and having worked on a number of London's celebrated landmarks, I have seen my hometown grow from a brick jungle into a steel dreamscape. I wanted to design a lighting range that would provide designers with the steel building blocks to do the same. The beauty of this range is that it can constantly change over time, by adding new additions and changing back panels to suit your current style."
– Massimo Buster Minale, designer & founder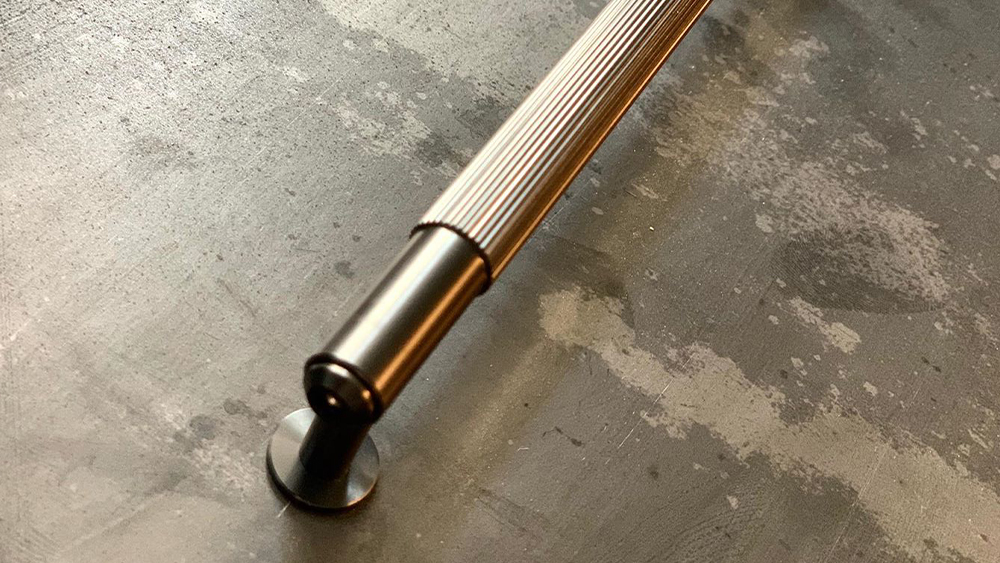 Q. How did the concept Buster + Punch come about?

A. Punch was never meant to simply be another interiors product brand, I have always wanted it to be a thing that constantly blurs the lines between interiors, fashion, music and street culture. We started life as part of London's sub-culture scene, making custom motorbikes and that spirit of rebellion remains at the core of everything we do. Today our products and the stories that surround them, are inspired by our city - London. Our main purpose as a brand is to challenge the establishment, reflect the mood of our followers and disturb an interiors industry that has lacked the energy of our counterparts in fashion for far too long.
Q. What are some of your most popular designs and why do you think they resonate with so many?

A. I think the products that have best captured the imaginations of our followers, are those that had been forgotten around the home and dare I say it, boring! I have tried to take those products that people come in contact with everyday, things like the light switch, door handle and light bulb and re-invent how you feel about them. The magic is not just in the product but in the lifestyle and content that we inject into them. People resonate with the fact that buying a unique kitchen handle that looks and feels great can help me stand out from the general crowd and be part of an exclusive community.
Q. Your designs are quite unique, and any competitors are certainly not competitors in the design aesthetic sense. Do you feel you have created a culture or community of followers? If so how and what are they like?

A. When we first launched our light switch range in Stockholm, we had a queue of customers around the block trying to get their hands on the first drop, many of those customers didn't even own their own home to put the switch into and that is when I first realised that our customers were buying into something much larger than the product, they wanted to be part of the brand. Since that day we see our 'cult-like' community as our most precious asset and we continually try and produce product and content that excites. Our community is varied but what they have in common is a love for counter-culture and a thirst for newness, they love to be challenged. Most interior brands will continually drip-feed images of nice kitchens to their followers, we like to give our community what they least expect.