As Milan Design Week continues, we're excited to share the second part of our series covering even more exciting and innovative design. The city has been abuzz with exhibitions, installations, and events, showcasing the latest trends and cutting-edge designs from some of the world's most talented creatives.
This year has been a testament to the creativity and innovation of the design industry. Designers are pushing the boundaries and paving the way for a brighter future. Stay tuned for the final part of our series, where we'll wrap up the highlights of this year's event and look ahead to what's next in the world of design.
BassamFellows presents Rail
Bassam fellows celebrates 20 years at Milan Design Week with an installation of modernist outdoor luxury and new Rail design.
The debut of the BassamFellows Rail system offers a path forward for the outdoor pavilion and similar architecture. It's about unifying open spaces within the context of beautiful scenery, creating interior comfort, but focusing outwards–to a desert, a lake, woodlands, the infinite horizon. This new indoor/outdoor sofa collection by BassamFellows has its roots in the Arts and Crafts Movement but updates and reshapes it with a sculpted and more severe utilitarian style. Natural materials, vernacular forms and skilfully executed joinery converge with a rhythmic play of solid and negative space. Rail was developed for a specific environment-a client's guest house/pool pavilion designed by BassamFellows close to the studio's base in New Canaan. The structure of the house/pavilion represents a single long rectangle, with a substantial cantilevered element at one end. To bring an extra element of harmony to the space, it incorporates a central covered outdoor room. While the building contains numerous floor-to-ceiling glass panels, the open-air element profoundly accentuates the interior's harmony with its wooded setting, separated from the rest of the building by folding glass doors that stack to the side. When opened, it creates one singular living space, running the entire width of the pavilion. Rail was created to seamlessly integrate these indoor and outdoor living rooms with a singular visual element.
Tom Dixon presents CHOICE
New Collections showed for the first time at Euroluce included new PUFF pendants and chandeliers, PORTABLES lights inspired by the iconic MELT, BELL and STONE designs and CONE, along with the best-selling upholstery pieces FAT and WINGBACK, now available in hundreds of colours and textiles.
Tom Dixon demonstrated flexibility, modularity and limitless possibilities of the new CHOICE collection thanks to a collaborative and compliant robot by ground-breaking technology Universal Robots. With a tailor-made, machine-tending application from Universal Robot's UR10e series, a large OnRobot VG10 gripper configured the new CONE table and floor lights at the exhibition.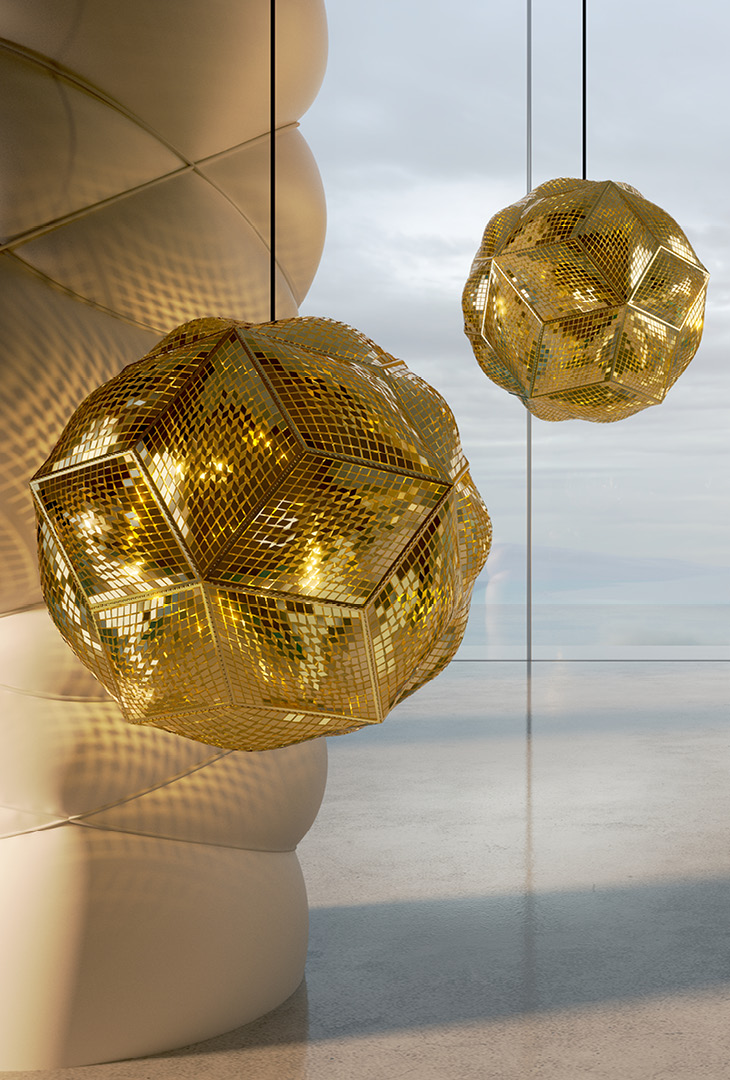 New Puff
Inspired by inflatable geometry, Puff is an intricate polyhedral object made of 30 metal panels, arrayed to form the rigid structure of a 45cm diameter lamp. Puff is a true statement light set to act as a focal point in any environment.
New Portables
Tom Dixon also launches a brand-new category of lights: the Portables. Poised to become a must-have with design aficionados across the world, this new series of rechargeable lights are super expressive, skilfully engineered and highly compact in size. The new collection includes Melt, Stone and Bell.