Renowned for their commitment to exceptional design and user comfort, Herman Miller has consistently produced top-notch office chairs that enhance productivity and well-being.

In this blog, we will explore the top 5 task chairs from Herman Miller, highlighting their features, benefits, and why they have become favourites among professionals worldwide.
When it comes to task chairs, few brands can match the quality, innovation, and ergonomic excellence of Herman Miller.
Herman Miller Aeron Chair
The Aeron Chair is an icon in the world of ergonomic seating. Introduced in 1994, it revolutionised the way we think about office chairs. The Aeron boasts an innovative suspension system that adapts to your body, providing optimal support and comfort throughout the day. With adjustable lumbar support, customisable armrests, and breathable mesh material, the Aeron Chair ensures excellent posture and prevents fatigue. It's no wonder that it has become a staple in countless offices, from startups to Fortune 500 companies.
Why Choose Aeron?
Prioritise your posture and well-being with the iconic Aeron Chair, providing ergonomic support and promoting a healthy sitting position.
Stay cool and comfortable with the breathable mesh back, ensuring optimal airflow during long work sessions.
Customise your chair to fit your body and preferences, experiencing personalised comfort and support throughout the day.
Shop Aeron →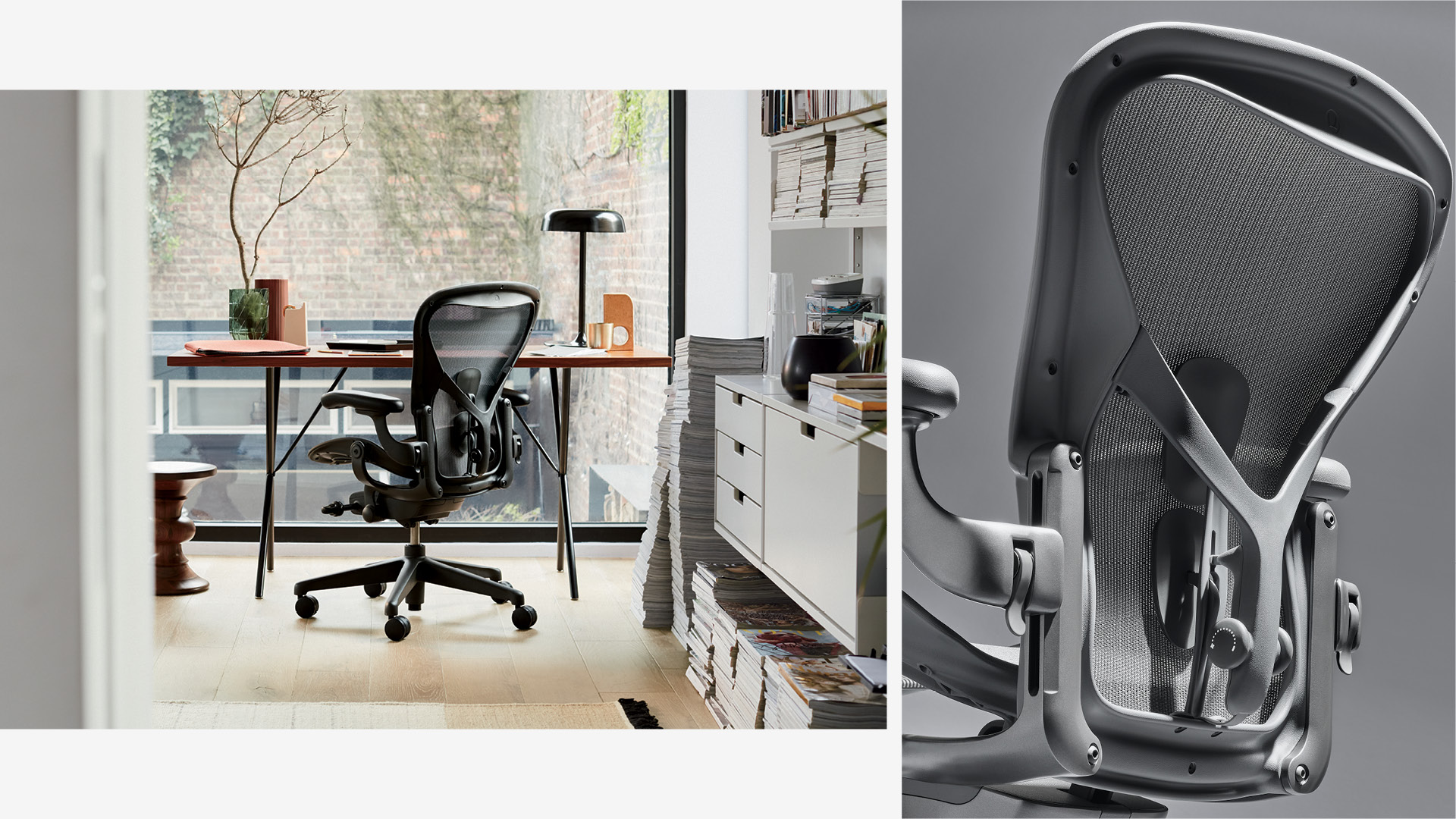 Herman Miller Embody Chair
The Embody Chair is a testament to Herman Miller's commitment to pushing the boundaries of chair design. Engineered to mimic the human spine, this chair promotes natural movement and helps maintain a healthy posture. With its pixelated support system and dynamic matrix of flexors, the Embody Chair distributes your weight evenly and reduces pressure points, fostering improved blood circulation. It also features a cooling foam that regulates body temperature, making it an excellent choice for long work sessions.
Why Choose Embody?
Experience personalised support and improved health during long work hours with Embody's ergonomic design and health-positive benefits.
Achieve optimal comfort and productivity with Embody's technology-driven features and flexible movement.
Enjoy a visually striking chair that inspires and enhances any office space.
Shop Embody →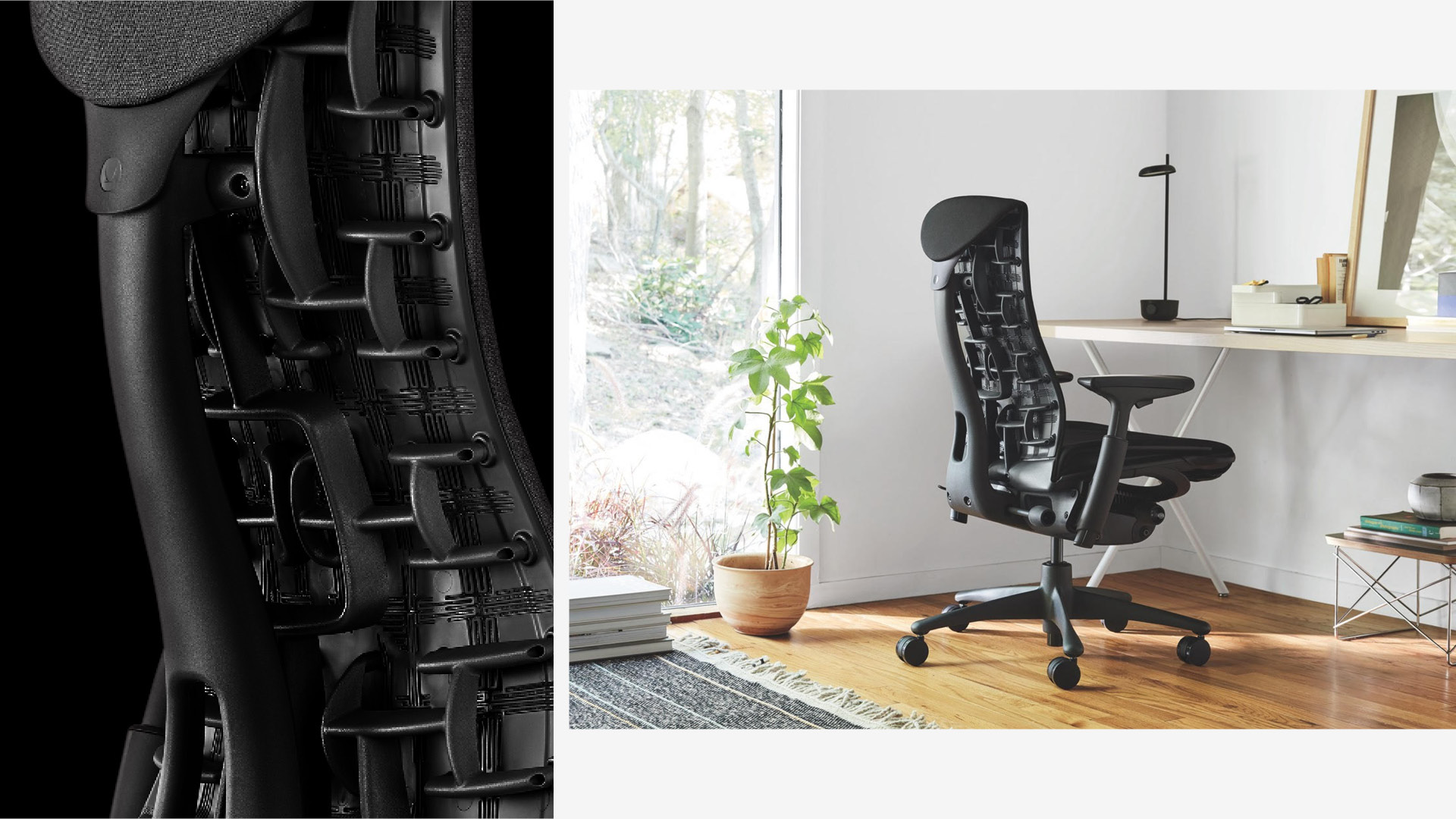 Herman Miller Sayl Chair
Herman Miller Sayl Chair: For those seeking an exceptional balance between aesthetics, affordability, and performance, the Sayl Chair is a standout choice. Designed by Yves Béhar, this chair showcases an elegant and minimalistic design inspired by the principles of suspension bridges. The Sayl Chair offers excellent lumbar support and encourages a healthy, dynamic sitting posture. Its unique Y-shaped backrest provides flexibility and freedom of movement, making it ideal for active individuals who like to shift positions frequently.
Why Choose Sayl?
Discover dynamic support inspired by suspension bridges, offering a perfect balance between ergonomic support and freedom of movement.
Create an aesthetic masterpiece with Sayl's range of design options, expressing your unique style and complementing any environment.
Embrace responsible design choices, lightweight construction, and eco-friendly materials for a sustainable and visually appealing chair.
Shop Sayl →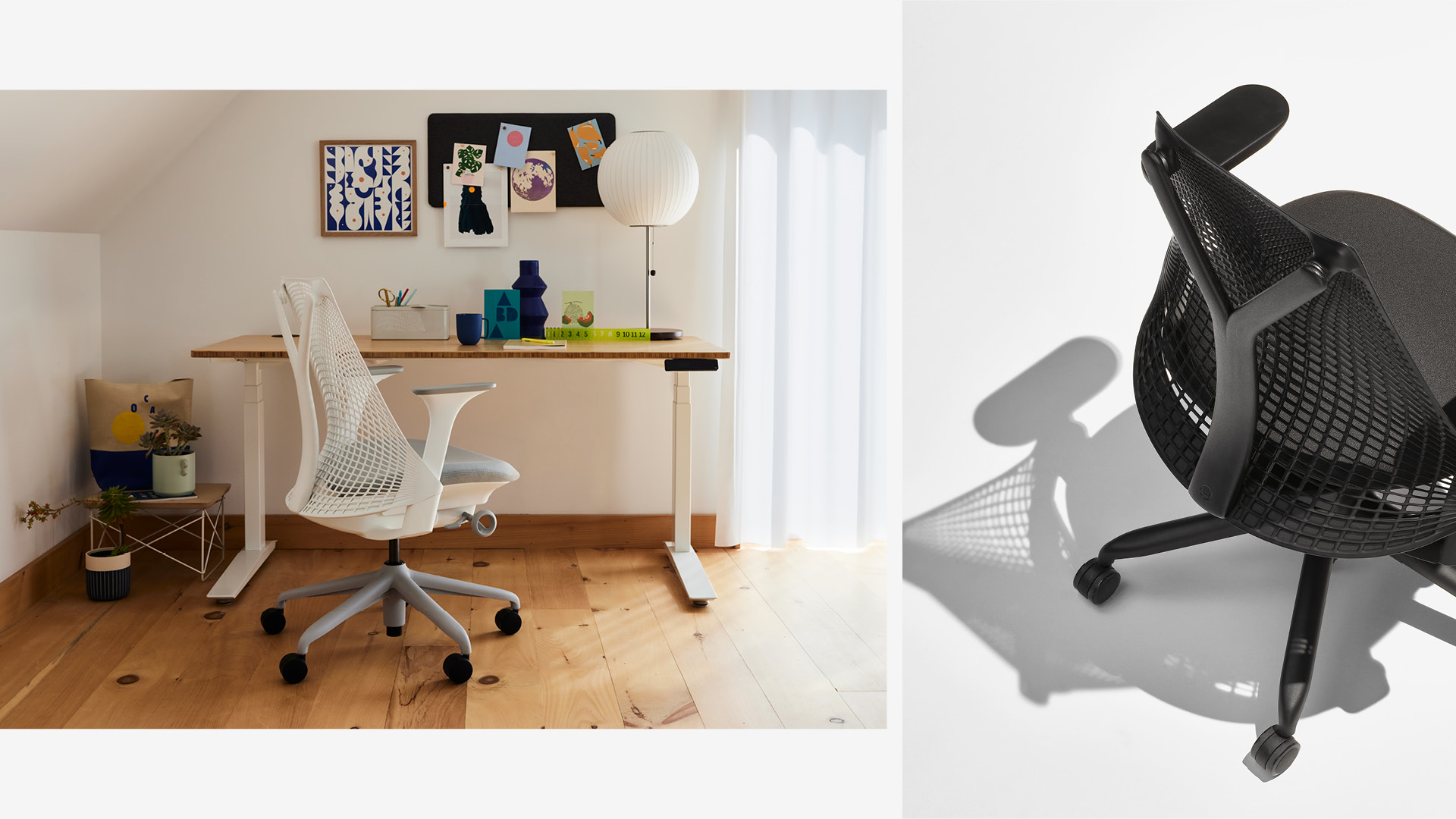 Herman Miller Cosm Chair
The Cosm Chair represents a fusion of advanced engineering and sophisticated design. It utilizes Herman Miller's innovative Auto-Harmonic Tilt technology, which automatically adjusts the chair's resistance and recline based on the user's body movements. This dynamic system ensures balanced support and effortless comfort, accommodating different postures and activities. With its sleek profile, the Cosm Chair brings a touch of elegance to any workspace, while its ergonomic features cater to the most demanding users.
Why Choose Cosm?
Enjoy instant comfort and adaptive support with Cosm's innovative design, providing a seamless seating solution for individuals seeking personalised comfort.
Embrace the stylish simplicity of Cosm, enhancing your modern workspace with its contemporary aesthetic and functional features.
Experience total support and natural movement in every position, allowing you to stay focused and productive throughout the day.
Shop Cosm →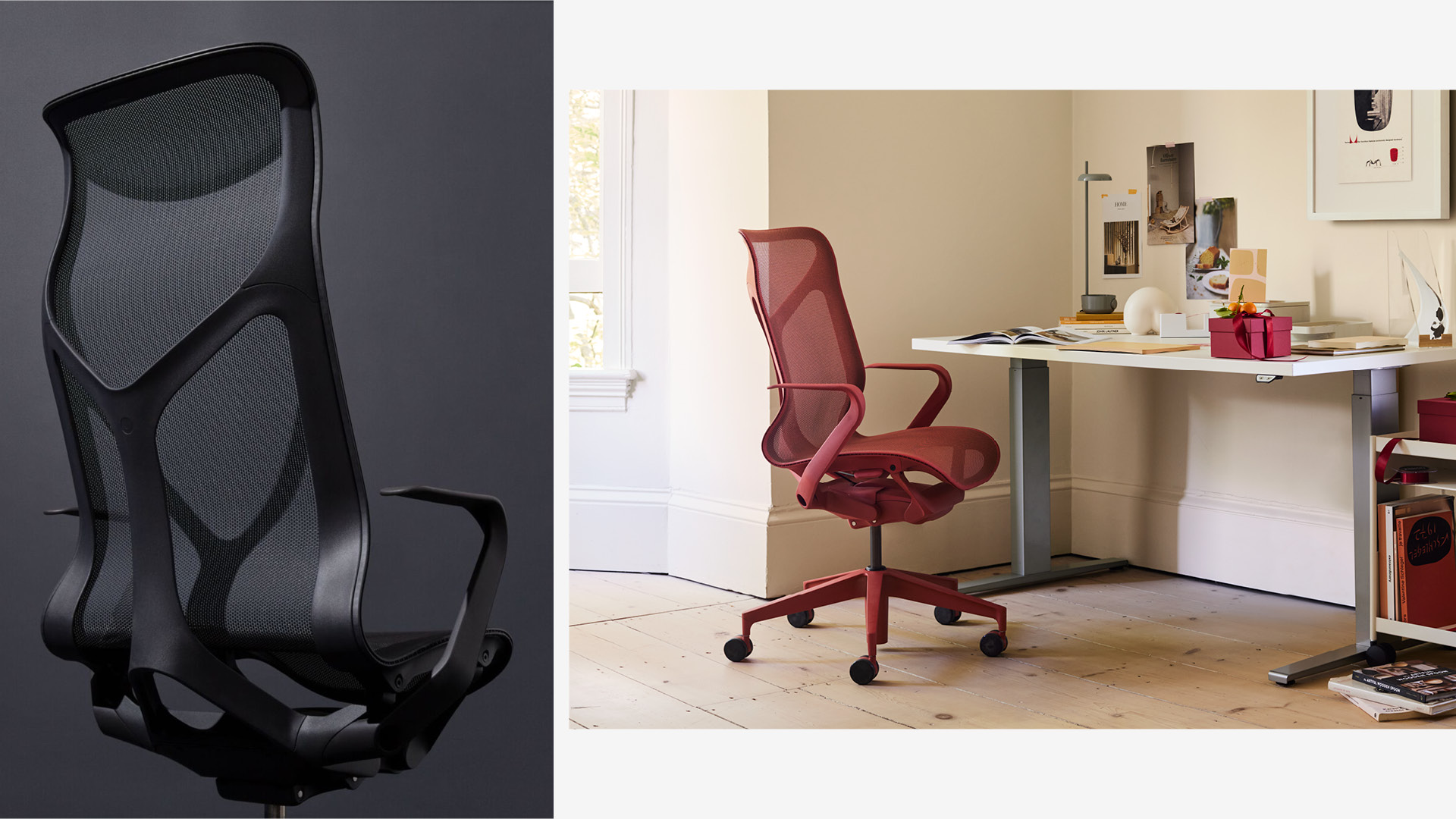 Herman Miller Mirra 2 Chair
The Mirra 2 Chair is a versatile and adaptable seating solution that suits a wide range of users. Featuring a highly responsive Butterfly Back, it molds to your body's shape and provides exceptional lumbar support. The chair's flexible design allows for freedom of movement and promotes healthy circulation. With its durable construction and eco-friendly materials, including 42% recycled content, the Mirra 2 demonstrates Herman Miller's commitment to sustainability without compromising on performance.
Why Choose Mirra 2?
Enhance your agility and work versatility with Mirra 2's responsive design, allowing easy transitions between various work postures.
Benefit from personalised ergonomics, visual interest, and flexibility for a productive and engaging work experience.
Make a statement in your workspace with Mirra 2's inspiring design, suitable for organisations seeking both style and functionality.
Shop Mirra 2 →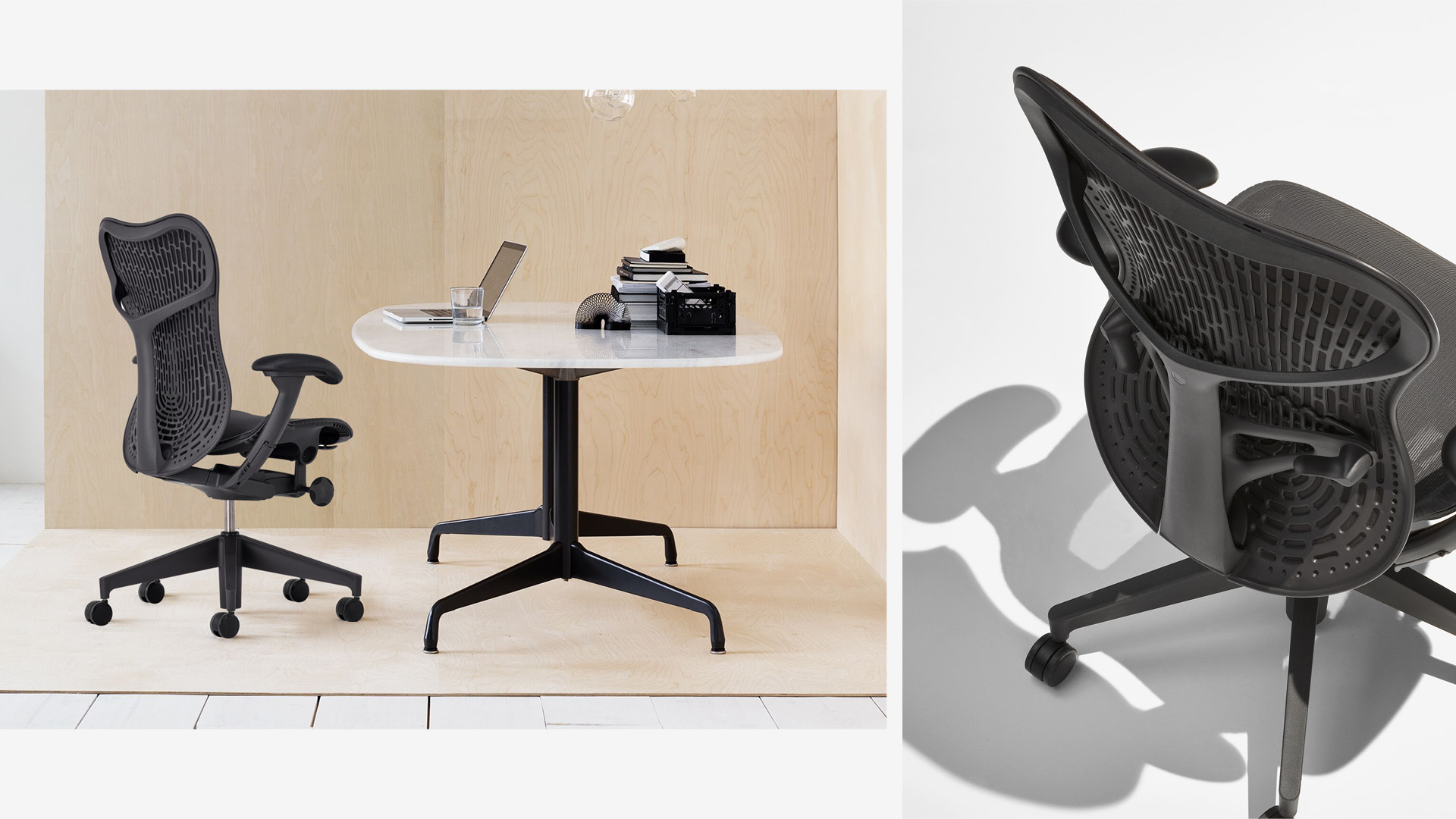 Investing in a quality task chair is essential for your overall well-being and productivity, and Herman Miller consistently delivers exceptional options. Whether you choose the iconic Aeron Chair, the innovative Embody Chair, the affordable Sayl Chair, the dynamic Cosm Chair, or the versatile Mirra 2 Chair, you can rest assured that you are investing in a product that combines style, functionality, and ergonomic excellence. Herman Miller's commitment to design and user comfort sets them apart, making their task chairs a favourite among professionals worldwide. So, go ahead and choose the chair that suits your needs and embark on a journey towards a healthier and more productive work experience.