When this whimsical Eames design debuted in 1953, the public's perception of coat racks changed—these utilitarian objects could now be thought of as decorative and fun.
In 2019 Pride joined the iconic Eames Hang-It-All family. The Pride Edition is a special colour of Hang-It-All to celebrate Pride, inclusiveness, and diversity.
Charles and Ray Eames
never lost their sense of playfulness, and you shouldn't either. One way they did this was by introducing bright colours and boundary pushing designs. Get your feet wet with the Hang-It-All wall hook system. Its vividly hued balls make it look more like a toy than an efficient organising tool.
"The appreciation of the small objects that are around us every day is what produces an appreciation of the world around us in whole." Charles Eames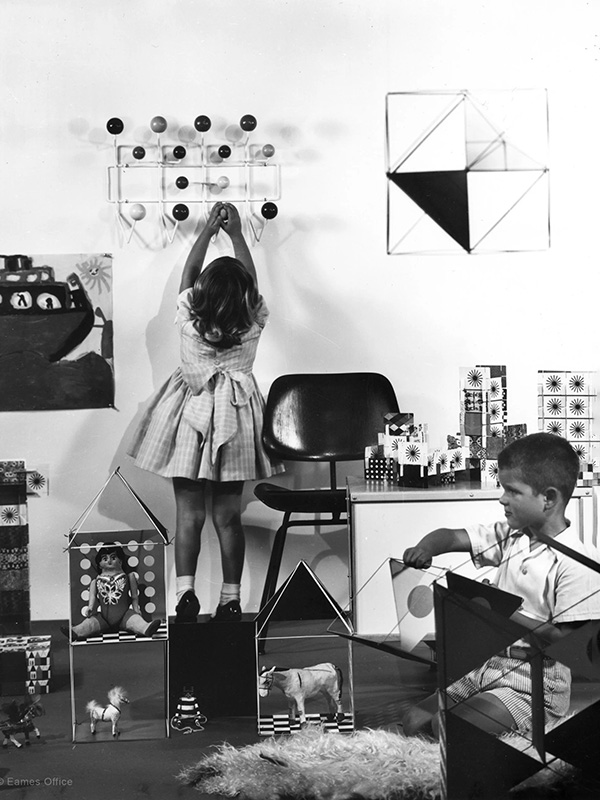 Inspired by their desire to encourage free expression in children, Ray and Charles Eames began making costume masks in 1950. In 1953, they designed the toy-like Hang-It-All Coat Rack. Whimsical with its brightly multi-coloured wood balls, the Hang-It-All also drew on the era's popular fascination with scientific design and imagery—in this case, the molecular models.
For designers Charles and Ray Eames, play was always prioritised alongside principles of beauty and function. "They played with things, teased at them," says grandson Eames Demetrios, who saw the process when hanging around the Eames Office as a kid. "That spirit of play distinguishes them from other designers."
First crafted with multicoloured hooks and a white wire frame, in years following, more versions of the Hang-It-All Coat Rack were produced in a more refined dark wood and black- or cream-painted balls. Almost 70 years after its original release,
Herman Miller
paid tribute to the design's original inspiration derived of free expression and individuality and released the
Eames® Hang-It-All® Pride Edition
. The Pride Edition is a special colour of Hang-It-All to celebrate Pride, inclusiveness, and diversity.
With their Hang-It-All, Charles and Ray Eames elevated the everyday coat rack into something inventive and fun, themes still echoed in the re-edition featuring a rainbow colourway inspired by LGBTQ+ Pride. Hang yours proudly as a show of support for the LGBTQ+ community. The Eames Pride Hang-It-All serves as a vibrant reminder that we must strive to create a world where everyone can celebrate their whole self all year long.

For every Eames Pride Hang-It-All purchased, Herman Miller is donating $25 to OutRight Action International. Herman Miller Cares, their corporate foundation, is also proudly supporting OutRight Action International with a $30,000 donation. Included with your Eames Pride Hang-It-All, you'll receive a limited-edition All Means All tote bag, so you can proudly show your support wherever you go.