Established & Sons changing relationship with Salone de Mobile as the large-scale presentations developed into smaller curated shows and a tightly edited presentation of the brand at Fiera del Mobile.
Since Established & Sons' launch in 2005 the brand has crafted memorable exhibitions for the visitors of the Milan furniture fair.
2005
Established & Sons impressive debut presented new designs by some of the best-known designers in the industry. The first collection attracted the industries attention and included ambitious Limited Edition designs alongside production pieces by Zaha Hadid, Barber Osgerby, Sebastian Wrong, Alexander Taylor, Michael Marriott, Michael Young, Mark Holmes and Amanda Levete.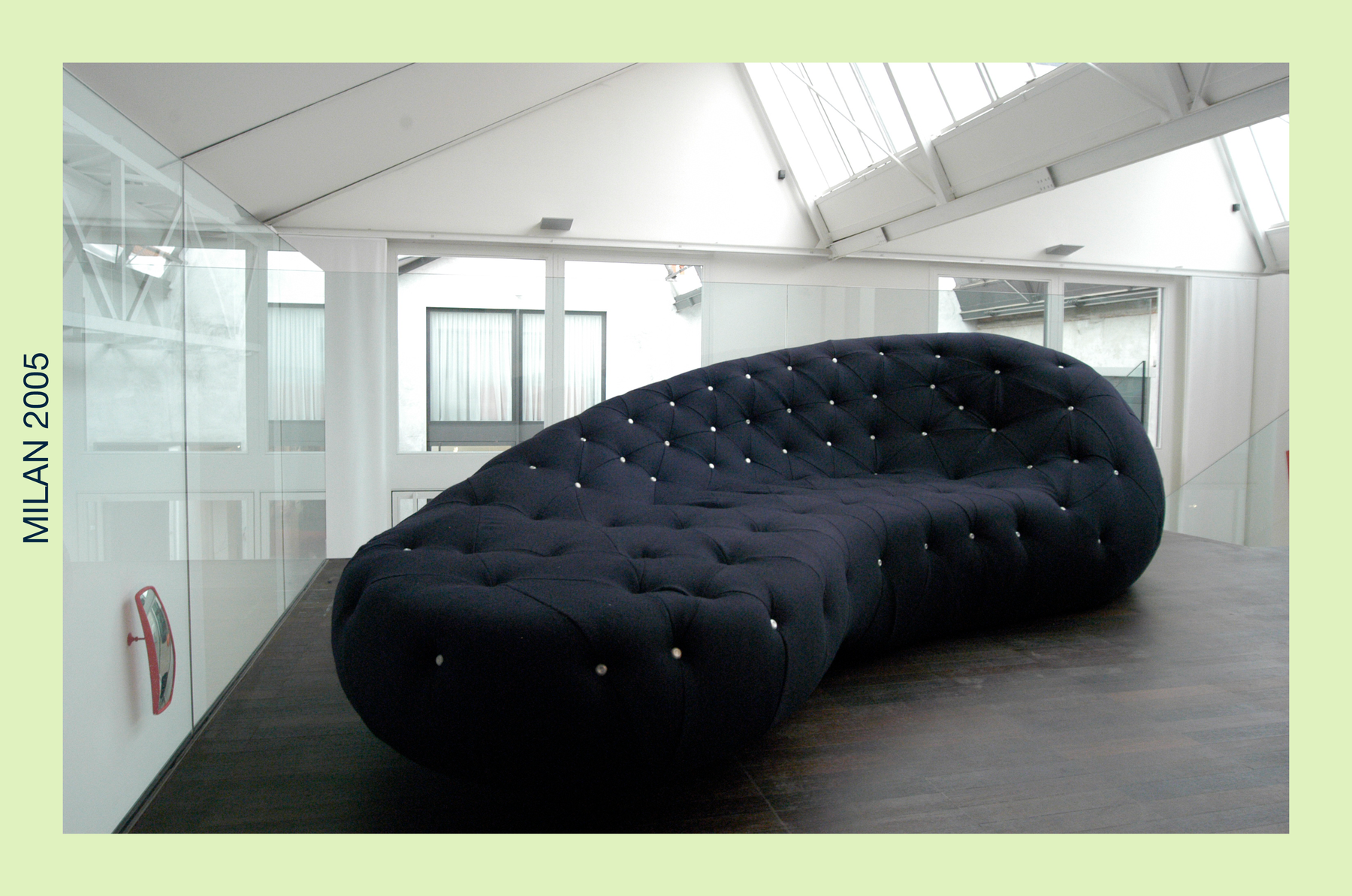 2006
In 2006, Established & Sons took over the expansive La Pelota location in central Milan for the first time to show new designs by Jasper Morrison, Frank, Barber Osgerby, Amanda Levete, Zaha Hadid, Michael Marriott, Alexander Taylor and Michael Young.⁠ Creative partners Made Thought created a 100m long graphic wall of quirky British phrases to bring a sense of fun, drama and scale to this vast former sports hall.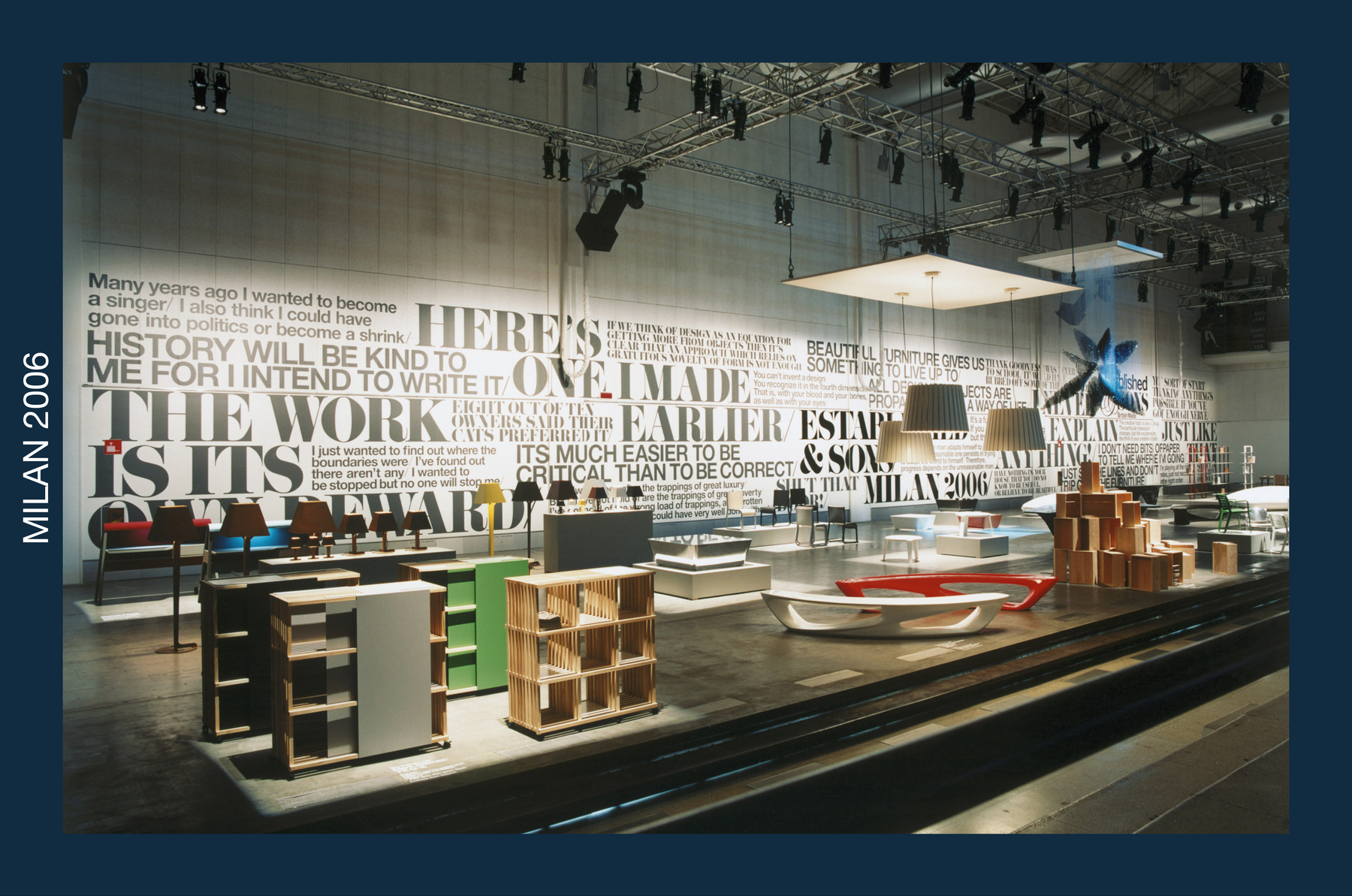 2007
At la Pelota in 2007, Established & Sons showcased 13 exciting new designs and introduced 3 new designers during Salone del Mobile Milano. Established & Sons creative partner, Made Thought, transformed the space with graphic rooms to present new designs by: Barber Osgerby, Amanda Levete, Frank, Zaha Hadid, Mark Holmes, Industrial Facility, Klauser & Carpenter, Michael Marriott, Jasper Morrison, Alexander Taylor, Richard Woods, Sebastian Wrong and Michael Young.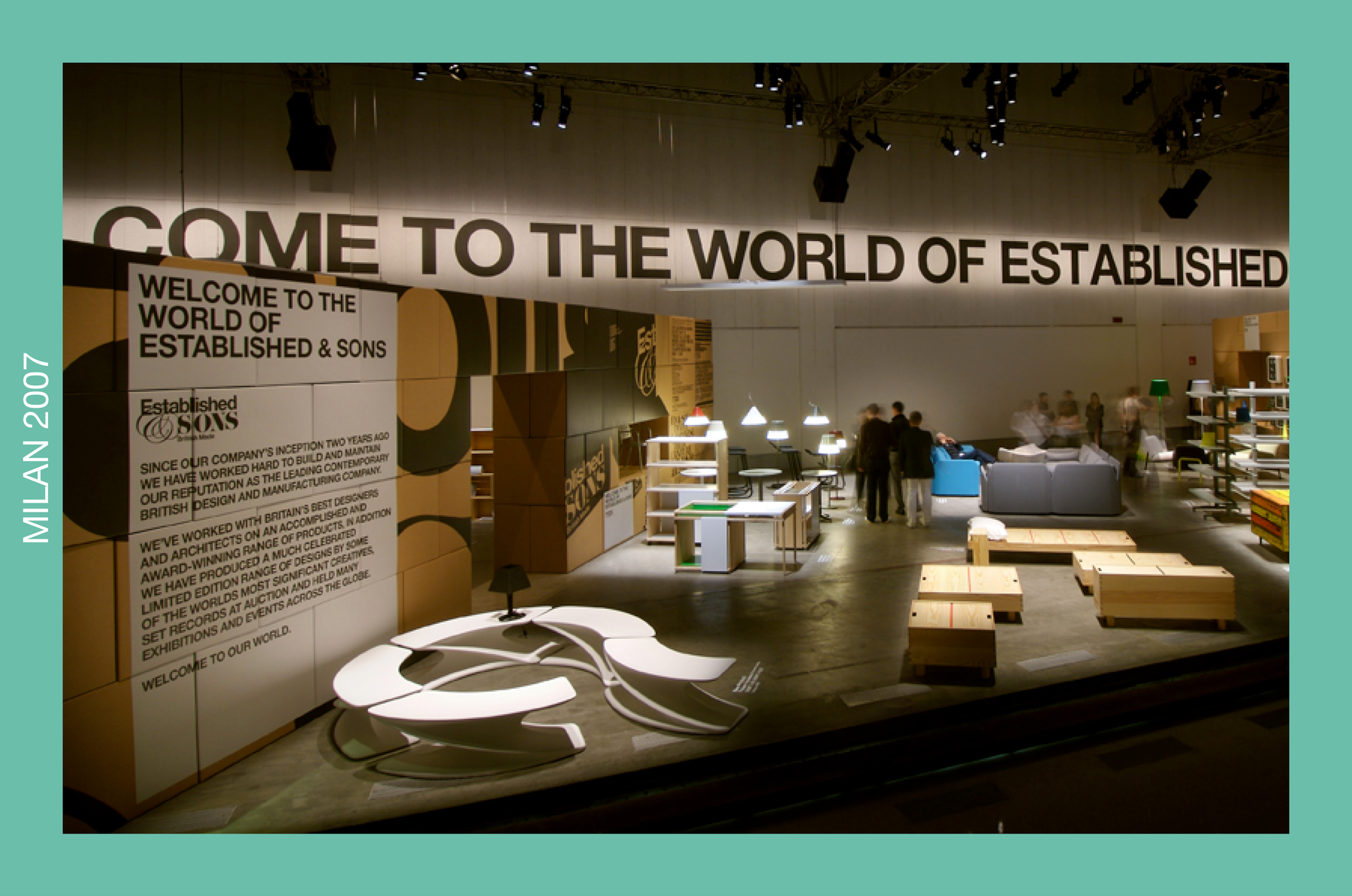 2008
Milan 2008 was a big year that launched many of our most recognisable designs including Torch Light, Heidi, Surface Table and Stack. Alongside a total of 15 new designs 2008 also brought the announcement that Established & Sons was bringing international designers into its stable of creative talent for the first time.⁠

Inside the La Pelota venue Established & Sons used 25 tonnes of steel to create a two-storey, 18 room open-plan building. A colourful, 6 meter tower of drawers featured as the introduction of the now iconic Stack designed by Raw Edges/ Shay Alkalay. Displayed on the ground floor was a super slim carbon fibre Surface Table that caught International attention. A collaboration between two Royal Designers for Industry, Terence Woodgate from the world of furniture design and John Barnard from the world of Formula 1 racing car, the design went on to win awards and feature in museums.⁠

The exhibition presented Limited Edition designs by Maarten Bass alongside Signature and Principal Collection designs by Barber Osgerby, Caruso St John Architects, Paul Cocksedge, Frank, Jaime Hayon, Industrial Facility/ Sam Hecht, Klauser & Carpenter, Amanda Levete, Jasper Morrison, Raw Edges/ Shay Alkalay, Wouter Scheublin, Sylvain Willenz, John Barnard with Terence Woodgate, Sebastian Wrong and Michael Young.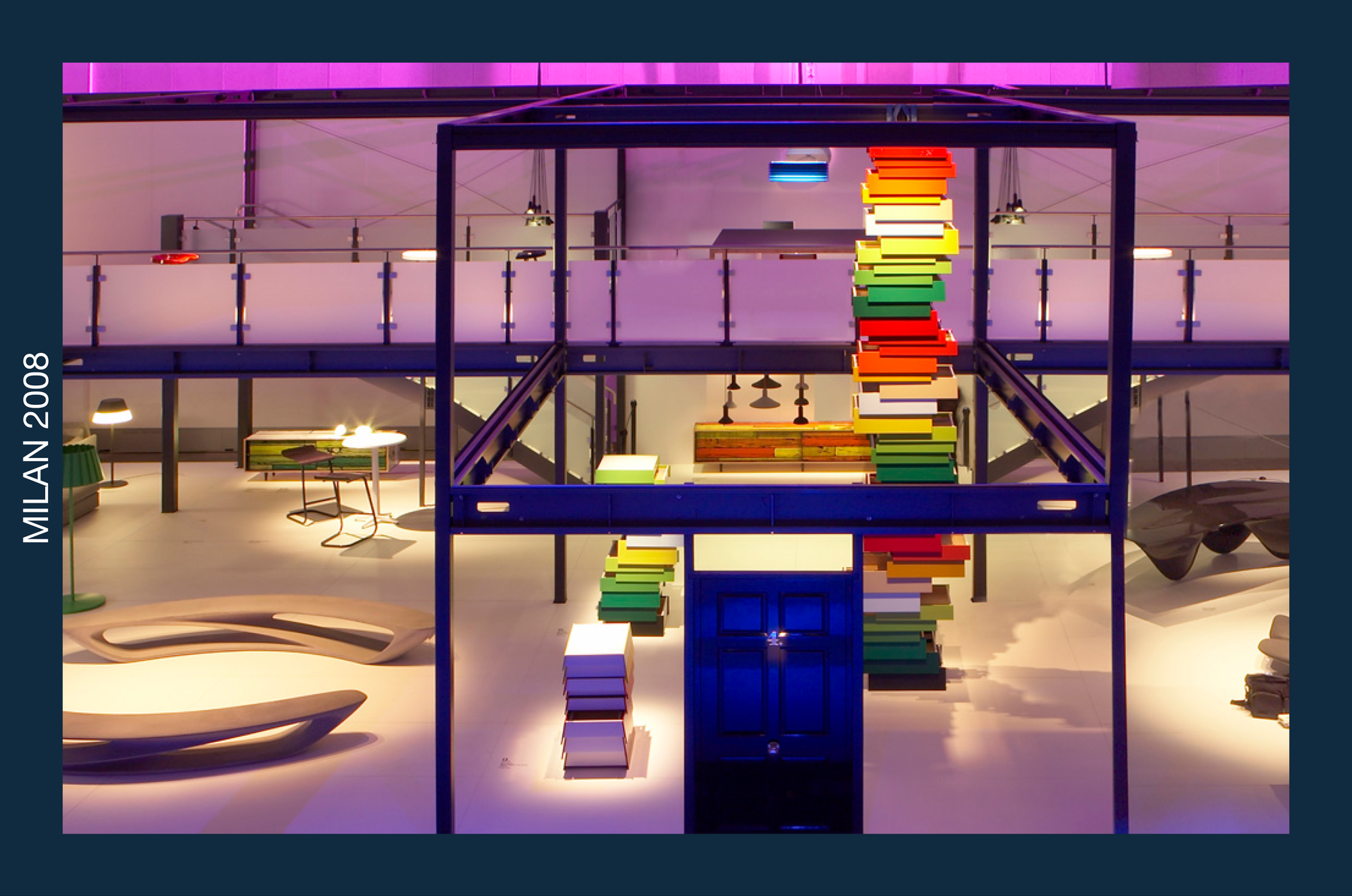 2009
In 2009, for the fourth year running, La Pelota became the home of Established & Sons during Milan Salone del Mobile. ⁠Spanning the entire 1,340 square metre floor space at La Pelota a walled settlement, with walls ranging in height from 2 metres to 4 metres, was erected from 30 tonnes of untreated American tulipwood. Established & Sons first used the tulipwood it in its natural state and then went on to use the wood to make Bench Press - an installation at the V&A for LDF 2009 by Richard Woods and Sebastian Wrong.⁠ ⁠

"This year's installation was an intimate, entrenched settlement, an exposed timber flow, raw and basic, formal and frugal and ultimately recycled into product," said Established & Sons Design Director, Sebastian Wrong.⁠ ⁠

2009 launched 16 new designs with 4 new designers joining our increasingly prestigious design roster: Jason Bruges Studio, Mattali Crasset, Front Design and Ronan & Erwan Bouroullec.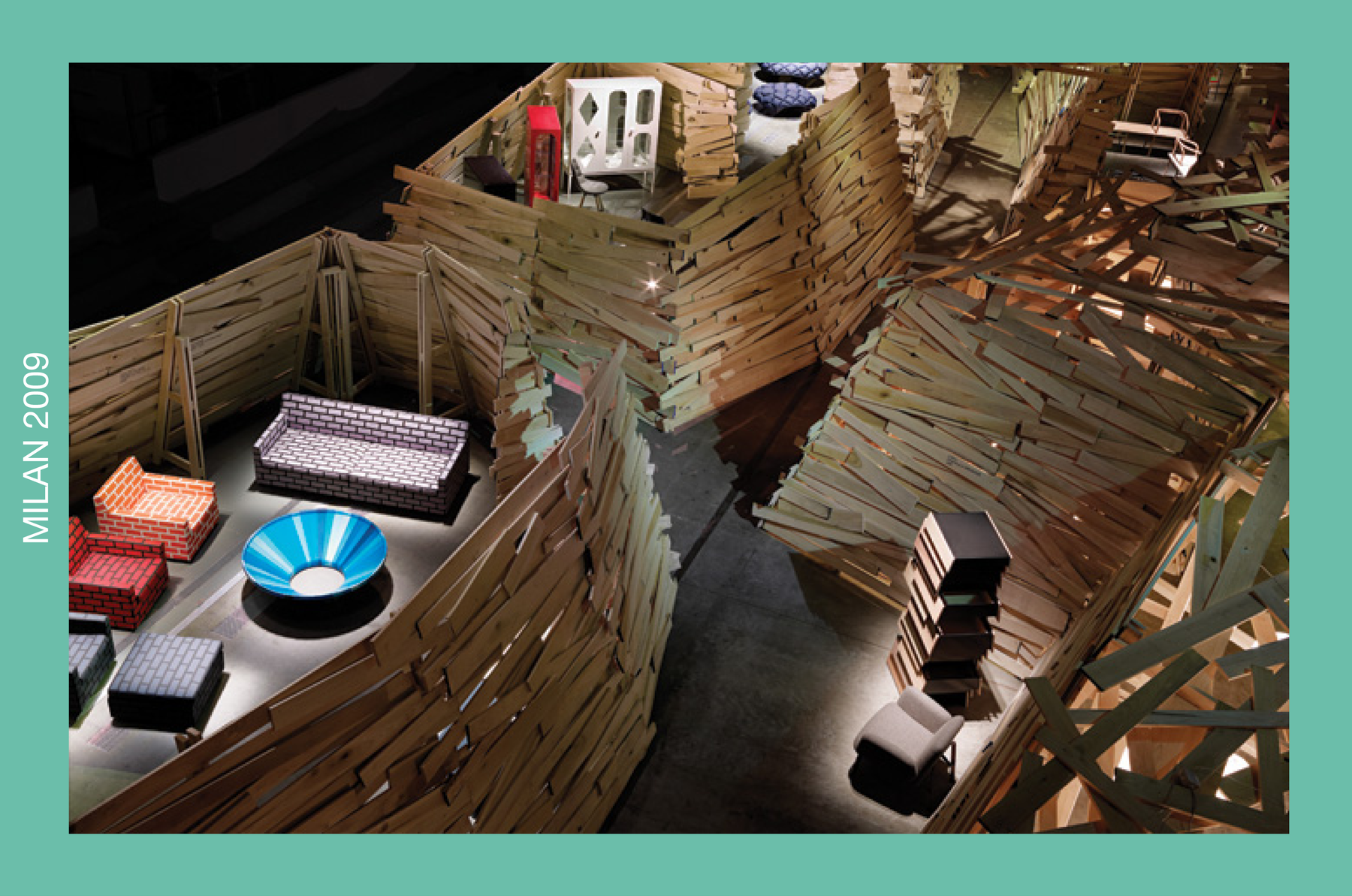 2010
In 2010, Established & Sons took over La Pelota for the fifth and final time to build 4 terraced plinths in brilliant white, with a hidden lighting tunnel that went through the centre of the 40-metre long structure. The front-on presentation of the growing collection and introduction of 30 new designs created a memorable panorama that visitors saw in full on entering the space.⁠

The 2010 New Collection included designs by; Ronan & Erwan Bouroullec, Bertjan Pot, Front Design, Scholten & Baijings, Konstantin Grcic, Martino Gamper, Sebastian Wrong, Klauser & Carpenter, Luca Nichetto, Michael Eden, Stefan Diez, Sylvain Willenz, Richard Woods, Frank and Amanda Levete.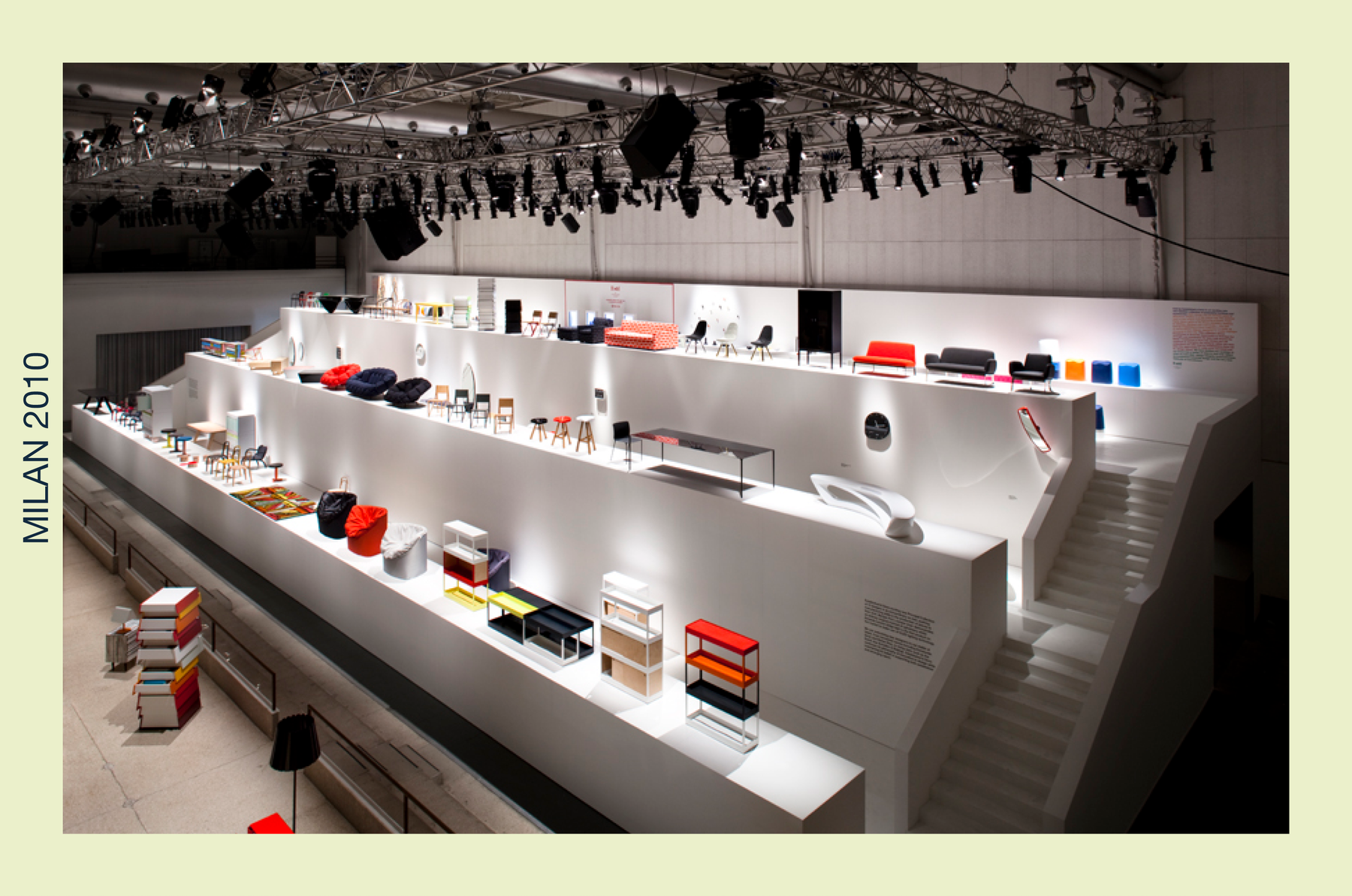 2011
Moving to a new venue Established & Sons transformed the Versace Theatre - a stunning 1,200 square metre space where art, fashion and showmanship are well-known thanks to its origins as a cinema and as the presentation venue for Versace. ⁠As the visitor walked through to the main exhibition area they encountered their first views of the new collection, which were also reflected in the floor to ceiling angled mirrors that surround the circular auditorium.

White islands located throughout the theatre displayed new designs by Konstantin Grcic, Richard Woods, Sebastian Wrong, Terence Woodgate with John Barnard, Committee, Felix de Pass, Klauser and Carpenter, Klaus Haapaniemi with Mia Wallenius, Anders Ruhwald, Matali Crasset, Hallgeir Homstvedt, Leon Ransmeier, Luca Nichetto, Peter Bristol and Nathalie Dewez.
2012
In the trend-setting Zona Tortona district Established & Sons invited Constance Guisset to create the scenography of the Milan show. This unique installation used high-tech ribbons of light hung from the ceiling to light open-fronted black box plinths and launched the astounding 6 meter Limited Edition Surface Table.

The Floating Table by Ingo Maurer, Udukuri table by Jo Nagasaka and Wrongwoods accessories by Sebastian Wrong and Richard Woods were launched alongside new designs by Nendo, Raw Edges, Ron Gilad, Skogstad, Homstvedt, A&V, Arik Levy, Claesson Koivisto Rune, Felix de Pass and Luca Nichetto.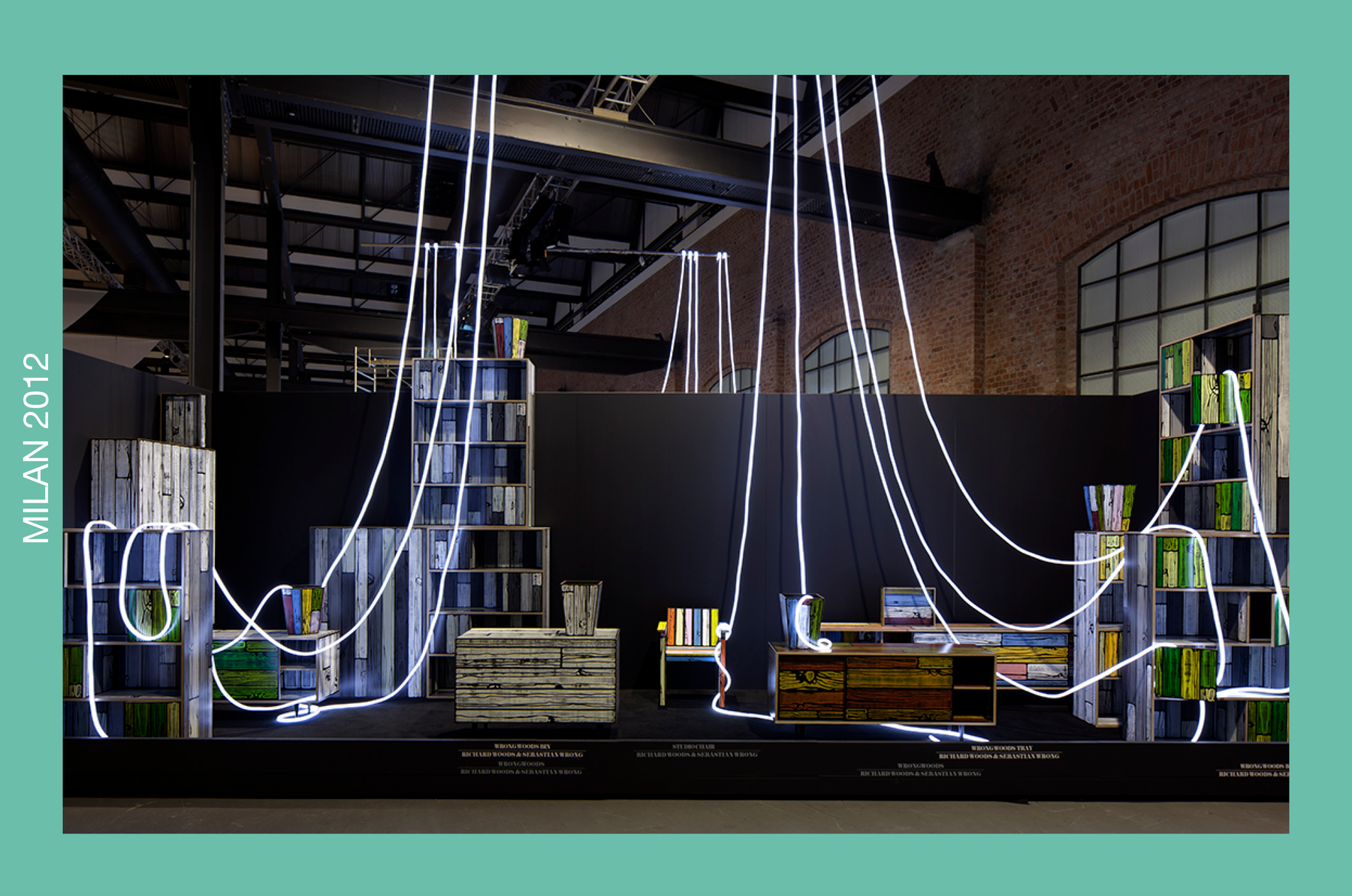 2013
Established & Sons took over a contemporary, white cube style, gallery to hold a retrospective of the Limited Edition Collection, which had not been presented together in Milan before. ⁠Limited Edition designs by Zaha Hadid, Committee, Barber Osgerby, Richard Woods and Sebastian Wrong, were shown alongside prototypes by Terence Woodgate and John Barnard, Jasper Morrison, Jo Nagasaka, Jaime Hayon and Ingo Maurer.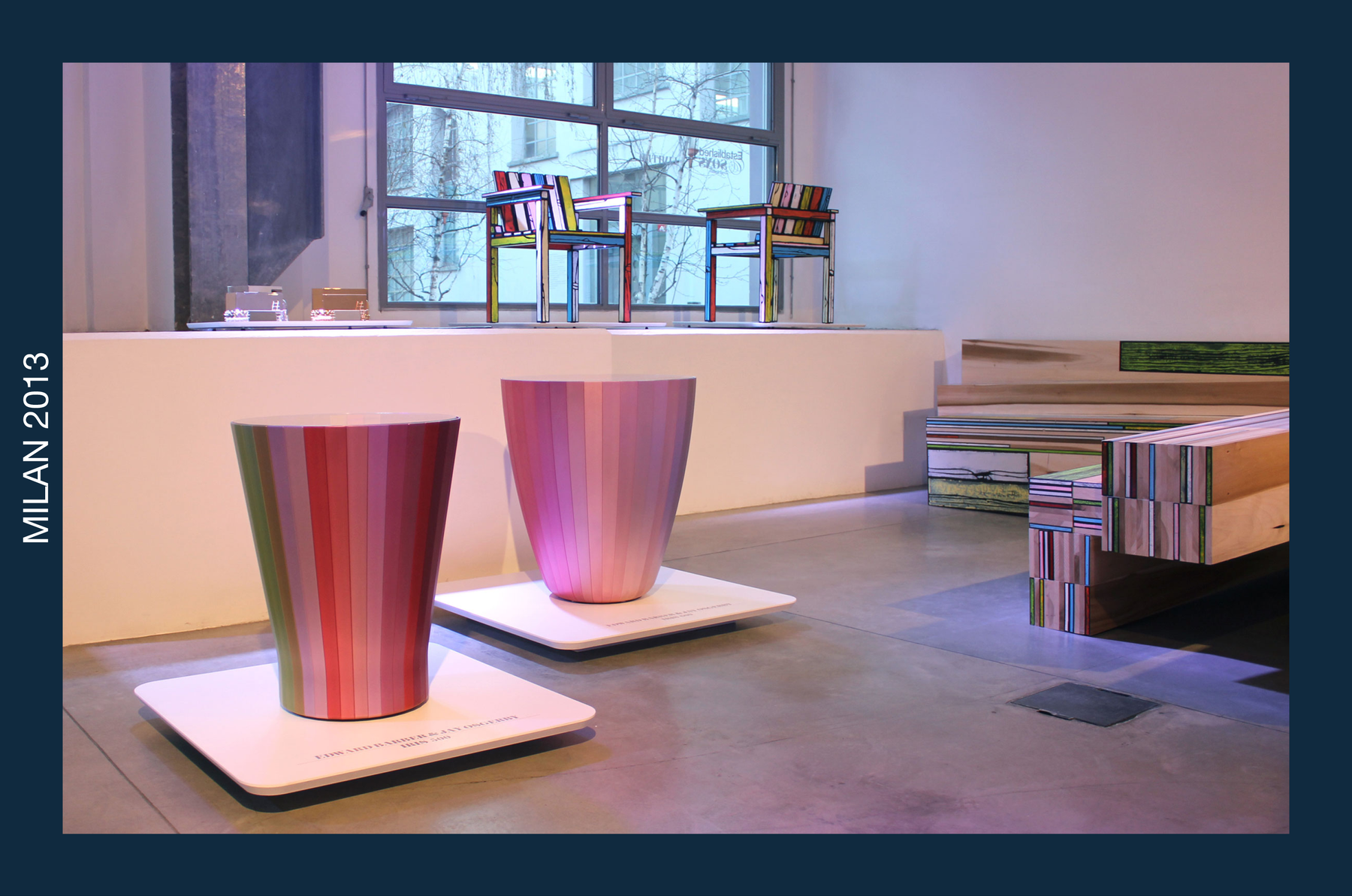 2014
Established & Sons celebrated a decade of design with new collaborations from the worlds of fashion, art and architecture. Defined by its innovative use of materials, ten new designs were exhibited in a striking pavilion set within a grand Italian courtyard.

2014 welcomed new names to the expanding Established & Sons collective: Nao Tamura, Philippe Malouin, Delphine & Reed Krakoff, Constance Guisset, Tord Boontje, Gianni Osgnach, Federico Gregorutti and Alessandro Ciffo joined regular contributors Amanda Levete, Jo Nagasaka and Klauser & Carpenter.⁠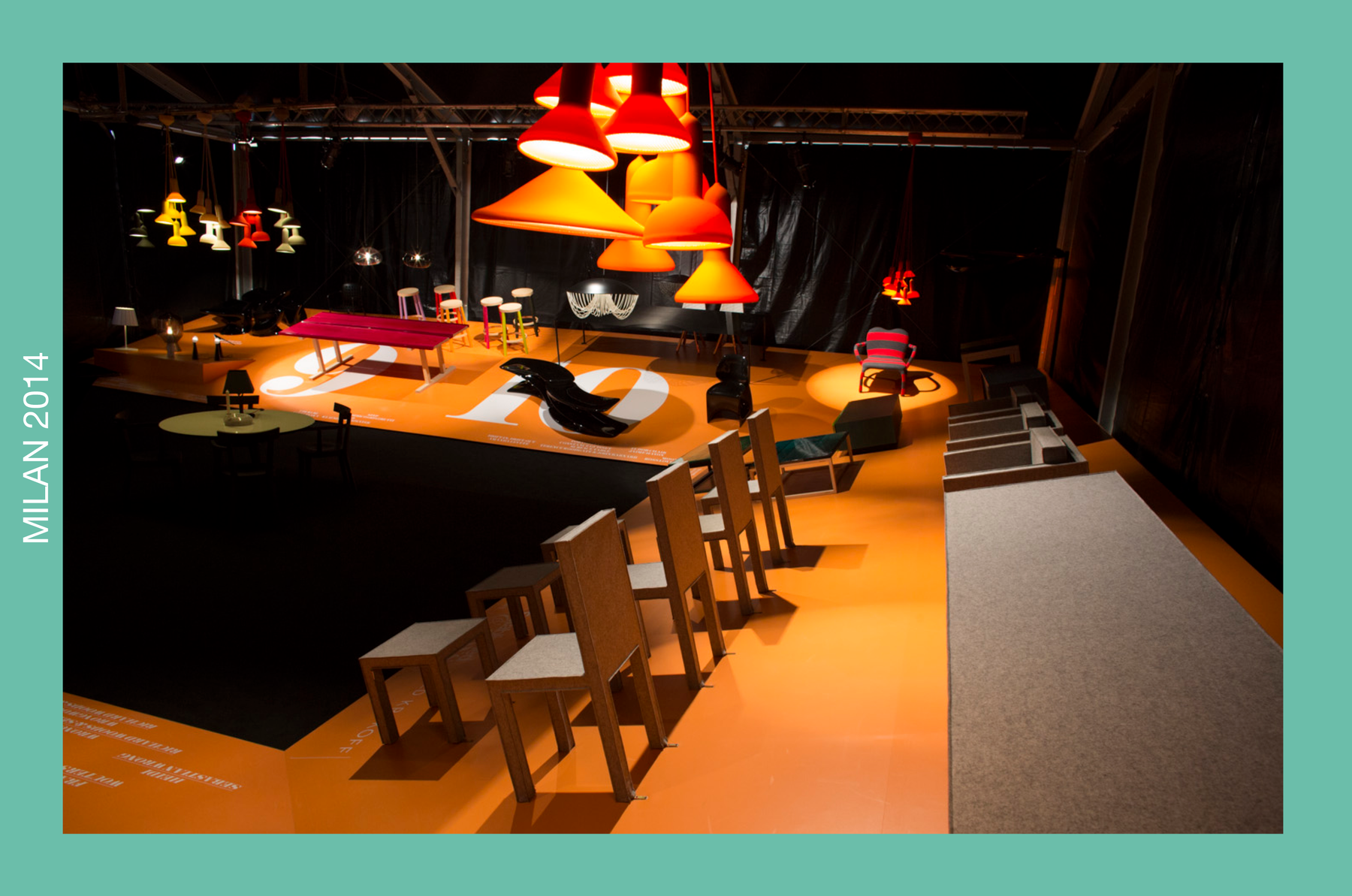 2017
Established & Sons returned to Milan to present its celebrated collection at the Fiera Salone del Mobile.

⁠ "Established & Sons works with designers in a way that is unique in the world. We've always looked for ways to champion an emerging generation of design talent, as well as collaborating with established practitioners at the forefront of the industry," said Sebastian Wrong, Design Director.⁠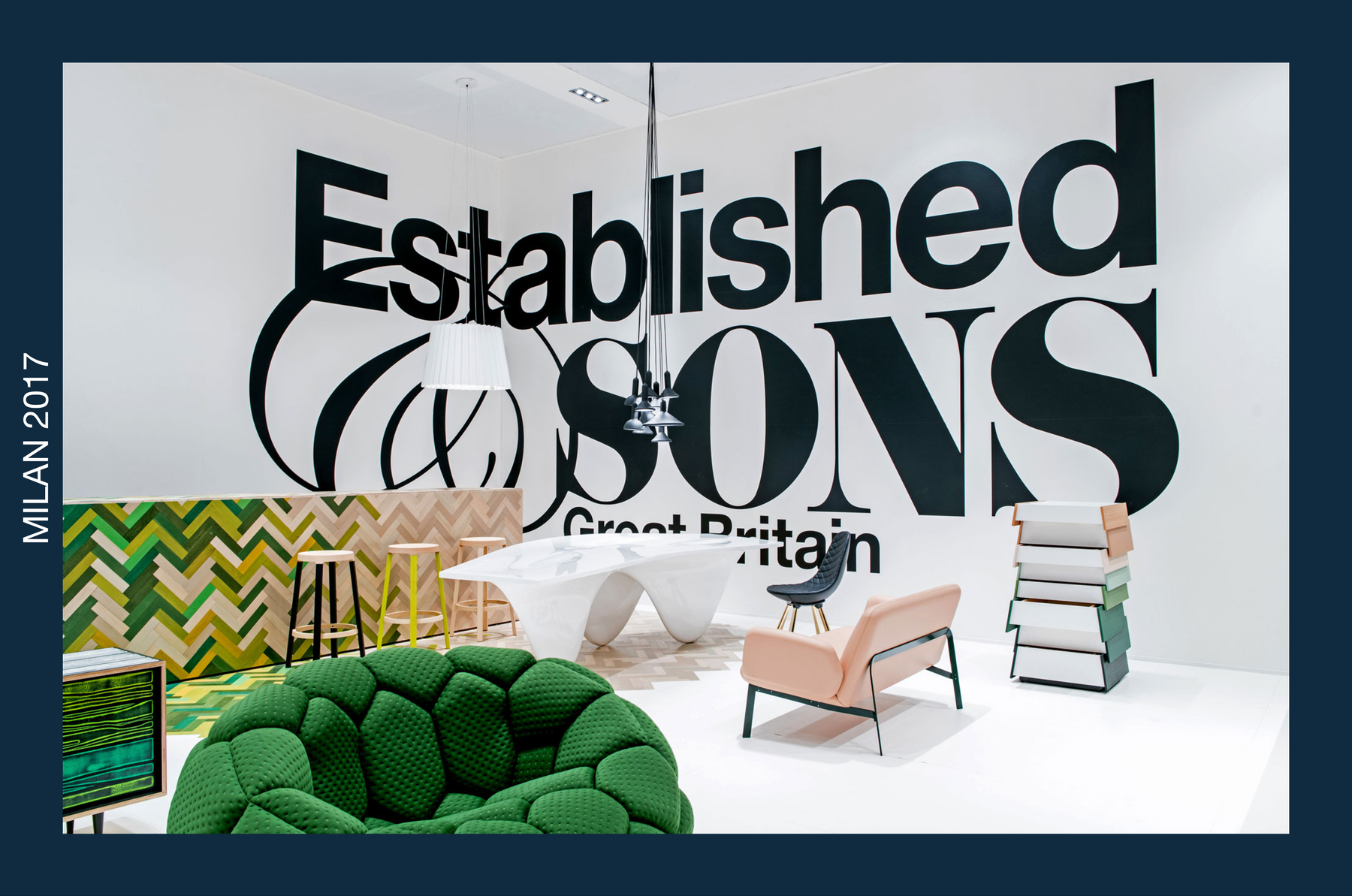 2018
Established & Sons created a colourful show to launch its 2018 collection at Fiera Salone del Mobile. New designs were shown on an emerald-green sports-style floor with a special canvas used to create deeply creased white walls.

This collection was created as a response to the practicalities of contemporary life as well as an exploration of the designers' unique language, manifested in the distinct character and provenance of each design.⁠ 2018 launched Cassette sofa by Ronan and Erwan Bouroullec, Barbican by Konstantin Grcic, Cho Light by Dimitri Bähler, Mauro Chair by Mauro Pasquinelli and Filigrana Light by Sebastian Wrong.⁠