Backed by its 'better, together' ethos, Suncorp's new Brisbane headquarters, completed by Hassell, puts people at its heart and galvanises its workforce with an experience-rich workplace.
Recognised as "Brisbane's top workplace" by global workplace experience analysts Leesman.
The award-winning project, Suncorp, cements a partnership that goes back more than a decade. The project represents the latest thinking — backed by research, data and strategic insight — translating Hassell's deep understanding of the needs of Suncorp into a consolidated headquarters founded on principles of wellness and togetherness.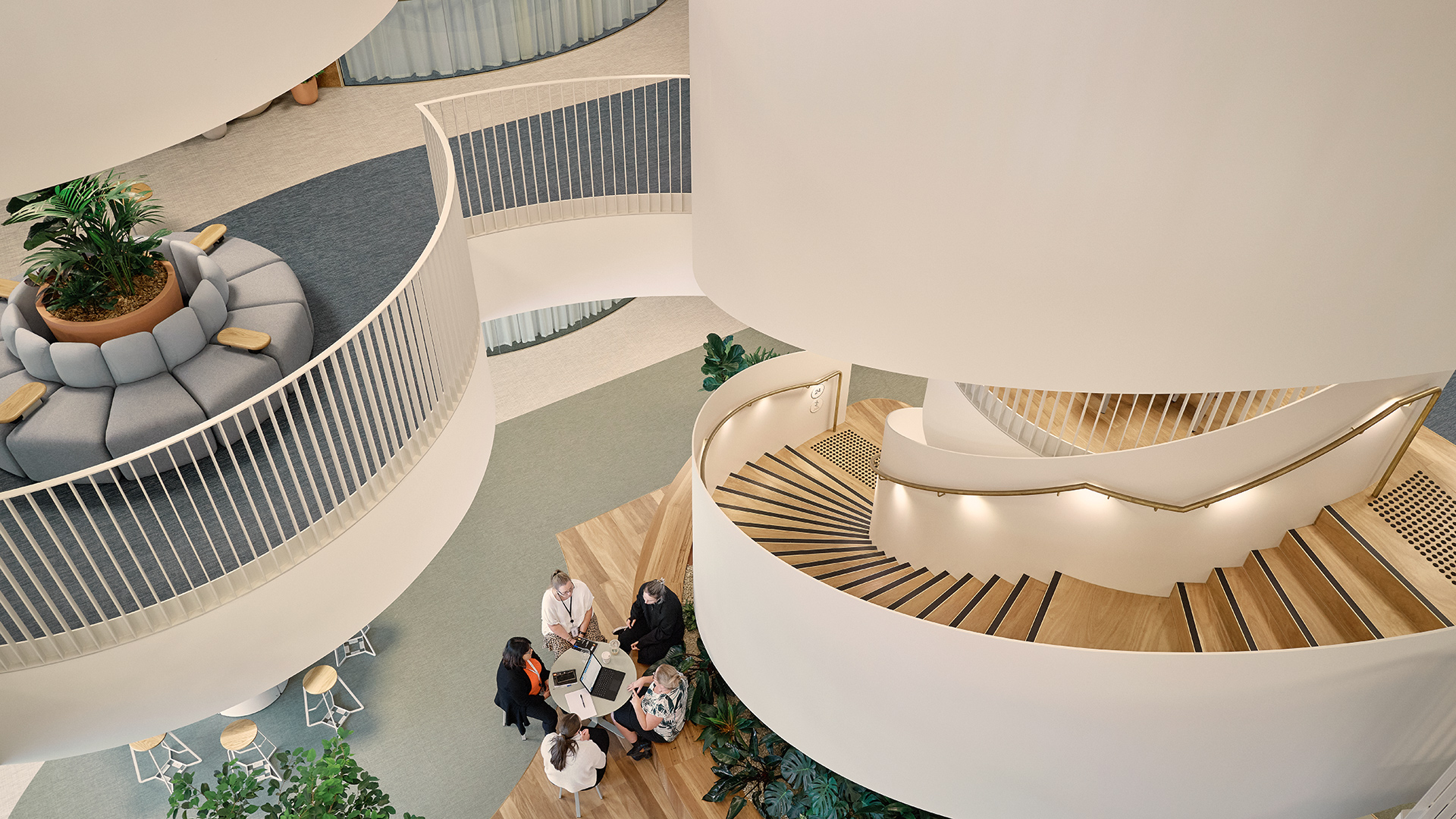 Hassell guided the design journey with Suncorp from the start. It began with delivering the workplace strategy, which sat alongside the experience master plan by FreeState. Hassell's influence in the early design stages ensured Mirvac's base-building 'Heritage Lanes' aligned with Suncorp's business strategy, and flexibility was built-in to future-proof Suncorp's long-term occupation.
Bringing in tailored furniture solutions including the highly comfortable and configurable Derlot Caterpillar as well as the iconic Cosm chair from Herman Miller; the space has resulted in being recognised as "Brisbane's top workplace" by global workplace experience analysts Leesman.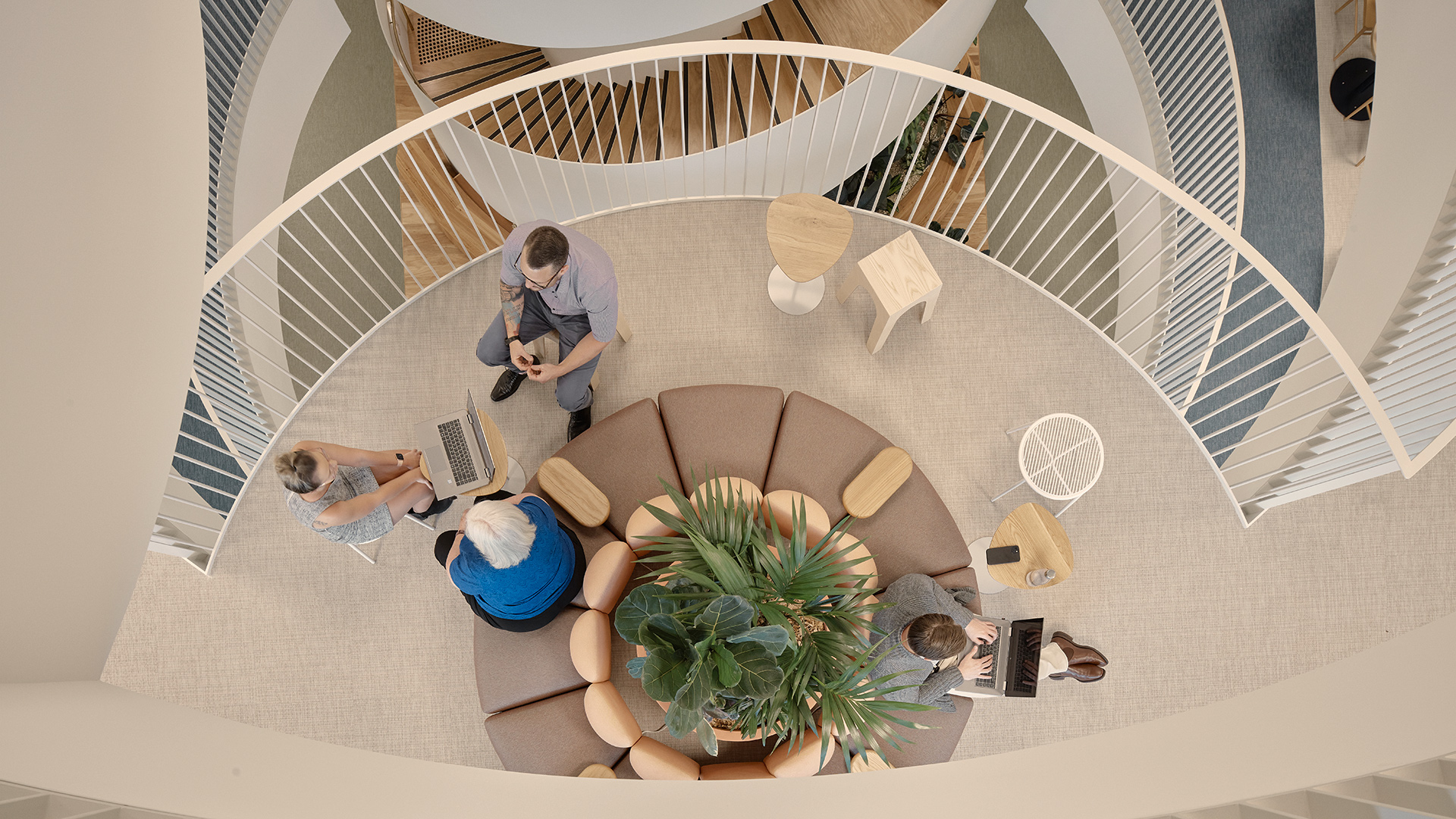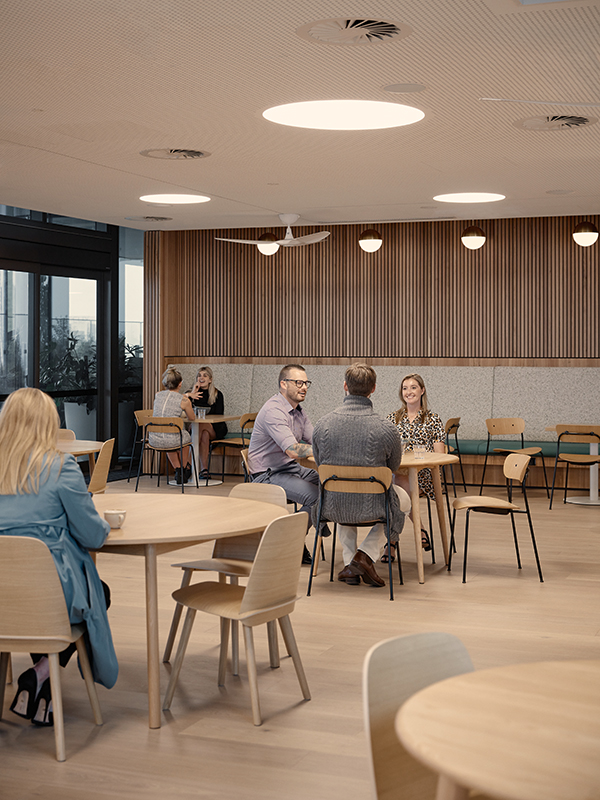 Dispersed over 18 levels, central circular meeting rooms flanking kitchen hubs offer flexible work options. Recognising the growing trend towards hybrid working is here to stay, these settings bring collaboration and togetherness to the heart of the workplace. Sweeping spiral staircases, lush gardens and inviting social spaces bind Suncorp's workforce, supporting moments of a chance encounter and dynamic connection.
The Derlot Caterpillar can be found in several of the break-out collaborative spaces showcasing different tailored configurations per each space. Caterpillar's flexible and adaptable design creates refined solutions for a variety of contexts. The modular nature of the Caterpillar collection allows for a multitude of combinations that adjust to users' changing needs with elegance. Smoothed edges and fluid lines create a relaxed tone in which creativity meets considered simplicity.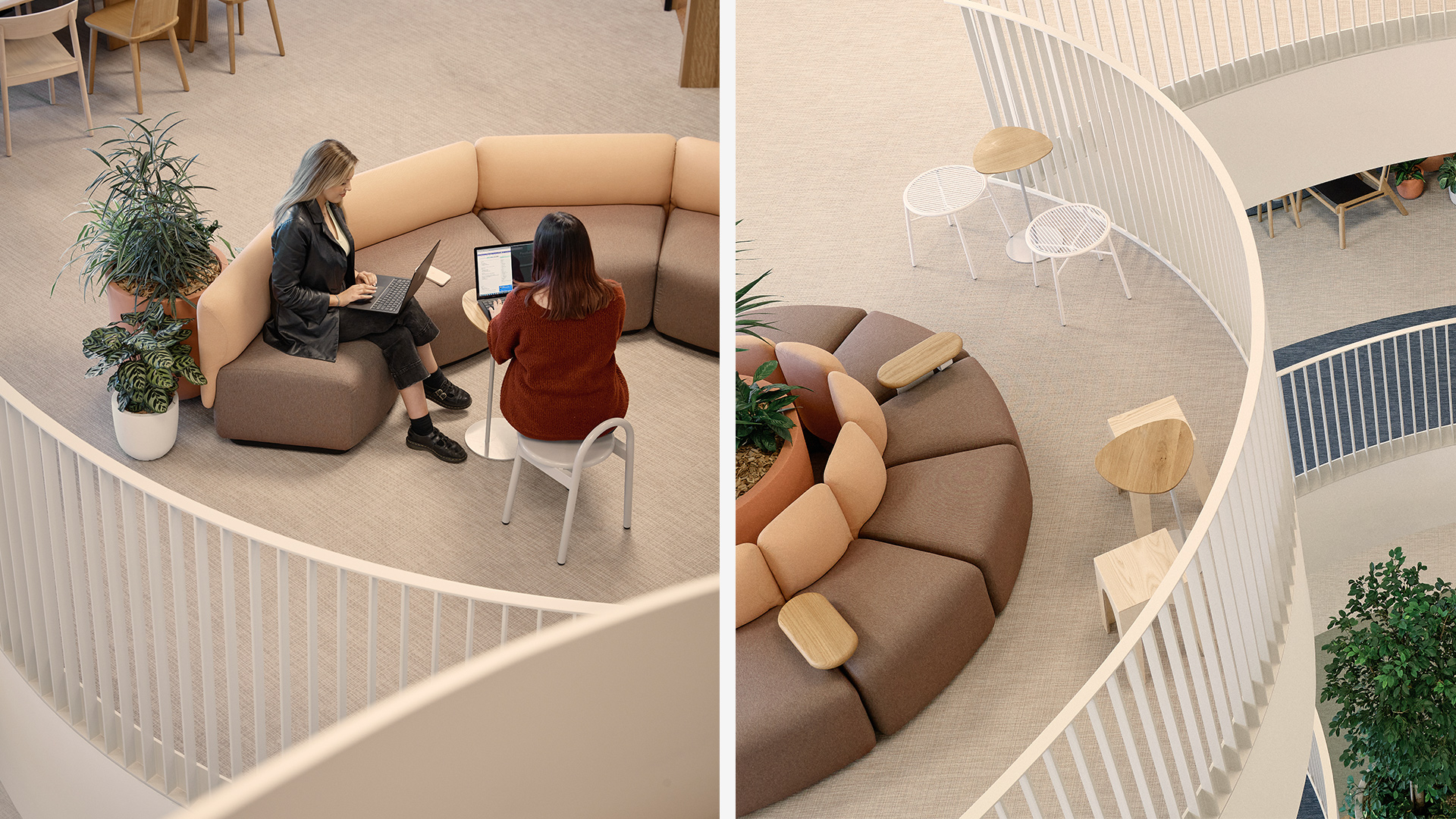 "The design of Suncorp's Brisbane headquarters is revolutionising the way we work at Suncorp, creating the best possible environment for our teams to collaborate and work flexibly." says Colin Harris, Suncorp Executive General Manager Real Estate, Procurement and Operations.
With focus placed on employee wellbeing and support, state-of-the-art meeting and training rooms seamlessly integrate Suncorp-developed technology that enables virtual and in-person interactions. With Employee wellbeing in mind, within many of these paces Herman Miller Cosm chairs have been utilised. Not only does the Cosm suit the refined aesthetic of the office space, Cosm's ergonomic support is nearly unmatched. The frame and fabric suspension work in tandem with the Auto-Harmonic Tilt. The Suncorp workplace represents the largest Cosm chair project in Australia, with over 4000 Herman Miller Cosm task chairs delivered by Living Edge.

The continuous suspension material, Herman Miller's new Intercept™, forms each person's unique contours, delivering dynamic, uninterrupted support. While the hourglass-shaped suspension attaches to the frame, creating areas of high and low tension that provide comfort and support where it is needed most—regardless of body size or position in the chair. This is why the Cosm, also known as the chair designed for everyone, was selected to best support a more dynamic, hybrid working situation throughout the office.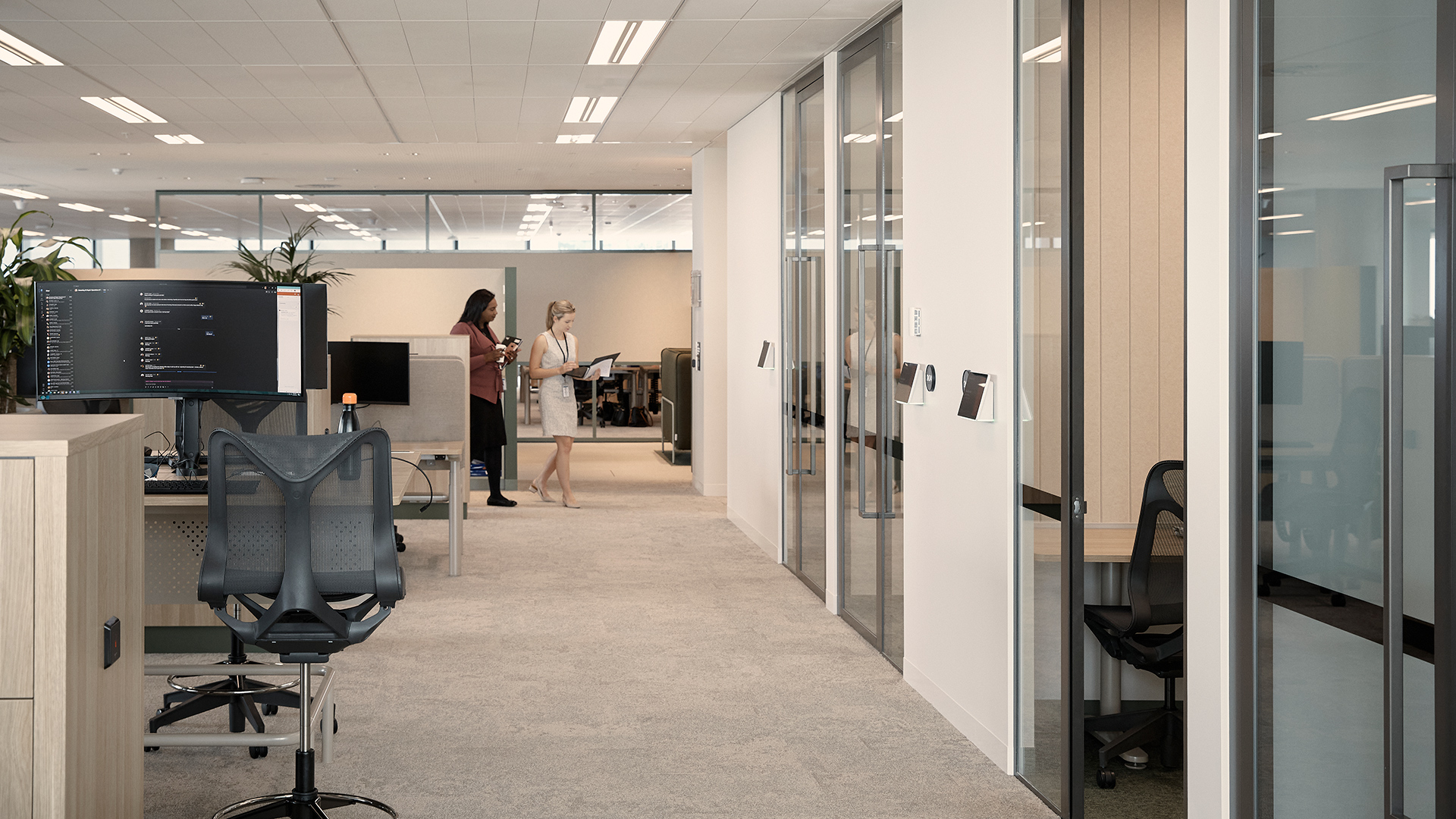 Other Wellbeing focused interiors include two wellness rooms (for yoga and exercise), two multi-faith prayer rooms, and two parents' rooms. Meanwhile, extensive amenities and event spaces, cafes, and outdoor terraces, remind employees that it's worth returning to the office.


Designed by Hassell
Photography by David Chatfield